Marvin Lewis didn't celebrate all the new rule changes.
The NFL owners voted Tuesday to cut overtime from 15 to 10 minutes, among other things, in what appeared to be Bengals vice president Katie Blackburn's first vote cast at an owners' meeting. Bengals president Mike Brown is the guy that has usually made that vote, but he was home watching the first Bengals' practice of the spring and it's believed Blackburn went to Chicago with instructions to vote on what she saw fit no matter her father's opinion.
It's unclear how she voted. If her head coach and the NFL Players Association president had a ballot, Marvin Lewis and Bengals tackle Eric Winston would have voted for the 10-minute extra frame.
"It may cause a couple of ties each season, from which I understand from the league's standpoint, that's good for tiebreakers. That could be one of the outcomes of it," said Lewis, a member of the NFL Competition Committee who has coached the Bengals to two ties in the past three seasons. "I think the reason it came up is because obviously if you're, which hasn't happened yet, but a team that was playing on Sunday afternoon and they had to turn around and play a Thursday game, the trend recently would be that's a lot of plays. And so, just trying to keep a team from having that burden."
After playing in his first tie in a decade of NFL games this past October during the Bengals' 27-27 stalemate in London against Washington, Winston can make sense of it.
"A lot of guys we had were spent at the end of that Washington game," Winston said. "The amount of plays that we were going into it with, there were a lot of guys that played a lot of plays in that game. If that thing didn't end when it did….as the game went on and on … I don't know because  I didn't go through and count, but it definitely felt like as we got more into that game there were more injuries. We had some guys sliding, some more danger where guys weren't getting out of the way as soon as they would have.  I think there'll be something interesting to look at."
Lewis did not agree with NFL commissioner Roger Goodell's loosening of the celebration rules that allows players to use the ball as a prop as well as participate in group demonstrations.
"I'm not for that at all," Lewis said. "We had a good standard and the whole standard has always been you want to teach people how to play the game the correct way and go about it the correct way, and that's not a very good example for young people."
The man who coached Chad Johnson through 60 touchdowns and Terrell Owens' last NFL coach doesn't like dancing with the stars.
"Chad never really did anything that got himself," Lewis said. "The rules were changed for a reason and I thought we had a good outcome. Again, this is a team game, and why we want to give in, I don't understand, why we want to give in to individual celebrations."
Predictably, the players were on the opposite end. Cornerback Dre Kirkpatrick said, "That's cool. I thought there was too much monitoring." And Winston seems to reflect the rank and file.
"That's not something that we necessarily control," Winston said. "I think you see guys that aren't able to be themselves, aren't able to be happy when they score, everything has to be some sort of disrespect. I don't see that. I don't see the game like that. I think it's supposed to be emotional, you're supposed to play with passion, that's what he coaches tell us all the time, is to play with passion, let your emotions show, be who you are out there. Then as soon as you are who you are, then they fine you or then they throw a flag at you.
"I do think there is a fine line. I have a son that every time we go watch a baseball game he wants to emulate exactly what he's just seen," Winston said. "(But) I think you're supposed to be able to let you who you are show and you want to celebrate, you want to do something quickly I don't think you should be fined or penalized so I'm glad to see that changed."
The owners also voted to allow two players to come off injured reserve in midseason as opposed to one. That would have allowed the Bengals last season to activate No. 1 pick and rookie cornerback William Jackson instead of only special teams co-captain Cedric Peerman.
"The rule was originally put in position to, say you have a marquee type player that gets hurt early in the season or training camp or whatever, it gives him the ability to come back and play during the season," Lewis said.  "It makes his rehab more positive, everything about it is positive for the player and for the fans because they get a chance to see the player."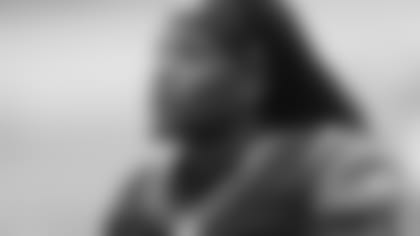 Dre Kirkpatrick says he'll be back soon.
SLANTS AND SCREENS:  Kirkpatrick surfaced on the sidelines with a right hand broken on the top, the victim, he says, of a "freak accident." He says he'll be back in two weeks …. In his absence Darqueze Dennard got a lot of snaps …
Everyone was accounted for and, as expected, tight end Tyler Eifert, running back Giovani Bernard, and tight end C.J. Uzomah were on the rehab field ... So was rookie safety Brandon Wilson  … Linebacker Vontaze Burfict, expecting his second child any day, jogged off the field near the end of practice …
Six-time Pro Bowl wide receiver A.J. Green announced his return from last season's partially torn hamstring with a vintage stretching-diving catch on an out route from quarterback Andy Dalton in one-on-ones … second-year safety Clayton Fejedelem had what appeared to be the only interception of the day when he dropped into the middle for a pick of backup quarterback Andy Dalton …
The kicking derby got kick-started with the two veterans rotating on field-goal tries from the 30, 33, 39 and 43. Randy Bullock went three-for-four, going wide right from 43, and Jonathan Brown hit the first two before going wide right from 39 and 43 … Lewis said they'll rotate two kickers, so rookie Jake Elliott figures to get his first shots Wednesday …
Nick Vigil, now getting a ton of snaps in all sorts of packages at SAM backer in his second spring, is raving about how good Burifct is playing: "He's really good already. He looks even better this year." ... With Burfict two years removed from micro fracture knee surgery, the thinking is he's back to Pro Bowl form .. Yes, rookie running back Joe Mixon looks big and fast among the vets. He exploded out of one hole so quickly that Fejedelem only had time to get an arm around his neck in an accidental clothesline ... Mixon just ran back to the huddle: "You've got to just keep running." ... 
But the wily vet got him. Mixon thought he was down after one run, but hands were all over the ball and Burfict pounced on it: "You still have hold on to it," Mixon said ...
Kevin Minter, the free-agent pickup from Arizona who has been projected as the starting middle backer, shadowed Vincent Rey's steps in seven-on-seven when Rey took snaps in the middle ...
The club practices Wednesday and Thursday in workouts not open to the media …
Cincinnati Bengals host OTA's at Paul Brown Stadium Practice Fields.