No matter who is the Bills quarterback Sunday, defensive coordinator Paul Guenther is looking to stop big plays.
Bills head coach Rex Ryan didn't tip his hand on his starting quarterback for Sunday's game (1 p.m.-Cincinnati's Channel 12) in Buffalo, but he assured the Bengals media via conference call Wednesday, "It won't be Dennis Shaw."
Shaw is best known as the Bills starting quarterback between Jack Kemp and Joe Ferguson from 1970-72. Ryan did deflect reports that starter Tyrod Taylor  (knee) won't be ready ("Tyrod is looking better"), but he also said E.J. Manuel took the majority of snaps in Wednesday's practice.
Ryan also told his team Wednesday about the last time he coached against the Bengals. Two years and two weeks ago as head coach of the Jets, the Bengals won, 49-9, at Paul Brown Stadium.
"I got my (butt) kicked, " Ryan said. " It was ugly and it got ugly in a hurry. I certainly remember that game. I mentioned it to my team today. It was a (butt)  whipping and if you're not on top of  your game,  this team can embarrass you."
On Wednesday Bengals defensive coordinator Paul Guenther also brought up an uncomfortable topic with his guys. The tough, not very pretty 27-24 overtime victory in Buffalo nearly two years to the day on Oct. 13, 2013. He reminded them that Manuel, the starter, got hurt the week before the Bengals  arrived.
"And they brought in this guy that week and we almost lost the ball game," Guenther said after Wednesday's practice. "They had four or five big plays, a  couple of bombs, some long runs. It was close and we're going to get all they've got."
The man's name was a runner named Thad Lewis making his second NFL start, but he stunned the Bengals with a 100 passer rating and touchdown passes of 22 and 40 yards in a fourth quarter the Bills devoured a 24-10 Bengals lead.
Manuel lost his job that day and didn't get it back until the next Opening Day. But even though he had a passer rating of 80.3, went 2-2, and had more TDs than picks (5-3) he completed just 58 percent of his passes and got benched in favor of Kyle Orton after he threw a pick that Texans defensive tackle J.J. Watt returned 80 yards for a touchdown. He hasn't thrown a pass since Sept. 28, 2014.
But it's a handful for Guenther because Taylor and Manuel have different styles.
"It's more about how we play,' Guenther said. "You want to understand the strength and weaknesses of the receivers, the quarterback, the backs, the line, but at the end of the day it's how we play our fundamentals and techniques. We have a fit for everything.
"Obviously, Manuel isn't as much of a runner as Taylor is. We'll just have to find out."
It's convenient because this is a week Guenther is harping on not giving up the big plays, which has been this defense's one blemish. They're tied for third in the NFL in allowing five plays of at least 40 yards. They've allowed eight TDs and half of them have come on plays of at least 30 yards.
He's stressing communication this week in the din of Ralph Wilson Stadium because they've had problems at home on broken coverages for TDs against San Diego and Seattle.
"That's the point I made to the defense today,' Guenther said. "In Baltimore we had them shut out and missed tackles on that 50-yard touchdown. We've had miscommunication (on two TD passes). We have to clean it up. We have to make sure we communicate . When it's loud we have to signal the coverage and make sure we're on the same page. It's the most important thing we do this week."
REUNION TOUR: The Hue Jackson Reunion Tour hits Buffalo this Sunday and the Bills have Josh Johnson rolling out the red carpet.
The Tour is 2-0 and Jackson, the Bengals offensive coordinator, has them ranked No. 2 in offense and the talk of the NFL with a rejuvenated Andy Dalton.
The Bengals opened the season in Oakland, where Jackson was surprisingly fired as head coach after the 2011 season the Raiders overachieved at 8-8. Then it moved to Baltimore, where he coached the quarterbacks and was a major influence in drafting future Super Bowl MVP Joe Flacco.
Now it is on to Buffalo, where the buzz last January was the Bills were on the verge of hiring Jackson as head coach until they turned to defensive guru Rex Ryan at the 11th hour.
Jackson has moved on, grateful to Bills owners Terry and Kim Pegula for interviewing him for the job along with general manager Doug Whaley.
"The Pegulas are great people," Jackson said after Wednesday's practice. "It was a great experience, a great time. They did what they had to do and I respect that. Rex is doing a great job for them and I'm happy where I am."
Jackson is still a popular choice in some segments of Buffalo after he told The Buffalo News he "absolutely" would have retained defensive coordinator Jim Schwartz.
But now he's trying to beat them. And the Bills are trying to beat the Bengals. On Tuesday Buffalo signed one of Jackson's former Bengals quarterbacks.
"I'm happy for Josh. He deserves to play in this league. I wish it wasn't in Buffalo this week," Jackson said.
Asked if Johnson could help Ryan with his knowledge of the Bengals playbook, Jackson said, "Josh is a smart guy. He can help anybody.  I'm sure there are things he knows we like to do."
Ryan has never shied away from gamesmanship, but Jackson is pretty upfront about it ("I've got a lot of respect for Rex. I've practiced against him, competed against him and we'll have to play our best to beat them") and it's a virtual lovefest between Ryan and Bengals head coach Marvin Lewis. When Lewis was the defensive coordinator in Baltimore, Ryan was his defensive line coach.
There are no secrets in this matchup. Jackson was on staff with Ryan in '08 in Baltimore and before that coached against the Ravens defenses Ryan coordinated twice a year in 2005 and 2006 as the Bengals wide receivers coach. Lewis and Ryan have gone head-to-head four times as head coaches, once in the playoffs.
"Marvin is a great football coach," Ryan said in his Wednesday conference call with the Cincinnati media, after he regaled the scribes with some golf stories.  "He's passionate about it. Do your job. That's him. Alignment. Assignment. Technique. I took away all those things from him. But he's such a great person, a caring person. That's what I know about Marvin."
Asked what Lewis took from him, Ryan paused with comedic timing and said, "Nothing."
Except maybe Lewis' putting technique.
"I go to the Marvin Lewis school of putting,' Ryan said. "You bring it back a little, but the follow-through is big."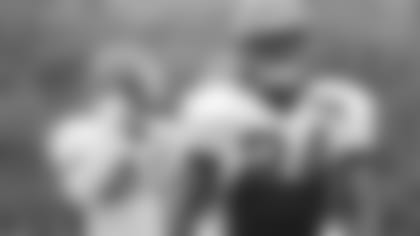 Darrin Simmons knows what Adam Jones had in mind Sunday and he says a little more help from his blockers would have helped.
NUGENT NAMED: With his second award and first one  in five years, Mike Nugent has joined Doug Pelfrey as the only Bengals kicker to be named AFC Special Teams Player of the Week at least twice.
Nugent got it for kicking the Bengals into overtime against Seattle last Sunday on a 31-yard field goal at the gun and then winning it from 42 in overtime.
Ironically, the kick moved Nugent past Pelfrey into second place on the Bengals' all-time overtime field goal list with three. In seven seasons Pelfrey had just two chances in OT and hit them both. Nugent ended OTs in Buffalo and this one Sunday.
Nugent also made one in OT at Paul Brown Stadium last season against Carolina under the new OT rules and after the Panthers matched it, Nugent missed a chance to win it from 36 yards, making him 3-for-4 as a Bengal in OT.
Shayne Graham, who kicked for the Bengals in the seven seasons before Nugent arrived, had only two chances as well, and he made one of them. So Nugent is tied with those two guys in their combined OT attempts even though he's only in his sixth season here.
Nugent is going to have a tough time catching Jim Breech, who went 9-for-9 in OT during his 13 seasons on the way to the club's all-time scoring record.
Special teams coordinator Darrin Simmons isn't surprised to hear Breech was so good for so long.
"He was money," Simmons said. "That's why Adam Vinatieri is still kicking. If you can make field goals in the clutch, there's a price for that."
But the most talked about field goal was the one at the end of regulation, where the Bengals had to get Nugent and his unit on the field with no timeouts left.
 This is where Simmons makes his money because that drill is a rite of training camp and they practiced it as recently as two weeks ago as a team. The ideal time remaining after the third-down play is 24 seconds, but he puts on 21 when they practice it.
"That's what it was in the game. It was 24 so we were right on it," Simmons said. "Believe me, we've done it a number of times."
Simmons had no comment on what could have been a catastrophic penalty before that tying drive. Punt returner Adam Jones was called for an illegal fair catch even though he didn't put his hand above his shoulders while  waving teammate Darqueze Dennard to get wider.
"We have to do a better job holding the gunner  up," Simmons said. "If we do a better job, it's not even close. He doesn't have to motion to Darqueze. I know exactly what Adam was doing. What the perception is could be something different. I know what Adam was trying to do. My advice is to our vice guys is to tell them to do a better job holding up the gunners."
Cornerbacks Adam Jones and Leon Hall sat out Wednesday's practice. Jones (groin) played one of the grittiest games in memory last Sunday, working all 60 snaps and throwing in two huge punt returns despite leaving the week before with an injury to the elbow and groin. Hall was limited to 14 snaps and was out with a back issue on Wednesday. Left tackle Andrew Whitworth had a rest day and also out was the other returner, backup wide receiver Brandon Tate (illness). Four starters were limited Wednesday: wide receiver Marvin Jones (foot), cornerback Dre Kirkpatrick (hip), right tackle Andre Smith (elbow) and right guard Kevin Zeitler (elbow).