Andre Smith started the last five Opening Days at right tackle, but it looks like Cedric Ogbuehi gets this one.
With the departure of Andre Smith, the conventional wisdom is that Cedric Ogbuehi is the Bengals' new right tackle. At least that what he's thinking after a rookie season he played in the last five games after rehabbing that torn ACL from his last snap for Texas A&M.
"That's what I'm assuming. Not really a surprise," Ogbuehi said Friday from Dallas, where he's working out in the offseason.
The Bengals were extremely impressed with how Ogbuehi did once he came off the physically unable to perform list (PUP) and started practicing and they believe he has the potential to be an elite player for a long time. He played a year of right tackle at A&M before moving to the left side for his last two seasons at College Station and doesn't buy the notion that you need finesse for the left side and power for the right.
"Not in this day and age. You have to be able to do both," Ogbuehi said. "It's great being able to work out and not worry about an injury in the offseason. My body feels better than it has in a long time."
 This just doesn't happen around here very much when it comes to starting tackles. Smith started every opener since 2011 and from 1997-2007 Willie Anderson started every opener at right tackle. Stacy Andrews got the nod in 2008 and before Smith secured the job Anthony Collins started the '09 opener and Dennis Roland the '10 game.
Left tackle has been just as solid. Andrew Whitworth has started every opener since '09 and before that Levi Jones started the '03-'06 openers as well as the '08 game after missing the '07 opener before playing the rest of the way that season.   
WINSTON RE-ELECTED: Speaking of tackles, this primary season Bengals backup tackle Eric Winston had the easiest of races when he ran unopposed Friday and was elected to another two-year term as president of the NFL Players Association.
"I'm honored that the guys chose me as their leader," Winston texted from the NFLPA meetings in Hawaii when asked what he likes about the job. "Being able to help the guys and make a difference in (their) lives."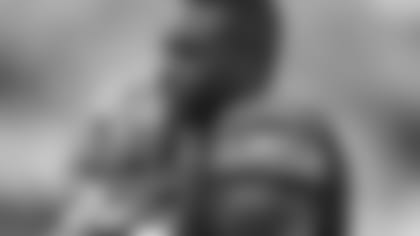 A.J. Green (above) and Andy Dalton are running at Ken Anderson and Isaac Curtis.
DALTON-GREEN: Peyton Manning says his 114 touchdown passes to Hall-of-Fame wide receiver Marvin Harrison, the most ever by a duo, is a record that won't be broken. The Bengals' Andy Dalton and A.J. Green have a way to go with 40 after five seasons together. Among active duos at the end of last season, that is the fifth most since wide receivers Marques Colston, Calvin Johnson, Roddy White, and James Jones, and tight end Heath Miller are no longer on their old teams and Johnson and Miller have retired.
Courtesy of Elias, here's the list of the active duos:
77 Rivers-Gates, San Diego
72 Brees-Colston, New Orleans
64 Brady-Gronkowski, New England
56 Stafford-Johnson, Detroit
45 Rodgers-Nelson, Green Bay
41 Rodgers-Jones, Green Bay
41 Roethlisberger-Miller, Pittsburgh
40 Dalton-Green, Cincinnati
With 12 more connections Dalton-Green becomes the most prolific duo in Bengals history passing Ken Anderson and Isaac Curtis. The 44 of Carson Palmer-Chad Johnson is next on their list to pass.
MODEST PROPOSALS:  Bengals president Mike Brown and the rest of ownership, as well as head coach Marvin Lewis, travel this weekend to Boca Raton, Fla., for the NFL's annual meeting. The owners are staring at a number of rule changes that they can vote yeah or nay on that were either proposed by the NFL Competition Committee or other teams.
Here are the three most significant proposals: make all chop blocks illegal, move touchbacks from the 20 the 25-yard line, and eject a player penalized twice in one game for certain types of unsportsmanlike conduct fouls, such as throwing a punch, or a forearm, or kicking at an opponent, even though no contact is made, using abusive, threatening, or insulting language or gestures to opponents, teammates, officials, or representatives of the League, or baiting or taunting acts or words that engender ill will between teams.
Those three were proposed by the competition committee, of which Bengals head coach Marvin Lewis is a member. One, proposed by the Ravens, would affect the Bengals' multiple use of offense linemen. The rule proposes lineman who are eligible receivers to wear a vest.
The Bills proposed to allow coaches to challenge all decisions made by an official besides scores and turnovers.