Cornerback Darqueze Dennard is going back to basics.
This is why the Bengals took cornerback Darqueze Dennard with the 24th pick, their first in the 2014 draft:
Here's a guy they thought was on the verge of breaking through last year in his sophomore season. He was playing more and more in the slot ahead of Leon Hall and coming up with big plays.
A leaping interception of Buffalo quarterback E.J. Manuel's pass over the middle for his first career NFL pick. Coming off the bench for Adam Jones to make a career-high six tackles against Kansas City, including a third-down pass defensed in the fourth quarter that held the Chiefs to a field goal. Elevated to his first NFL start in the season's tenth game in Arizona, when he  suffered a season-ending shoulder injury that required surgery.
So Dennard has been here all offseason rehabbing and on Monday the vibes were good. They probably won't bring him back for the May and June workouts on the field, but he's on pace to get on the field for the first day of training camp.
And he thinks he knows why he got hurt.
"Everything happens for a reason," Dennard said. "I just have to cherish it a little bit more. I have to want it a little bit more. The last couple of years I kind of took stuff for granted. I've got to get back to that Michigan State mode. Be hungry."
Which is why they love the guy's makeup.
SKED READ: There was a lot of angst when the Bengals schedule came out (the first two games on the road, five of the first eight games on the road, no Vontaze Burfict against Pittsburgh), but there was pretty much a collective shrug in the locker room Monday.
"Honestly the schedule comes out and then someone will send it to me and I'll look at it and say 'cool,' " said cool tight end Tyler Eifert. "I mean, you get to play (the Steelers) twice at some point during the season and when and where it doesn't matter. It's going to happen."
Every year quarterback Andy Dalton has been wondering when he'll get to start a home opener. Year Six and he's still wondering.
"We start on the road again. I think that's the thing that everybody noticed," Dalton said. "But the schedule is what it is. We're away early . . . We've got to be ready for the start. That's just how it's been. Regardless of where we play, when we're playing, the mentality is we're going to go out and win and I think everybody's ready for that."
And, yes, he did notice Burfict won't be eligible to play in Pittsburgh the second game of the season.
"I think the scheduling is what it is," he said. "But other guys are going to have to step in and play, and we've been there before."
Dalton couldn't help but thank the Schedule Maker for a Christmas Eve game in his hometown of Houston, a night game on NFL Network. But with his wife, son, and dog in Cincy, what does it mean?
"There will be family down there," he said. "But just from traveling and everything with my wife being here, we're going to have to figure all that stuff out. But it's cool to be back home for Christmas Eve."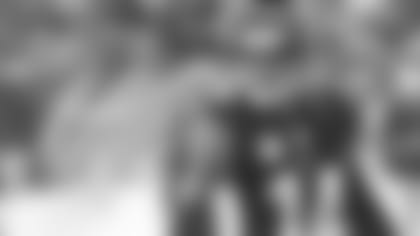 Andy Dalton points out TCU's Josh Doctson in the draft.
SCOUTING WRs: Eifert, the lone Golden Domer on the Bengals, has noticed the mock drafts matching up Notre Dame wide receiver Will Fuller with the Bengals and he would welcome him on board. He may even start lobbying.
"I know him through my other Notre Dame buddies. I was gone when he got there. Everything I've heard is that he's really a good guy," Eifert said. "He can run really fast. When I look at the mock drafts, I guess it's better to look at the mock drafts to see where guys aren't going to go because if they're mocked there, then they're not going to go there. Maybe we draft him. I don't know.
"It's kind of cool when you see a Notre Dame guy. I'm the only Notre Dame guy on the team. We've had (center)  Trevor Robinson, but I've been holding down by myself . . . It's the first day in, so I think I don't need to be chirping. I've got two weeks to get that done."
Dalton is also aware of Texas Christian's Josh Doctson because he's overlapped with him this spring at the TCU facility and is pulling for him.
"He's been down at TCU working out when I have to, so I've gotten to know him some. He's a good kid, he's going to be successful with whatever team he gets to,"
 Dalton said. "He's a guy that I've watched obviously -- because I follow TCU -- more than any of those other guys. I'm rooting for him."
BIG MAC: Andy Dalton came within 1:23 of being the first Bengals quarterback to win a post-season game since Boomer Esiason. But it sounds like he got over it quicker than his following in his hometown of Mobile, Ala.
"Everybody wants to tell you how sorry they are that you lost and you should have won and all that," McCarron said. "But it didn't take long. I move on pretty quickly."
That's not the only thing people were on him about in the offseason. He was also getting "The Trade," question. Would the Bengals trade him to a team looking for a quarterback? They've all but ruled it out, but McCarron says he doesn't mind.
"Not my job. God has a plan. I'll enjoy whatever comes my way," McCarron said.
SAUCY SPECULATION: Dalton was cleared to throw in early March, but he says it's only speculation to say he wouldn't have played in the Super Bowl with his broken throwing thumb.
"We were super conservative with it because there was no reason to rush at that point. So who knows what would have happened if we'd have won?" Dalton said. "We don't know because we didn't have to be in that position. As soon as the season ended, we just said we're going to be real conservative with it, going to take our time and make sure everything heals with it, and it feels good.
"It wasn't completely healed yet. It would have been something the doctors and trainers, we would have all had to talk about it and figured out if I could have thrown or not. But it's all speculation now, it doesn't really matter."
TYLER KNOWS BOWS: There's the old '80s line "Bo (Jackson) Knows. Now we have  "Tyler Knows Bows," after his hunting trip to New Zealand during the offseason.
Using a bow, Eifert killed three of the more monstrous animals known to man and had the scribes tittering about their sheer size from the pictures on his phone.
"I'm going to need a bigger house but it's going to be awesome when I have the house that I want above the fireplace," Eifert said.
Eifert's first shot in the mountains took a red stag classified as a 350, which is quite large. Then he took down a tahr and a ram, more gigantic specimens.
"It's weird because I've never hunted anything that big before. Even when I got there and was practicing with my bow you are already feeling the nerves," Eifert said. "Even when you see it, when you are 40 or 50 yards away from that thing it's huge. Once you draw your bow back you enter the zone. It's crazy. It's the biggest adrenaline rush I've ever had."
But he says it's different than a game rush.
Even before all that he had an eventful offseason. He has yet to be cleared, but he says the foot he sprained in the fourth quarter of his first Pro Bowl in January is fine and isn't preventing him from getting anything done.
He returned with what amounted to a crew cut after having most of his hair cut off St. Partick's Day to show solidarity with the St. Baldrick's Foundation effort at stamping out childhood cancer.
Take a look at the 2016 Bengals schedule in pictures.