Running back Rudi Johnson pronounced the day good by "nearly throwing my back out," when he fired the ball into the crowd to celebrate his first rushing touchdown of the season to get Sunday's 35-6 victory over Tennessee rolling.
It also could have been a salute to the return of the Bengals' power inside running plays. Johnson, off his season-high 25 carries to go along with 88 yards, and the offensive line paid homage to a game plan that contained more power plays than other games.
"We ran a lot of power in Seattle, but that was about it," said tight end Reggie Kelly of the Sept. 23 loss. "I know the offensive line appreciated it. They love to get downhill with it."
With the Bengals poised to face the Titans run-stuffing ace Albert Haynesworth in an even front, the idea was to double-team Tennessee's big tackles. When Haynesworth couldn't play with a hamstring problem of his own, the Bengals stuck to their aggressive plan and ran the ball 36 times for 148 yards as Johnson pronounced his hamstring the best it has felt since he injured it Sept. 23.
"There was a chance that he probably could have gone," said Titans coach Jeff Fisher of Haynesworth. "We want him back full-speed. We don't want to set him back by trying to get him out there playing. He is closer, but he's just not ready."
Even though Haynesworth was out of there, to run the ball at a 4.1-yard per clip against the NFL's fourth-best defense after running 2.4 per the last three games was huge. "Yeah, you want to get to play the best so it was kind of disappointing he didn't play," said left guard Andrew Whitworth of his matchup. "But we hung with it. It was probably the most the tight ends and fullbacks have been involved in the running game and we were really excited about the play-calling and with all the physical plays that were called. We love that style and we responded. But the big thing is we executed. We didn't have many mistakes. That's the big difference."
Pro Bowl right tackle Willie Anderson didn't play for the fifth straight game because of a knee problem and he hopes he can play next week in Pittsburgh. But this is the kind of aggressive return to the physical mentality of head coach Marvin Lewis' early days in Cincinnati that Anderson talked about earlier in the week.
There have been a variety of reasons for not going with so much power this year. The departure of left guard Eric Steinbach to free agency, a revolving door at left guard earlier in the year, the failure to have a lead late in games, and Johnson's hamstring injury that he suffered in the Seattle game.
Johnson, whose touchdown came courtesy of one of those double-teams from right tackle Stacy Andrews and right guard Bobbie Williams, had his most yards since the week before the injury, those 118 yards in Cleveland. And he almost hadn't had 88 yards since then (99) thanks to the worst injury of his career. "This is the best I've felt since Cleveland; no question," said Johnson, who felt like he could finally accelerate through some holes. "I'm just happy to feel this way, trust me."
And Johnson did seem to have his feel back for the offensive line. On that five-yard touchdown run behind Williams and Andrews, he went in standing up.
"That was the plan all week. More power. Double-team some guys. Get some movement," Johnson said. "We talked about what we were going to do. To get back to that and we stayed with it.
"They made it easy for me," Johnson said of the touchdown. "I stayed right there with them; I didn't try to do too much."
Johnson hopes the offense uses more of the downhill stuff. Especially now since he can actually get there.
"The hamstring feels great," Johnson said. "It's the best it has felt. I just hope we can keep it rolling now." RARE MISS:
Shayne Graham may have been the most surprised guy in the house when he hooked a 26-yarder left early in the second quarter, ending his team-record skein of 21 straight field goals. It was just Graham's second miss of the season (he's now 21-for-23), first from inside 50, and marked only the second game of the season he didn't have a field goal.
He also lost some ground in the NFL scoring race with Tennessee's Rob Bironas. Graham came in third and had just five extra points while Bironas, the leader, had six with his two field goals.
"I just didn't get a good hit. It's like hitting the heel on a golf club. I just didn't get it," Graham said. "Yeah, it surprised me. I think I can get everything. Especially from that distance. But our defense bailed me out by getting a turnover on the next possession (Rashad Jeanty's fumble recovery) and that started a streak of (four) straight touchdowns in the red zone and that's fine with me. We didn't need field goals today."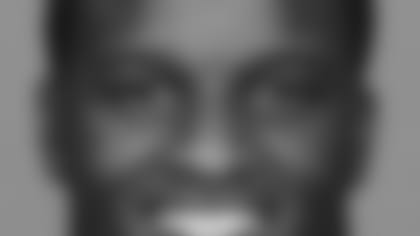 DORSEY AGAIN:
Backup running back DeDe Dorsey keeps showing up. A week after blocking a punt for a touchdown, Dorsey got his most work of the season out of the backfield and those second-year fresh legs responded with 42 yards on five carries. Half of those came on the club's longest run of the season, a 21-yarder in which he just ran out of the grasp of defensive tackle Tony Brown and broke to the outside.
"What I've been doing up to this point is just make the best of each opportunity I have," Dorsey said. "I had a couple more looks today, so I tried to make the best of those. And if it continues to increase, I'll take it in stride."