Updated: 10-15-07, 7:40 a.m.
KANSAS CITY - What's a Bengals loss without a debate over an interception thrown from Carson Palmer to Chad Johnson?
In the wake of the Monday Night implosion at the end of the first half two weeks ago, Palmer's interception with 3:18 left in the game raised eyebrows. Safety Bernie Pollard logged his first career pick over the middle at the Chiefs 25 when Palmer overthrew Johnson. Johnson barely jumped, igniting questions if there was another miscommunication. The effort seemed to be there when Johnson turned and popped Pollard.
Asked if Johnson ran the route hard, head coach Marvin Lewis seemed to think he did and said, "That's your speculation."
Johnson indicated he was in the right spot and said, "The ball wasn't even near me." Palmer's initial reaction looked to be unhappy, but in the postgame he said Johnson was in the right place.
"I shouldn't have thrown it," said Palmer, which is what he said after cornerback Asante Samuel's interception turned the Oct. 1 game to the Patriots. Johnson took that blame a few days later.
Asked if Johnson finished the route, Palmer said, "I don't know. I think he did. I'm not sure. I didn't see the end of the play.
"Knowing Chad, he's going to try and (jump) to go get it." Johnson finished with eight catches for 83 yards, but only had one catch of 20 yards or more. While Johnson said he was always double-teamed, the Chiefs gave up touchdown passes of 42 and 30 yards to wide receiver T.J. Houshmandzadeh, as well as a 23-yard reception to tight end Reggie Kelly.
"Nothing new. That's the way it's been for the last four or five years. The coverage has nothing to do with it," Johnson said of the deep zone. "Your guess is good as mine (on the causes of the offense's problems). I think we'll be fine. We played very well in the second half. We can put together a complete game, we'll be OK."
The passing game continues to be a mystery. Here Johnson finished the day with 578 yards and after five games is on pace for 1,843 yards, five off Jerry Rice's NFL record.
Houshmandzadeh had eight more catches for 145 yards despite going 22:47 between his first and second catch. Seven of his catches came in the game's last 21 minutes and with 47 catches he remains on pace for an NFL-record 150 catches.
Yet the Bengals have converted just one of 18 third-down tries in the last two weeks, that being a 20-yard throw to Houshmandzadeh on third-and-five with 3:30 left in the game.
"For the most part we limited a lot of big passes," said Chiefs coach Herm Edwards. "We brought some pressure at times and got to the quarterback and eliminated their ability to run the football and made them one-handed where they had to throw. That kind of works in your favor, although you know they're going to move the ball at times in chunks. But we were able to get off the field on third down. The corners did a good job in not letting them get too explosive."
One third-down solution could be in the offing this week if third-down running back Chris Perry is cleared to practice. He's eligible to come off the physically unable to perform list on Monday. **
JUMPY SWITCH:** Robert Geathers made his first start ever at linebacker when he was moved from left end to the strong side on first and second down. He moved back to end on passing downs, but suffered his fourth straight sackless game after getting one in the opener.
Still, he had an effective game given he's a neophyte at the position and that he's the third different starting strong-side backer this season. He had five tackles and hit the quarterback once.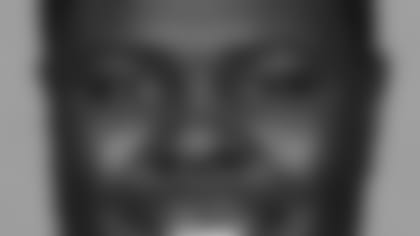 FROSTED FUMBLE:
The Bengals defense played so much better in the second half even though there was some disagreement on whether the Chiefs just sat on the ball or were still trying to score. Fact is, Chiefs running back Larry Johnson had just 13 of his 119 yards on 15 carries in the second half. And a unit that came in with just four sacks on the season, had three of its five on this day in the second half.
That's when defensive end Frostee Rucker came up with a huge fumble recovery at the Bengals 48 with 1:48 left in the third quarter and the score still 20-7.
Linebacker Dhani Jones forced the fumble after wide receiver Jeff Webb picked up five yards and Rucker raked the ball in despite a cast on his right hand.
"Broke it on Wednesday, played on Sunday," said Rucker, who pretty much had to play because Jonathan Fanene was down with a knee injury and figures he took about 20 snaps. "I was playing with a hand and a half. It was tough, but I was able to steer all right. Yeah, on the fumble, the cast was effective." CHALLENGING TIMES:
Bengals head coach Marvin Lewis had a challenging time in the second half. It looked like he made a bad call when he questioned the spot on the Bengals' failed fourth-and-one in the middle of the third quarter and didn't win the challenge.
Then he looked like he was right when he challenged an incomplete third-down pass to wide receiver Antonio Chatman early in the fourth quarter, claiming Chatman scraped both feet in bounds for a first down.
"The official told me that I had a valid case (on both), but he didn't have a good enough angle," Lewis said. "That's the way it goes. Those were two opportunities in both cases I was pleased, other than not winning it, with what he told me and why it went the other way."
RUDI's DAY: Bengals running back Rudi Johnson left for the day after his only carry of the second half netted a yard in the first series. He finished with eight yards on four carries and said his hamstring isn't where he needs it to be.
"The good thing is there weren't any setbacks," said Johnson, who didn't start but played in the second series. "It was the smart thing to do by a veteran. It's getting better."