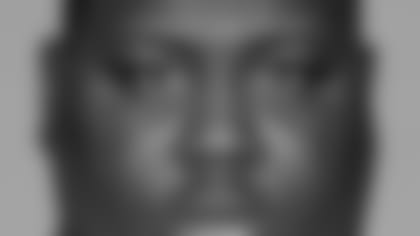 Smith: Bengals mulling offer
It sure looks like the Bengals and Browns are about to complete their first-ever transaction when Cincinnati figures to do what everybody else in the NFL thinks they're going to do Friday and not match Cleveland's $8 million plus offer sheet on backup defensive tackle Shaun Smith.
Both franchises were founded by Paul Brown, a Hall of Fame coach fired by the old Cleveland Browns, so is it any wonder the teams have never pulled off even a trade?
Even though these Browns of the last decade are not of Art Modell, the guy that pulled the trigger.
Some players have played for both teams after becoming free agents, most notably running back James Brooks, the Bengals' all-time rusher when he signed with Cleveland in Plan B free agency in 1992, and wide receiver Brian Brennan, the Browns' fourth all-time receiver when he joined the Bengals that same season.
(It didn't work out great for either in the year they were with the other team. Brooks ran the ball 13 times for 38 yards and Brennan caught 16 balls for 166 yards and a touchdown.)
Any chance of the teams' breaking the thaw with a trade like the one that sent a restricted free agent, Dolphins receiver Wesley Welker, to the Patriots for draft picks?
No because the deal is done.
Instead of tendering an offer that could have contained the dreaded poison pill (see Steve Hutchinson last year, the planet's first $49 million guard before Steinbach), the Pats shipped Miami second- and seventh-round picks for Welker.
The NFL Players Association has said it only wanted to look at details of the deal but denied it is investigating if it is a violation of the portion of the collective bargaining agreement that says a team can't offer the player's former team something to dissuade them from matching the offer.
No matter because it appears the only poison in Cleveland's offer is the $2 million plus average for a player who played limited snaps and was inactive the last three games.
But that doesn't mean Smith is unloved in Cincinnati. He keeps his teammates loose in the locker room and he's a big guy (325 pounds) who has played well in spurts. Some think he's suited more to being a nose tackle in the Browns 3-4 than the Bengals' movement schemes in their 4-3.
"I love Shaun. I've been talking to him every day and I'm happy for him," said fellow tackle John Thornton. "I'd like to see him back, but it's a good deal for him either place." There has been no talk lately of restructuring Thornton's deal ($3.7 million on this year's cap), which means the Bengals appear ready to make up for the loss of Smith, linebacker Brian Simmons, and safety Kevin Kaesviharn through the draft and college free agents, as well as players who spent last year on the practice squad and injured reserve.
Thornton has been hearing the heat the Bengals are taking in free agency, and there will be more Friday when Smith becomes the sixth Bengal to leave (joining Simmons, Kaesviharn, Steinbach, backup linebacker Marcus Wilkins, and backup tight end Tony Stewart) without anyone signing.
But Thornton can't quite understand the criticism. He thinks the Bengals' own defensive end, Robert Geathers, is a younger version of Patriots free agent Adalius Thomas and a younger fit for Joey Porter, and doesn't see any other prospects available.
"I don't know who they would have gone and got," Thornton said. "Like I said last year, Rob is the best player on our defense. He can cover the tight end, he can chase down Michael Vick, he can rush the passer. No offense to Adalius, but Rob can do what he does and he's seven years younger. And I'm happy for Joey because he got that money, but if we switched to a 3-4 Rob could be that kind of linebacker."
SLANTS AND SCREENS The agent for former Cardinals center Alex Stepanovich, an Ohio State product, said his client came to town a few days ago but that may be all.
"He had a great visit. He likes the coaches and it seems like a good fit but he's leaning in a different direction," Ralph Cindrich said Wednesday.
With the loss of center Rich Braham and a backup center in Steinbach, the Bengals appear to be looking for depth behind starting center Eric Ghiaciuc as well as a guy that can also play some guard.
Ben Wilkerson, who played his longest stint at center when Ghiaciuc went down early in the third quarter during the Nov. 30 victory over Baltimore, has played sparingly in two other games.
The 6-4, 312-pound Stepanovich, who made 30 NFL starts in three seasons with the Cardinals, was a restricted free agent that Arizona didn't tender. After he played for the Bengals coaches at the 2004 Senior Bowl, the Cards took him in the fourth round.
That's where the Bengals took Ghiaciuc a year later. Don't expect Bengals franchise player Justin Smith to make the same "I'll-never-play-here-again" noises that franchise linebacker Lance Briggs is making in Chicago. Smith has been notably silent through his tagging, and the club and some of his teammates believe he will sign the $8.6 million tender at some point and not hold out. As for trading Smith for Briggs, it appears that neither side has approached the other. Plus, Briggs is going to be looking for a number the Bengals probably won't feel comfortable paying a linebacker.