Marvin Lewis meets the press Tuesday.
Notes on a napkin from Tuesday's media luncheon that heralds Friday's start of training camp:
It's like Marvin Lewis says. As head coach of the Bengals, he's had something like 890 questions about his embattled quarterback.
"But that's the job," Lewis said. "You also have to answer the 891st."
Lewis didn't like the way he answered one of the questions Tuesday. He doesn't like to get too specific. But he felt like had to single out offensive coordinator Hue Jackson's efforts this offseason to draw more leadership out of Andy Dalton.
"I think Andy Dalton has made tremendous strides for us this offseason as the leader of the team," Lewis said. "In general, I think Hue has been very, very forward in asking him to do more to become more of a leader and I think Andy has embraced that. I see it in the interaction with the players. I see it in the interaction with us as coaches."
Dalton gets ripped for being 0-4 in the playoffs and not performing under the bright lights, but there was very little talk of him Tuesday and what there was resulted in a power endorsement from Lewis.
"It's confidence in his abilities. It's his confidence in the things we do on offense," Lewis said. "He gets better each and every time he goes out there. He's always been a very accurate passer, but his anticipation continues to grow and get better. As he goes, he spurs the rest of the team on. They have to play up to his standard and he has a very high standard that way. And that's very helpful to us."
Jackson prefers staying in the shadows on this one. But he's where he's always been since he became the coordinator last year. Firmly behind Dalton.
"I'm not concerned with Andy as much as everybody else is," Jackson said. "I understand that we haven't won a playoff game and that falls at his feet, and mine, too, and the rest of the offensive staff and players, as well. But he's done everything -- and I mean this -- he's invested everything that he can into preparing himself to be the best he can be for this season. And I'm totally behind him 100 percent, and I think he's going to have a great year -- not a good year, a great year."
PANDORA's BOX: If Dalton has the kind of year that Jackson envisions, it's because he'll be a point guard executing some pretty exotic stuff. After his first season was marred by injuries to both starting wide receivers and a starting tight end, Jackson is itching to unload some Xs and Os. Last year his creativity was confined pretty much to unbalanced lines and using running back Rex Burkhead as a slot receiver in the Wild Card Game in Indianapolis.
"We're going to open Pandora's box more," Jackson said. "We tickled it a little bit last year. We're going to open it up a little bit more this year and be who I think we can be…But I tell you what, the defenses are so good, the defensive players are so good and they disguise all the time, why can't we? It's a chess match, and whoever is not afraid to pull the trigger, pull the trigger. And I'm not afraid, so let's go."
When the dust cleared from all the injuries, the Bengals finished 15th in offense and sixth running the ball, the highest in rushing in Lewis' 13 seasons. Jackson has chosen to harp on that, rather than the late-season struggles in a severely reduced passing game.
"I tell people all the time -- close, personal friends of mine -- that was probably my best coaching job. To not have A.J. Green. To not have Tyler Eifert. To not have a healthy Jermaine Gresham to start the season. You lose Kevin Zeitler for a couple games," Jackson said. "We mixed and matched pretty well last year. Not to the best of what we could have been, but we did a decent job. Obviously a healthy Cincinnati Bengal offensive football team has a chance to be very dynamic….If we can stay healthy, some of those hardened times can turn into some good times."
FAMILIAR RING:  It sure sounds like Bengals president Mike Brown is relenting on the idea of instituting a Ring of Honor at PBS. Even during the days at Riverfront Stadium, former players lobbied for the some kind recognition and Brown seems to be listening.
"I understand the players. They want to be remembered. I think it is a good thing to do that. We have never traded here on nostalgia. That's probably my fault," Brown said. "Because a little of it is a good thing. Fans like that sort of thing. What I'm saying is I'm stewing on it. I'm aware of the discomfort with our position."
It's just not Brown's style. It wasn't his father's style, either.  The idea of putting individual accomplishments ahead of the team didn't sit well with either of them. And how would it sit with players who didn't get recognized?
Just look at how Mike Brown decided to name the stadium, which is the only thing that has any whiff of Bengals founder Paul Brown in the building. It wasn't a nostalgic decision. It was actually one of defiance.
"That was a debate in my mind. I went back and forth between calling it Paul Brown Stadium and Bengals Stadium," Mike Brown said. "In a weak moment I succumbed… I love my father. He would have told me, 'Don't do that.' So I did it anyway."
Brown has some ideas. On Tuesday he talked about maybe putting something on the ribbon scoreboards wrapping around the facing of the upper deck. But he indicated that his successor, his daughter and Bengals executive vice president Katie Blackburn, would have a bigger say.
"We have no statues. We have no Hall of Fame; we have no Ring of Honor. We do have large pictures of the players in the foyer of the west side," Brown said. "But is that enough? Probably not. I confess it isn't. Maybe someone who comes after me can do better with this."
Mike Brown has spent a lifetime trying to anticipate the future (contracts, injuries, depth, the draft) and there has been little room for nostalgia. On Tuesday, he seemed to realize it was OK to take a look back.  
"It's me. It's in my bones," Brown said. "Like everyone, I tend to look backward some, but I'm always focused on what's coming next. We've had decades now of wonderful players here. I can understand why people feel we should have celebrated them more and perpetuated their achievements better than we have. I'm probably at fault."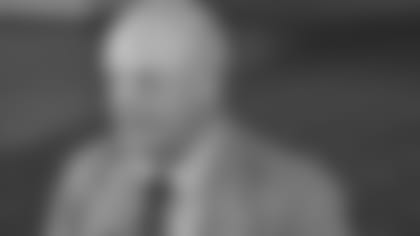 As usual, Bengals president Mike Brown got off a few good one-liners Tuesday in one of his only media sessions of the year.
MORE MIKE: As Brown gets set to preside over his 48th Bengals training camp, he sounds as excited and as optimistic as ever and got off some spry one-liners.
"I don't wear rings, they're dangerous. If you jump up to dunk the ball you can catch one on the rim," he said when asked if he'd wear a Super Bowl ring.
But he also had a poignant moment. Here's a guy that came within 34 seconds of winning the Super Bowl 27 years ago. He wants it more than ever.
"It would mean a lot. I haven't managed that and it doesn't please me that that's the fact," Brown said. "It's one of the things that I have on my resume; it's unfinished work if you will. It would make a nice entry on my gravestone."
Another year, another big contract. If it's not Boomer Esiason, it's A.J. Green. The Bengals then and now are known for keeping their big guys. Brown used to be in the middle of some media firestorms when it came to contracts, but those days are no more. Recent deals for Geno Atkins, Carlos Dunlap, Dalton, and Burfict have come and gone with Blackburn and her husband Troy negotiating the deals with nary a word in the press. And Brown thinks the lower profile has helped them get deals.
"We've had a good track record of signing our key players – extending them," Brown said. "None of that is easy and we are once more trying, we're seeing if we can get that done, not only with A.J., but with some others as well. It just has to play out. It doesn't do me any good to talk about it here. I'm not looking to incite the other side one way or another. I just hope we can come to an agreement. He's a splendid player. He means a lot to our team. We want him to be a part of our future."
NO DISTRACTIONS: So does Jackson. And with Green just one of six offensive starters and regulars heading into the last year of their deals (Green joins fellow receivers Marvin Jones and Mohamed Sanu, tackles Andrew Whitworth and Andre Smith and right guard Kevin Zeitler), Jackson won't ignore it when he convenes meetings on Thursday.
"I'm not going to run from it," Jackson said. "We have quite a few guys who have some contractual issues. We'll address it. I'll address it very soon, but we're going to keep that out of our room.  That's not what's important. That's why they all have agents to handle all of that. What we have to do is check all our egos at the door. Our job is to win so we're not going to get caught up on all of that.  That will be the first conversation I have with them. We're going to handle that, because those are the things that get you as a football team.  We're going to deal with that very head on and guys are going to understand they are here to do a job."
DARRIN'S DEN: The big question facing special teams coordinator Darrin Simmons this training camp is getting rookie wide receiver Mario Alford up to snuff on punt returns. The 5-9 Alford corked off one of the fastest 40-yard dashes at the last NFL scouting combine, but he has virtually no track record of returning punts.
Simmons' units have been enormously successful (they finished second in the top 10 special teams categories last season and first in 2012) and one of the reasons is because cornerback Adam Jones and wide receiver Brandon Tate have been so reliable. Jones is going nowhere as a starting cornerback and now that No. 4 wide receiver James Wright (knee) is done for the year, Tate may not either. But now that they're looking to upgrade at receiver, Tate's spot is tenuous again and they need a guy to help Jones return.
If Alford can't do it, Tate, a seven-year vet, is back and is probably one of the five active receivers, and that may not sit well on an offense looking to get younger and faster at that spot.
"We're not going to put anybody in there that we don't trust, who can get the ball when the downs over with. Obviously we know what he can do when he does get the ball in his hands," Simmons said of Alford. "He's very exciting.  He's an explosive player in that regard in college. We're going to keep pushing him to do that. Catch balls and learn how to judge and learn how to make the proper reads and decisions ad you're going to get all kinds of reps in the preseason to do that, so we'll get a good look at him."
Jones and Tate have caught plenty of punts, so Simmons can get away without using them in the preseason. There's only one way to know if Alford is going to be ready to catch punts in Oakland Sept. 13 in the opener.
 "He's going to have to prove to me and to our entire team, that includes his teammates, that he can do it. And that he can do it flawlessly," Simmons said. "I think we've had a good track record with the way it's been, with a combination of Brandon and Adam, we've been fairly successful at keeping the ball, and that's our number one goal, is to make sure we've got the ball for the offense. And, the best way for him to do that is going to be in preseason games. It's not just catching them out here in practice when nobody's around, or even before practice or after practice. It's when the bullets are flying and you've got gunner's coming down on top of him. The best way to replicate that is in preseason games."
Tate is a guy fans love to hate. Unlike Jones, he doesn't give you a lot of splashy returns. But his decision-making is impeccable. Yet, Simmons knows if Tate can't produce on offense, he won't be here. They've used him sparingly the last three seasons, only playing him when there have been injuries.
"Obviously we have a level of comfort with Brandon and the reason we brought him here was to return the ball however many years that's been now," said Simmons, who urged the club to claim Tate off waivers at the 2011 cut down. "Everybody wants to be down on him all the time, but it always beats the alternative. Like I said, he's somebody I've got a great deal of confidence in. I think our team does, I think our head coach does, our front office does, have a great deal of confidence in him making those decisions and catching that ball. I think where Brandon has to make an impact is, more of an impact, is at receiver."
DEFLATED ANSWERS: Brown and Lewis clearly wanted nothing to do with Tuesday's story of the day. Before the NFL announced it was upholding Patriots quarterback Tom Brady's four-game suspension for his role in #Deflategate, both were asked about it. Andy Furman, the Fox Sports Radio talkmaster who lives in Cincinnati, asked Lewis if he'll give his equipment room directives on PSI.
Lewis indicated he thought the story got overinflated.
"I don't ever talk to our people about PSI,' Lewis said. "The quarterbacks get the ball to their liking. I don't have too much to talk about that . Quarterbacks practice with the balls and they just have to meet the standard and there they go. It's a simple thing that unfortunately somehow one of the steps wasn't followed completely and it became too much of a story in my opinion."
Brown said he'd back NFL commissioner Roger Goodell.
"It's been awhile coming. I'm an owner in the National Football League. I am not the commissioner of the National Football League," Brown said. "He's going to say what he's going to say and you'll find me echoing support after he says it. I don't think  I need to pontificate before he does."