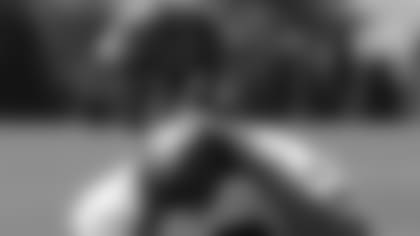 Ragone: Heading to St. Louis (Bengals photo)
The Bengals' trade of Dave Ragone to the Rams doesn't mean all that much in the Bengals quarterbacks derby.
At first blush, it looks like a move to appease both coaching staffs. It allows Ragone to reunite with one of his college mentors, Rams head coach Scott Linehan, Louisville's offensive coordinator and quarterbacks coach during Ragone's run as three-time Conference USA Offensive Player. And it allows the Bengals to focus on giving the bulk of the reps to either Anthony Wright or Doug Johnson at training camp.
First, the Bengals have to decide if the rehabbing Carson Palmer is going to get the starter's reps at the start of camp. Then they have to decide who is going to get the next amount of reps. Conventional wisdom is Wright, but head coach Marvin Lewis hasn't said.
It also allows the Bengals to get a draft pick, believed to be a late-rounder in 2007. The St. Louis Post-Dispatch is reporting the pick is conditional on Ragone making the club.
The trade also allows the Bengals to give free agent rookie Erik Meyer a shot to make the practice squad.
The Bengals simply didn't have time to work Ragone into the mix once they claimed him on waivers from the Texans May 24. He apparently had always had interest in St. Louis because of Linehan, but he'll have to beat out second-year Harvard product Ryan Fitzpatrick and Michigan State's Jeff Smoker for No. 3 behind Marc Bulger and Gus Frerotte. PALMER TOP CELEB:
Carson Palmer just gets hotter and hotter. Palmer and Patriots quarterback Tom Brady are the only NFL players on the Top 100 Celebrity List of
Forbes
. The list is based on "income, Web references as calculated by Google, press clips as compiled by Lexis/Nexis, TV/radio mentions from Factiva and the number of times a celebrity's face has appeared on the cover of 26 major consumer magazines." The magazine also said "earnings estimates are for June 2005 to June 2006 and are dollars earned solely from entertainment income."
Palmer weighed in at No. 73 ($28 million take) and Brady came in No. 52 at $29 million. Palmer finished just behind actress Renee Zellweger at No. 72 and just ahead of LPGA teenage star Michelle Wie at No. 74.
How big is Palmer? He almost beat out the star of one of his favorite TV shows. Kiefer Sutherland of 24 fame finished 68th.
Palmer did beat out such luminaries as the Fox New Channel's Bill O'Reilly (76), comedians Dave Chappelle (82) and Larry the Cable Guy (83), tennis stars Serena (87) and Venus (90) Williams, and LPGA superstar Annika Sorenstam (91).
The magazine said, "Memorabilia sales, in addition to deals with Nike, Huntington Bank and Cincinnati Bell, add as much as $1 million annually to his income." HENRY HEARING:
According to Clermont County Municipal Court Clerk Tim Rudd, Bengals wide receiver Chris Henry has another pre-trial hearing July 26 for his arrest earlier this month for operating under the influence on Interstate 275 in Batavia, Ohio.
Henry appeared in court Tuesday for a pre-trial hearing, where Rudd said Henry had been ordered to have an ignition interlock system put into his car so that he has to blow into a Breathalyzer to start it. Once 15 days pass, Rudd said, Henry has 24-hour driving privileges with the interlock.
If the case isn't settled by July 26, it could be continued again from that day, or the trial could start that day, which is three days before training camp starts.