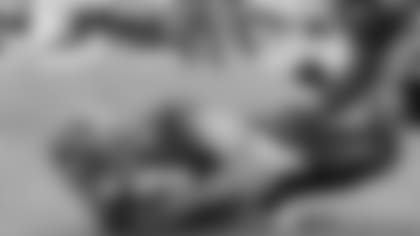 Since this sack and forced fumble by Haynesworth, the Bengals offensive line has been among the league's elite. (AP Photo/John Russell)
The line in the sand is Halloween 2004, the day Titans tackle Albert Haynesworth tricked Bengaldom by detonating Bengals quarterback Carson Palmer to cause a fumble nine yards and a minute away from a tie at Tennessee to drop Cincinnati to 2-5.
The offensive line hasn't been manhandled again and it's no coincidence the Bengals are 8-3, 4-1 on the road since. Before Halloween Haynesworth, they had allowed 19 sacks in seven games while generating 100 yards rushing and 290 yards total per game. Post Halloween they've allowed just 14 sacks while averaging 132 yards running, 366 total.
"We've got a growing core of players that know their opportunity and window of success can be very small," said head coach Marvin Lewis, pointing to his two lines as anchors of this 11-game surge to a hardened mentality. "Time is of the essence and we have more guys pulling the other guys into the eye of the storm with them as opposed to the other way around."
With the 2-0 Bengals headed to Chicago with the NFL's No. 1 offense, Lewis points to his veteran line as a mirror of the maturing of a team that's on its best 11-game run since the Bengals won seven of their last nine in 1996 and split the first two games of 1997. He's counting on a group that says it feels like it's in top condition, healthier, and sharper than this time a year ago in looking at its biggest test of the young season.
Bengal brawn vs. Bear speed in what the offensive line is calling an early showdown of how they'll fare against some of the NFL's top defenses this season. The offense that leads the NFL in first downs against last year's defense that allowed the league's fewest third-down conversions.
"There is no history. There is no association with '01, '02, '03, '04. It's the '05 team," Lewis said. "I don't get the feel we're any longer going to play down to the opponent. We're going to continue to do our thing and execute our job and play to our ability."
Tip top shape
Nowhere is it more apparent than in the offensive line. Its leader, Pro Bowl right tackle Willie Anderson, says it's all about execution. Left tackle Levi Jones says that not only is it about the unit being in better physical condition, but also in a more proactive role.
"We've taken more ownership. We've taken a bigger part in what we're doing," Jones said. "Everything starts and depends on up front. We've taken it upon ourselves to mesh together and get things right and correct the problems we had."
Really, the only problem coach Paul Alexander's line had in those first seven games last season was staying healthy and intact. And, preseason injuries to four of the five starters prevented the unit from hitting the ground literally running like this September.
Anderson admits the line is in fine condition, but he says the whole team is in top shape. Still, Anderson says he's about 10 pounds under his 340, Jones is down to 300 pounds from about 310 and 340-pound right guard Bobbie Williams, the one who wasn't hurt last preseason, says he's in the best shape of his life. He says he's stronger with more muscle mass and points to the work of strength coach Chip Morton and assistant Ray Oliver.
"I got my body fat considerably lower and I just think it had a lot to do with how Ray and Chip revamped their program," Williams said. "They focused more on core (torso) strength this year along with muscle strength. The focus was the core strength and that's what develops the other muscles, and you can see the difference. It helps the other body parts. I came in about the same weight, but stronger. I had a tremendous offseason. I was in there lifting good weight, some of the best I've ever done."
Williams said the group was extremely focused in the offseason workouts, pointing to how Jones and Anderson came into the program as fit as he's seen them as inspiration to others.
Jones said he had a great offseason in which he worked with a training and strength team at his alma mater of Arizona State. While making stronger the knee that hobbled him in early 2004, he realized taking care of his body is as important as what he does on the field in his effort to break into the league's top tier of left tackles.
Anderson's rehab from mircofracture knee surgery has been well documented and he has looked as sharp as ever despite playing just 25 snaps in the preseason finale. He said he never felt better for any of his 10 openers than he did two weeks ago in Cleveland, when he brought up some of his therapists from Atlanta to work on him hours before the game, a routine he plans to continue during the season.
Plus, Steinbach's surgically-repaired elbow isn't bothering him like it has the last two seasons, and his play has been apparent. Given his inability to lift properly because of the elbow problem that needed Tommy John surgery, it was Steinbach that got blown up that day in Tennessee. But he dished it out with Vikings Pro Bowler Kevin Williams last week in the trenches, something he couldn't do with Haynesworth last year, and his pulling and quickness have opened up a lot of the holes for Cincinnati's 315 yards rushing that are tied for fourth in the league. Exhibit A: T.J. Houshmandzadeh's 16-yard touchdown run last Sunday off a reverse behind Steinbach's pull.
Bobbie Williams says the line could sense they had the Vikings wilting during the game, and it was Minnesota that blinked in a first half the Bengals offense was on the field for 21 minutes.
"You can see the difference. It's like we're more acclimated to it," Williams said. "We looked over and we saw the heat was getting to them. That's how you know you just turn it up a notch."
Williams also thinks the running program Morton and Oliver put together in the spring helped him, as well as everybody else.
"We did a lot of our running in the stadium this year instead of on the grass," said Williams of Paul Brown Stadium's FieldTurf. "A lot of running. That's in the heat because it's hotter inside (on the synthetic turf) than outside and I think that has prepared us for the heat of the games. I think that's something else you can see."
Indeed, in the first two games the offense has been on the field nearly twice as long as the defense (72:53-47:07), and quarterback Carson Palmer has been sacked just twice on 80 drops while the rush average is 4.4.
But the line knows Sunday is a huge test for them because they will be called on to use their strength against the Bears' tricky, juking line that is light and fast. The Bengals front averages about 314 pounds compared to the Bears' 281 pounds.
"We're treating this like a division game," Williams said. "It's not only big because of the chance we have to go to 3-0, but it's a big game because it's going to help us see what kind of defenses we're going to play later on. If we can knock it out now, it's going to give us confidence in what we're going to see from the other great defenses down the road."
Anderson thinks the Bears defensive line, with the John Randle-like Tommie Harris and their quick ends are an elite look.
"Definitely our biggest test of the year. A different kind of group than we've played all year," Anderson said. "They remind me of Tampa Bay and the Ravens, how they come at you from all directions at about 100 miles an hour. They play numerous guys and it's a solid group."
If the line play has been so strong early, so is the rest of the offense's realization how important it is. Houshmandzadeh started the week in the moments after the Vikings game talking about it.
"If they don't play well," he said, pointing across the room, "you all wouldn't be over here talking to us."
Offensive coordinator Bob Bratkowski summed it up better than anyone all week: "The biggest difference between this year and last year (at this time) is the health of the line."
And they will have to be one of the - literally - big differences Sunday.
IN THE COOP: Bears head coach Lovie Smith has a deep tie to the Bengals in scouting consultant John Cooper. Smith played under Cooper at Tulsa, where Cooper gave him his first coaching job with the linebackers in the mid 1980s, and later hired him as his secondary coach at Ohio State in 1995. The next year, Smith was off to Tony Dungy's Buccaneers.
"I didn't see him as coach of the Chicago Bears, but I thought before he went to the NFL he would be a fine head college coach," Cooper said. "He's obviously got things going in the right direction up there."
Cooper can't remember if Smith approached him about the job or if it was the other way around, but he remembers getting Smith off a playground, where he was the director after getting his degree from Tulsa.
"Obviously a smart player. A quiet leader, not a real vocal guy. He was a strong safety, a real good run support guy back when it was half safety, half linebacker," Cooper said. "He made his name in the NFL with Mike Martz and the Rams where he had all 11 guys running to the ball. You think, 'Big deal, every coach says that,' but his guys actually do it and you can see the results."
That may have been an outgrowth of what Cooper always told his assistants: "Coach what you see." What people saw during the Bengals' coaching search two years ago was Cooper's tie to Smith, but apparently the contact was never made. Cooper does see similarities with the man that was hired.
"Lovie is always looking for speed," Cooper said. "Same thing with Marvin. He's a driven guy who wants his players to play fast because of the turnover factor."
INJURY UPDATE: Bengals WR Chris Henry (foot) is probable after practicing Thursday. SS Anthony Mitchell (hamstring) did some early drills, but didn't participate in 11-on-11 and is questionable. As is becoming a weekly routine, RT Willie Anderson rested his knee Thursday and didn't work. DE Justin Smith (hamstring) was added to the injury report Thursday, but is probable.
There is some concern in Chicago that left end Adewale Ogunleye won't go and is questionable after not working the first two days this week. He had five sacks last season after getting 15 for the Dolphins in '03.