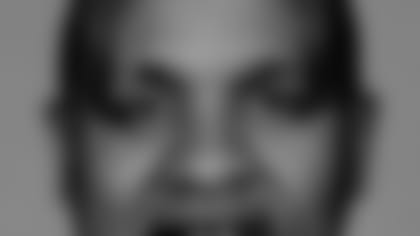 After losing its position coach, the most prolific receiving tandem in Bengals history hopes head coach Marvin Lewis can clone Hue Jackson to succeed him as receivers coach for one of the NFL's best and most volatile groups when it comes to personalities.
"You need a guy that can relate to guys," said T.J. Houshmandzadeh on Monday. "Hue could get along with us and laugh and joke, but he wouldn't let us run over him. That's what you need."
Chad Johnson professed to be mad and sad: "Marvin is going to have to do double duty. They won't be able to find a guy like Hue."
Johnson admitted he, too, wonders how the club will handle the departure of Jackson to Atlanta as the Falcons offensive coordinator under new head coach Bobby Petrino.
"Hue was the perfect player's coach," Johnson said. "He would do things that no coach would ever do for you. He knew everything about you and if you were having trouble off the field and he knew how to make things better on the field."
One name that has surfaced as a potential candidate if the Bengals decide to stick with an NFL veteran is Terry Robiske, recently let go in Cleveland after five seasons as a receivers coach, offensive coordinator, and interim head coach. He's been in the league since 1982 also as a tight ends coach and an assistant head coach along with another interim head job in Washington in 2000.
During his three years in Cincinnati, Jackson, 41, won praise for working with a highly-talented and high-strung group of receivers. Jackson couldn't be reached for comment Monday and the Bengals haven't confirmed the signing, but it's believed he went to Atlanta to sign the contract.
Petrino said in his Monday news conference that he'll call the plays like he did at Louisville, but no doubt he hopes Jackson's ample people skills and offensive knowledge are going to help revive quarterback Michael Vick's career. "Hue's a gem. Michael Vick will be better than ever," Johnson said. "Those receivers down there will be sitting there with their mouths hanging open because he makes the game so easy."
Johnson, Houshmandzadeh and Chris Henry have made it look easy under Jackson, the only man to call plays in a Steve Spurrier offense and an offensive coordinator that recruited Heisman Trophy winners Carson Palmer and Matt Leinart to USC. Late this season Jackson interviewed for the head coaching job at the University of Cincinnati.
Last week Lewis said all his coaches were under contract and the club could have prevented the move, but for the most part the Bengals won't deny a coach a promotion. They could lose quarterbacks coach Ken Zampese, a guy that's believed to have had a few chances at being a coordinator over the past few seasons he has coached a Comeback Player of the Year in Jon Kitna and two-time Pro Bowler in Palmer.
Johnson and T.J. Houshmandzadeh racked up the three most prolific seasons by a receiving tandem in club history. They capped it off with this season's franchise-first double 1,000-yard seasons.
While Johnson became the first Bengal to lead the NFL in receiving yardage and the first player to lead his conference four consecutive seasons in receiving with 1,369 yards, Houshmandzadeh had his first 1,000-yard season with 1,081 and led the AFC with 30 third-down catches.
In 2005 Jackson was a key figure in the drafting of Henry in the third round. In the past two seasons Henry has sat out four games stemming from four arrests, but he's also been the touchdown-maker Jackson saw at West Virginia with 15 of his 67 catches going for touchdowns.
Jackson has stayed in constant touch with Henry during his problems and his exhaustive monitoring and tutoring are seen as major reasons for Henry being able to get back on the field and be productive, and Houshmandzadeh admits he has concerns about what Jackson's absence might mean. "Hue was able to relate to him; Hue understood 'Slim,' " Houshmandzadeh said. "To me, that's the kind of coach you need in the NFL. You figure that everybody knows their Xs and Os, but it's the coaches that can relate to you as a person. It doesn't matter if it's a high school coach, a college coach, a pro coach, or whatever. It just has to be somebody who knows people."
Jackson developed that bond with Houshmandzadeh when he arrived in 2004 from the Redskins and receivers coach Alex Wood left to be offensive coordinator in Arizona.
Houshmandzadeh had just 62 catches in the three seasons before Jackson arrived, but his career took off when he said Jackson treated him equally instead of as a seventh-round pick.
"He's the smartest one of them all," Houshmandzadeh said. "The entire staff was the same except for him."
Both Johnson and Houshmandzadeh understand they are emotional players and can be a challenge at times for coaches. Johnson even poked fun at his most publicized meltdown, a year to the day of that halftime implosion during the Wild Card loss to Pittsburgh that ended the 2005 season.
Jackson and Johnson denied published reports that said Johnson put Jackson in a headlock. Jackson was fond of saying the proof Johnson didn't do it was because he walked out of the locker room after halftime.
Johnson said that Jackson fired him up with incentive and motivation, always reminding him he was "only 360 degrees away" from being fly dung. But Jackson didn't say "dung."
"Who am I going to put into a headlock now?" Johnson joked Monday. "I've matured a lot and Hue is definitely a big reason why. Do you know that in the three years he was here, he never praised me? He'd say, 'job well done,' or something like that. It was always, 'But you can do better.' And if you had a great game or great play, he'd say, 'but that's what I expect.' "
Houshmandzadeh is also known to have a temper, as evidenced by this season's helmet toss in Baltimore.
"Hue knows when to confront a guy after that, or when to wait, or just let it go," Houshmandzadeh said. "Most coaches don't know how to do that."
The receivers were in the eye of the storm last week in the fallout of the season-ending loss to the Steelers that knocked the Bengals out of the playoffs. When players talked about "selfishness" as a reason for the 8-8 finish, it was interpreted as a slap at the want-the-ball mentality of the receivers, although right tackle Willie Anderson later said it wasn't.
Jackson, Houshmandzadeh said, emphasized the team concept at all times.
"Hue wanted you to have the mentality that you wanted the ball in big situations," Houshmandzadeh said. "That's the way he coached. But he said the minute that came in front of the team winning, you couldn't have it."
Johnson, about to get his fourth position coach in his seventh season (Steve Mooshagian was here his first two seasons), had trouble getting his arms around this one.
"It's like losing a father," Johnson said. "I'm mad. I'm not doing very good right now. But I'm happy for Hue because he's going to be doing what he always wanted to do."
Jackson has a lot on his plate in his new assignment.
The Falcons finished last in the NFL in passing yards and next-to-last in allowing sacks per pass, as well as 25th in points per game and 24th in third-down efficiency. Thanks to Vick, the first quarterback to have 1,000 yards on the ground, the Falcons were No. 1 running the ball but found it didn't get them back to the NFC title game. GEATHER-ING TALKS:
The agent for Bengals defensive end Robert Geathers said Monday that he's had "substantive talks" with the club about a long-term deal and believes it's a priority for the team.
"They've shared that with us and that Robert is a guy they see as important in their future," said Bill Johnson of the Atlanta-based Profiles Sports Management Inc. "We're working through things and hopefully we'll get there."
A deal before March takes Geathers out of restricted free agency after his breakout season of 10.5 sacks in his third year out of Georgia. If they don't have a long-term deal in place by then, the Bengals could virtually guarantee keeping him with a one-year tender offer in the $2 million range that would net first-round compensation.
ALL-PROS: Johnson and Anderson were voted to the Associated Press All-Pro team Monday by a 50-member nationwide panel. Both were voted to the Feb. 11 Pro Bowl last month. The club's other Pro Bowler, Palmer, didn't make the AP team, quarterbacked by the Saints' Drew Brees. The announcement came a day before Johnson's 29th birthday.