Andy Dalton won't mind throwing to rookie Tyler Boyd when he gets his most extended work of the preseason Sunday in Jacksonville.
Safe to say the Bengals starters are going to get their biggest workload of the preseason Sunday night (8-Cincinnati's Channel 5) in Jacksonville but as head coach Marvin Lewis got ready for Wednesday's practice he didn't say who would get how much.
"I go by the individual player," Lewis said. "Our approach is based on our players and what we need to get done by position. We know what degree of level condition work that we monitor all the time … Some guys will get extended a little longer, others won't this week."
Most of the starters are probably going to play the first half and then take a seat for the pre-season finale Sept. 1 at Paul Brown Stadium against the Colts.
Maybe quarterback Andy Dalton, Pro Bowlers A.J. Green and Andrew Whitworth, and the running back tandem of Jeremy Hill and Giovani Bernard don't even make it to halftime Sunday. Last year Dalton left the third pre-season game with 4:17 left in the first quarter for precautionary reasons when he tweaked his neck sneaking in for a touchdown.  That didn't stop him from being ready to lead the Bengals to an 8-0 start and win the AFC passing title.
"There's been time spent on the Jets," Dalton said. "We're working toward week one, not preseason No. 3."
Lewis pronounced his injured as "fine," but there were a lot of starters on the rehab field Wednesday led by Pro Bowl tight end Tyler Eifert (ankle), slot cornerback Darqueze Dennard (ankle), right tackle Cedric Ogbuehi (toe) and WILL linebacker Vontaze Bereft (unknown). Burfict practiced for about a week this camp, but hasn't been out there in a week and Lewis has said he won't play him in pre-season games before his three-game suspension begins Sept. 5.
Also rehabbing were sophomore tight end Tyler Kroft (knee) and rookie guard Alex Redmond (unknown). Right tackle Jake Fisher (ankle, knee) didn't rehab Wednesday but stayed away from the rehab field and watched the early part of practice with the offensive line. Wide receiver Mario Alford (ankle) rehabbed on the field for the first time since injuring it in the pre-season opener 12 days ago.
DALTON TAKE:  One starter that may have to play longer than most is wide receiver Brandon LaFell. Nursing a tendon injury in his right hand, LaFell has yet to play in a game and he returned to practice this week after a 10-day absence. Questions range from his ability to keep his starting job to his chemistry with Dalton.
"Nothing has changed in my mind with Brandon LaFell for us. I have not been other than optimistic about Brandon," Lewis said. "They've practiced together for three and a half weeks, but he game is a little different, because you can get tackled. That's the biggest difference. It's a positive for him to get an opportunity to play. He hasn't played yet this preseason in a game, so this will be good for him."
Dalton is saying pretty much the same thing.
"We're getting good looks from our defense," he said. "We've been going against guys who are talented.
 The guy who appears to be pushing LaFell, rookie wide receiver Tyler Body, has developed a nice rapport with Dalton since he arrived in the second round.
"We know A.J. (Green) is No .1 and we've got a lot of guys fighting to be the next guy. We're in a good spot. We've got a lot of guys who have done well.
"(Boyd) has learned a lot. He's playing a lot faster than he was initially. That's just from knowing what's going on. The thing that happens with time. He's got a good feel for what we're asking him to do. He listens really well. When you tell him it was good or what he needs to do differently on certain routes. He's got the right mindset. It's been a lot of fun to see."
So Dalton likes the communication they've developed since the draft and he sees Boyd taming, so far, the main thing he believes plagues most rookie receivers
"Second guessing themselves. When you do that, you play slower than you should," Dalton said. "That's the biggest thing you work towards. These guys being solid and knowing what's going on."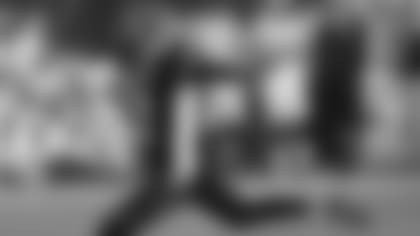 Mike Nugent: No. 2 on the Bengals' all-time accuracy list.
NEXT STEP: Bengals special teams coach Darrin Simmons has a lot on his plate 18 days shy of the opener. There is the coin-flip race at punt returner between all-time franchise leader Brandon Tate and undrafted rookie wide receiver Alex Erickson.
And then there is the Mike Nugent mystery where his kicker of the last six years has missed three kicks in the preseason. On deck is Zach Hocker, who has had a tough preseason himself. Or more specifically, his plant foot has had a tough preseason.
In the first few days of camp Hocker strained the tendon while tearing the cover of it and Wednesday he kicked field goals and kickoffs for the first time since. Hocker, a seventh-round pick of Washington in 2014 and the Saints kicker for the first six games of 2015 before he landed for a brief stint with the Rams, figures to get most of Sunday's kicks. Hocker says he's ready.
"We haven't talked about it yet,"  said Simmons of the rotation but he also knows, "we have to see him in a game ,' for a true evaluation.
That's because Hocker hasn't even practiced. Nugent has done well in practice but it hasn't translated into games and that has Simmons stymied.
"Never seen that before," Simmons said after practice Wednesday. "I'm worried he's missed a couple of kicks but I'm not worried about his mindset. We have to get it fixed and quickly. He's been fantastic in practice and that's the only indicator I have of what can happen in games.  But it's not been true so far. It has to carry into games."
Nugent has slumped before, but always comes out of it. At 82 percent, Nugent he's the second most accurate kicker in Bengals history behind Shayne Graham's 86 percent. Simmons sounds like he thinks he'll come out of this one.
 "I'm not worried," Simmons said. "We can't go through wholesale changes. Just tweaks. We'll go through it and try to fix some things."