John Ross got a challenge before he even stepped foot on the field.
The Bengals had Auburn pass rusher Carl Lawson as their No. 1 guy on their third day draft board  in the fourth round for his attitude as much as his talent . He's known as a no-nonsense, tough, all-out player, and that came through loud and clear Friday morning when he came back into the locker room after his first NFL walk-through.
They lined up the 6-2, 261-pound Lawson at SAM linebacker and gave him former middle linebacker Rey Maualuga's No. 58. The club is checking out Lawson's versatility as a 4-3 backer after he was a lineman that dropped occasionally in the Tigers' 3-4 because they already know he can rush the passer with his hand on the ground at defensive end as a nickel pass rusher. And he may very well end up on the defensive line for good.
But now is the time to see what they've got, which is a pretty fast guy that ran 4.67 seconds in the 40 yards at the NFL scouting combine.
"This is my job and what they want and I'll work to end up being the best at what I do," Lawson said. "I'm ready to work."
How tough is this guy? He took out his father's knee and Carl Lawson The Elder played 15 games at fullback for Georgia Tech from 1989-90.
"I hurt his knee. It was bad. You can ask him," Lawson said. "I was 12, 13. He was talking, 'Here, I'm the fullback. I'll block you up.'  It didn't turn out so well. He never tried to block me again."
His son never thought about playing offense ("strictly defense") and, besides, "Fullbacks are fading out real fast."
Lawson flashed in his first practice with a quick initial step. Defensive coordinator Paul Guenther said the plan is to put him at backer half the time and at pass rusher, most likely on the edge, half the time. Guenther was not only effusive about Lawson ("smart kid"), but the rest of the linebackers.
"Since I've been here it's one of the best groups overall on our side of the ball," Guenther said, "as far as not making many mistakes."
Five years ago Emmanuel Lamur made the club after he arrived at this camp as a try-out linebacker. Also on Guenther's watch, Vontaze Burfict, and Vincent Rey are current linebackers who made the roster as undrafted free agents.  This year there are eyes on Houston linebacker Steven Taylor's try-out camp. Illinois middle linebacker Hardy Nickerson and versatile Brandon Bell of Penn State  have signed as undrafted free agents and also fit the "smart category."
Bengals head coach Marvin Lewis has seen it before from Nickerson. He repeated the story after Friday's practice how Nickerson's father, five-time Pro Bowler Hardy, helped shape his career when he coached him and the Steelers linebackers in his first year in the NFL in 1992.
"I told young Hardy I likely wouldn't be here without his father. His father tested me as a coach to be right," Lewis said. "He was an outstanding player. Smart. And his son shows the same attributes out there after being around him for a day and a half."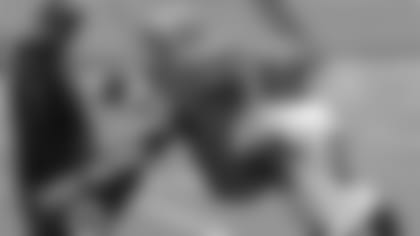 Seventh-rounder Mason Schreck of Buffalo works on the first day rookie minicamp under the watchful eye of tight ends coach Jon Hayes.
SLANTS AND SCREENS:Reds speed king Billy Hamilton pitched a 40-yard showdown with Bengals first-round pick John Ross. But Bengals head coach Marvin Lewis threw out the idea with an unassisted double play.
"Hopefully one day they'll be able to meet and have a laugh about it," Lewis said after Friday's practice. "But I don t think (either) one … needs to risk their careers in some kind of a race."
Ross, who broke the NFL scouting combine 40-yard dash record, can't practice until August as he recovers from shoulder surgery.
"John is not a circus act," Lewis said. "He's a football player. Billy is a fine baseball player and a great guy. And he's having a good season."
But it won't include a race with Ross. And even before practice when he was asked about it, Ross seemed to sense it wouldn't go over well with the head man. "Right now I'm just focused on becoming a Bengal," Ross said. "I'm not sure what the future holds. If we want to do something for the community later for charity that would be awesome. Right now I'm just focused on being a football player."
Ross actually played Hamilton's position, center field, at his high school in Long Beach, Calif. But just his freshman year. Yes, he could catch. But one of the reasons he quit is he found defense boring because, "No one hit it out here very much." Plus, "I couldn't hit." He stole some bases and never got caught, "but it was hard for me to get on base." ...
_Second-rounder Joe Mixon is lockering next to Ross this camp and wants no part of any races even though he's a running back that clocked 4.46 in his pro day 40. But he has an idea who would win.
"My man right here," Mixon said. "I'm all in."
  Former Oklahoma great running back Arian Peterson is all in on Mixon. He texted Mixon after the draft wishing him well and Mixon switched his number from 34 to Peterson's 28.
 "Growing up I liked Adrian Peterson and tried to model my game after him," said Mixon, who met Peterson a few times on campus …
Mixon is rooming with undrafted Kentucky running back Boom Williams and after going over the playbook Thursday night they settled down to play some Madden. Mixon used the Cardinals and running back David Johnson and Williams went for Miami and Jay Ajayi.
But Williams had a rough start to his pro career. He pulled a hamstring in the first half hour of work Friday and is done for the weekend ...
Memphis kicker Jake Elliott wore No. 3, the number of the man who called his name in the fifth round and is the Bengals only 1,000-point scorer in Jim Breech. The 5-6, 160-pound Breech used a lot of golfing principles in his game, but the 5-9, 167-pound Elliott played tennis in high school in Western Springs, Ill., before he fell into kicking.
It started when he was randomly picked out of the crowd as a freshman at a pep rally to kick a field goal and he hit the 30-yarder well enough that the football coach asked if he'd be interested in coming out. Elliott didn't think anything more about it as he got engulfed by tennis and basketball. But during his junior year the football coaches were desperate for a kicker and pulled him off the tennis courts at the recommendation of a friend, the long-snapper. He did well enough that they told him to come back the next day if he wanted to play and he did …
Never has special teams coordinator Darrin Simmons had so many kickers around a camp. There is Elliott and Jonathan Brown, the former Louisville soccer star back for another chance after getting hurt early last spring. Also on the field this weekend is Shayne Graham, the club's second all-time leading scorer. Graham, who retired as a Bengal a few months ago, is a  special teams coach at Central Michigan and took the weekend to watch Simmons and help him out.
"Shayne's a very bright young man, obviously," Lewis said. "He's been involved in those meetings, and now it's all the other nine or 10 guys that you're responsible for too when you're a special teams coach."
_Other guys who flashed Friday were fourth-rounder Josh Malone, a wide receiver from Tennessee, and Mason Schreck, a tight end from Buffalo. The 6-3, 208-pound Malone, showing smooth routes and a burst that continually got him open deep, probably had the most catches of the wide receivers.
And that's hard to do given Friday is the first day they've put eyes on each other. The two QBs were of the try-out variety, East Carolina's Phillip Nelson and Michigan State's Tyler O'Connor. It's believed Nelson is the first Pirates quarterback to work here since Jeff Blake made 66 starts as a Bengal in the '90s ...
But they're going to stick with only three QBs once things get going and they're already in the fold. It's too bad that Jeff Driskel, the No. 3 QB that spent all last season on the roster and never took a snap, wasn't eligible for the camp ... 
Photos from the Bengals Rookie Mini Camp on Friday, May 5, 2017.