Michael Johnson was a rookie on the 2009 AFC North champs.
Let's see, the last time the Bengals played at Paul Brown Stadium:
It was the Sunday after the last presidential debate, the clocks were still an hour ahead, and the Bengals went off to London with three wins.
It's going to be 28 days since when they play the Bills (1 p.m.-Cincinnati's Channel 19) and they're still on three wins.  That makes it seem like forever and a day.
"Honest to God, it's the weirdest thing. I know that we have played at home, but I don't really feel like we have," said Pro Bowl left tackle Andrew Whitworth. "I mean, it's been a weird year. I can't even hardly recall the home games. It's weird. Every week I feel like I'm packing my bags to go somewhere. But it's going to be nice, nice to be at home, nice for a chance to play here in front of our fans and hope they have the same resiliency and belief in us that we have in them."
After dispatching Cleveland out of PBS on Oct. 23, they were 3-4 and poised. Now after playing nine quarters and getting beat by a total of 48-47, they are 3-5-1 and at Wednesday's team meeting head coach Marvin Lewis asked them to do something.
"I had that group stand up today; the guys that were here in 2009, '10, and '11," Lewis said. "Then there's the rest of the room. It's significant. They understand that. That group of leadership guys have to keep spurring guys on and pulling them forward, and then themselves hold up their end of the bargain."
In the NFL, seven years is a generation so there's not exactly going to be a line of guys. Try seven. One for every year. They were here when they helped the Bengals sweep the AFC North on the way to the title before going 4-12 in 2010 and climbing back to the postseason at 9-7 with the rookie class of A.J. Green and Andy Dalton:
Whitworth, nose tackle Domata Peko, defensive tackle Pat Sims, middle linebacker Rey Maualuga, right end Michael Johnson, punter Kevin Huber, long snapper Clark Harris.
"I wanted to show that we've been in these situations before, and you have to pull out of it," Lewis said. "The only way to pull out of it is to put your head down and go to work. There's no other way, no magic words that make touchdowns appear or disappear. If I did, I'd find them."
Those guys have been on all kinds of runs. Division sweeps. Ten-game losing streaks. A 6-2 run to open a 2011 lock-out season some predicted they'd go 0-16. They've been 3-5 before they were 10-6 in 2012.
But never 3-5-1 on Nov. 20.
"I think your mental determination has to go up," Whitworth said. "Whatever you felt like all year you've been at, to come out of this hole you have to turn it up even more. "
They usually have. Since 2011 they are 28-16 in November and December with a 14-9 record at PBS. Maybe it works for them that this is the latest they've played their fourth game at home since 1971.
They're used to hitting the re-set button. Take away this year's free-agent pickups and their rookies and 32 of their returning guys have never been on a losing Bengals team.
 "You look at the record last year when we were 8-0, a lot of those games we could have lost but we were just on the other side," Mike Johnson said. "That's what makes this game so great. It's very rare that you're going to see a blowout in the NFL. If that happens, something has gone wrong. That's what makes this game so great, the competition is so evenly matched that each play, each drive is so critical. The margin of error is slim to none."
There's no mistaking it. The mood in the locker room is one of frustration. That happens after a tie and a one-point loss in the fourth quarter. Here's Johnson on if the Bengals are nearly three games worse than the 6-3 Giants.
"I don't think so. But that's what the record says. We've got to go with what the record says. All we can do is be ready for Buffalo, because that's what's next. We can't worry about our last couple weeks and what our record is. None of that matters. Sunday we're 0-0 against a 0-0 team."
But there's also a feel that they've been here before, especially with AFC North leader Baltimore looming on the road next week. That was Wednesday morning's mantra. Dalton said he mentioned 0-0 in an informal gathering of offensive players. Whitworth senses they think they know they can string something together. Because they have.  
"I think the reality is we've been in games at the end and just haven't been able to find plays. I think when you can do that, it can go one of two ways," Whitworth said. "You start to develop to be for that season a team that doesn't seem to find an answer, or you can turn it around and make it swing in the other direction."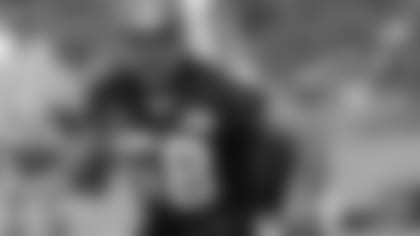 REY REHABS: Bengals middle linebacker Rey Maualuga, out Monday night with a fibula problem, surfaced in uniform Wednesday on the rehab field at Paul Brown Stadium and was listed as limited. The Bengals worked lightly on the stadium field as they prepped for Sunday's game (1 p.m.-Cincinnati's Channel 19) against the Bills at PBS.
Still not working yet were defensive tackle Brandon Thompson (knee), cornerback William Jackson (pectoral) and running back Cedric Peerman (arm). Thompson has until Nov. 22 to start practicing or he goes on season-ending injured reserve. As members of IR, either Jackson or Peerman can return, but not both.
Backup wide receiver James Wright (hamstring), their leading special teams tackler who missed Monday's game, went full Wednesday, as did safety George Iloka (shin).
Quarterback Andy Dalton, on pace to be sacked 50 times, was limited with a throwing shoulder issue. So was starting tight end Tyler Eifert (knee), starting left guard Clint Boling (shoulder), starting wide receiver Brandon LaFell (knee), starting defensive end Michael Johnson (calf) and backup defensive lineman Wallace Gilberry (calf).