 GEORGETOWN, Ky. - When he showed up for camp last year, it was all about Carson Palmer's knee. Now all he wants to do is take a knee.
"The good quarterbacks finish off teams in the fourth quarter and I haven't done that," said Palmer as he checked in Thursday here at Georgetown College. "You have to put yourself in situations in games where you don't have to worry about getting the ball on the last drive and having to do something with it. You like to take that knee at the end of games."
Marvin Lewis called out his best players last week. And when they showed up Thursday, it was clear that guys like Palmer and Justin Smith had heard his call for the Bengals' best players to play their best in the biggest games.
"We're getting older on defense. You have to expand your role a little bit more and I plan on doing that," Smith said. "Up front we're the oldest group, I think. Us four have talked about how the oldest have to take charge and hold everybody accountable."
It was during the offseason Smith got paid more than $1 million for each of his 7.5 sacks as the team's franchise player in free agency. But only a half of those came in December. "It's definitely where your guys have to show up in the big-time games," Smith said. "For whatever reason we didn't get it done. We had opportunity in (the last) two games. A team that was ready that year would have jumped all over those two games."
The last two games in the Christmas Eve snow of Denver and the New Year's Eve chill of Cincinnati against the Steelers were on players' minds as they arrived in the Kentucky heat. Palmer dismissed his last-drive heroics in each that put the Bengals into position to tie or win.
"Not enough points," he said. "You hope you're up by enough points going into the fourth quarter that you don't have to worry about making last drives. Good teams finish off teams in the fourth quarter."
The miscues at the end of those games prevented Palmer from racking up his 10th and 11th victories in which he has engineered wins with the Bengals tied or trailing in the fourth quarter. The nine he has now is already a rather remarkable feat given that they account for a third of his 27 victories.
But Palmer, who completed just 52 percent of his passes in the last three games, prefers to see the points squandered. Lewis has talked about an offense that has the reputation as high-powered but failed to score more than 20 points in nearly half (seven) the games and, as usual, Palmer is hardest on himself.
"All of it," said Palmer of taking the blame. "It's the quarterback's job to get the ball in the end zone, to make the right decisions, not to make mistakes at critical times in games, consistently move the ball. I haven't done that well enough since I've been here."
Which is news to everyone else, since Palmer has uncorked two of the three most prolific passing seasons in Bengals history the past two seasons.
"We ended up being ranked in the top half of offense (11th), but we definitely underachieved," Palmer said. "We didn't play up to our expectations or the expectations around us. We've got a lot of work to do this camp."
T.J. Houshmandzadeh couldn't resist lobbying for the ball for the receivers, but he heard Lewis, too.
"I see where he's coming from," he said. "It works both ways. Your best players have to play good, and you've got to get the ball to your best players. You've got to make an attempt to get the ball to the best players. Everybody can play better."
Smith, who turns 28 early this season, has teamed up with 33-year-old Bryan Robinson, 30-year-old John Thornton, and the ancient Robert Geathers who turns 24 this camp. The oldest starting linebacker is 26-year-old Landon Johnson. In the secondary, two of the top three cornerbacks are 23 and 22. Smith knows this very well could be his last year here, but like Palmer, he's not listening to the buzz.
"I'd like to win it all and then go from there," he said.
They seem to be listening to Lewis. FOOTBALL JONES:
Left tackle Levi Jones doesn't feel as if he has to hurry to stay in the lineup like he did last season. Neither, apparently, does Lewis, and he's decided that Jones won't be in Friday's first practice as the team tries to get a handle on the knee that has undergone surgery twice since October and cost him 10 games in '06.
So Andrew Whitworth will do what he did 10 times as a rookie last season and line up at left tackle while Stacy Andrews takes the place of $7 Million Man Eric Steinbach at left guard.
"Or else, we had no chance," said Jones of how he felt in the past if he couldn't play. "(But) Whitworth did a spectacular job last year despite getting thrown into the fire at left tackle as a rookie. Now we've got Stacy ... I knew last year when I was playing I shouldn't be doing it because my ankle was messed up and it was just a matter of time before something else (got injured)."
Jones said his ankle got mauled on the first series of the last preseason on a run block, so he wasn't all that surprised the knee went on Oct. 15 in Tampa. He felt he took a step back when he left his rehab program in Arizona to join the Bengals in April, but now that he went back to Phoenix for the past month he's hopeful he can play in the Sept. 10 regular-season opener.
"I got on a different program. It didn't go as well as it went before," he said. ""Everybody has their own way doing things. I'm not saying their way is wrong, it just didn't work for me."
"When I got here, their focus was just to get it stronger while basically overlooking all the pain issues I was having," Jones said. "That just caused my muscle groups to shut down one by one. Out in Arizona they focused on all the contributing factors. Strength would be the last thing they focus on because it doesn't really matter if it's strong if you have too much pain to put pressure on it. I've got to sit down with their medical staff to find out what we're going to do. Hopefully get something done that is a lot better than what I went through the last three months here."
He hopes to be ready for Sept. 10. He knows everybody wants him to be ready Dec. 30 for the finale in Miami against Joey Porter's Dolphins. It was Porter that has been fined three game checks for jumping Jones at a Vegas casino.
"I'm having to deal with Jason Taylor. I'm focused on the real job at hand, the real player at hand," Jones said. "Jason Taylor is one of the best linebackers and defensive ends in the league. I'm going to have my hands full with him. And Jason is going to be on my side. Hopefully (Dolphins coach) Cam Cameron can be fortunate enough to put (Porter) over there a couple of plays." ALL BUT ONE?:
When the Bengalsy hit the field, No. 1 pick Leon Hall figures to be the only player not in camp, but no one is thinking that it is going to be an extended holdout. With no players officially inked between the No. 16 and No. 25 positions in the draft, it's hard for both sides to get a gauge on the numbers at No. 18 but the Bengals have one of the earlier report dates and more deals are coming quickly.
If they do it as quickly as vice president player of personnel Paul Brown did it with agent Fletcher Smith in the second round, no problem. Those guys basically did it in a few hours Thursday after virtually 0.0 previous discussions on the 49th pick, running back Kenny Irons. The two sides were working off David Harris' deal at No. 47 and Brian Leonard at No. 52.
"Things happened quickly late to get it done," Smith said. "It didn't come together like I thought it would."
Five of the seven picks are officially signed. Kevin Conner, the agent for fourth-rounder Marvin White, says he's close.
SLANTS AND SCREENS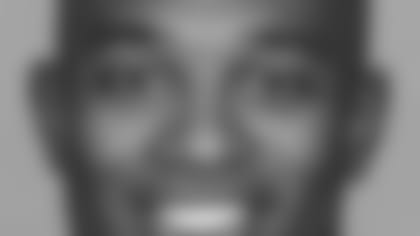 Tab Perry announced Thursday, "You're looking at a new and improved Tab Perry now. Whole new attitude. I'm going to try and keep this intensity all through camp.
Perry, who missed the last 14 games with a badly bruised hip, looks and sounds like a new man. He was 215 pounds the day he got hurt against Cleveland and even though he's 213, it's a different 213. Remember, he showed up here as a rookie at 229, and during this offseason he ran more and did more leg lifts and didn't do as much lifting as he worked on his speed.
Perry, fond of letting people know he ran a faster 40 at the scouting combine than Chris Henry, is anxious to show he's ready to help replace him for the first eight games of the season as one of the options at third receiver. He worked with Palmer and Houshmandzadeh this past month in California, but he says he'd still like to return kicks. Even though receiver Antonio Chatman is listed as the team's top kick returner, it figures to be Perry's job to lose after he set the club's single season records there as a rookie. It's nice to see old friends meet again. In a galaxy far, far away, tight ends coach Jon Hayes help anchor one of the Steelers Super Bowl running games with left tackle turned TV man John Jackson. "You're a communist now," Hayes joked when he got out of his car and saw Jackson with a microphone. Jackson, by the way, did shots for a Dayton TV station outside his old dorm room here (No. 214) and going down memory lane of 2000 and 2001. Speaking of dorm rooms, rookie quarterback Jeff Smith was looking for "Speaker City." Smith, the Newport, Ky., product who led Georgetown to the NAIA semifinals, is literally at home. He lived in these dorms for a year and a half as an upper classman and is a sidewalk away from the old room.
"We were known for playing music," he said.
He admitted he never thought he'd be putting his luggage next to Palmer's.
"Being from Cincinnati, the whole thing is a thrill," said Smith, who recalls attending a couple of Bengals practices while still in college.