---
---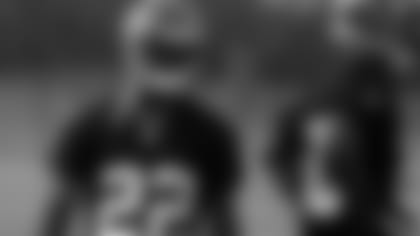 Joseph participates in his first practice after signing his rookie contract. (Bengals photo)
GEORGETOWN, Ky. - Amid all the hand-wringing of signing their rookies, the Bengals got all but one in on time and third-rounder Frostee Rucker is expected any moment.
This was supposed to Camp Distraction, right? But first-rounder Johnathan Joseph easily fit into the slot at No. 24 and all the veterans are happy enough that they reported, although Odell Thurman is back home in Georgia dealing with family matters.
As reported Saturday afternoon, the Joseph deal is five years, $8.2 million with another $2.5 million in escalators. About $5.6 million is guaranteed, mainly through signing bonuses, but a starting job is not.
Joseph, the Bengals' first top pick to report on time since Carson Palmer in 2003, lined up behind Tory James at right cornerback and rotated with Keiwan Ratliff at the third corner.
"It wasn't faster; it was like before," Joseph said, comparing Saturday to the spring camps. "I've got that out of the away."
The Joseph deal is in such stark contrast to the Chris Perry (11-day holdout) and David Pollack (19) quagmires of 2004 and 2005, respectively. The Bengals didn't get really deep into talks until agent Jason Chayut got Chiefs defensive end Tamba Hali done Thursday night. But Joseph had already called the office looking for a plane ticket, fully expecting to be on time.
"I didn't say anything to my agents," Joseph said. "They told me I wasn't going to hold out. They laid out the numbers and that was it."
Head coach Marvin Lewis pointed to the effort around the league to get first-rounders in on time as opposed to other years, but that doesn't explain Rucker.
Rucker, a defensive end from USC, has a legal situation pending in California charging him with two counts of spousal battery and the Bengals may be trying to protect bonus money in light of the case. Agent David Dunn would only say Saturday night that the numbers seem in place but that they are working on structure issues.
The Bengals did get a deal with fifth-rounder A.J. Nicholson, the linebacker from Florida State who is facing some felony charges related to breaking into a college teammate's Florida home. Although Nicholson said Saturday night it looks like those charges are going to get dropped. Lewis is clearly exasperated with Thurman, the second-year middle linebacker suspended the first four games because of violations of the NFL's substance abuse policy. Thurman is eligible to practice and play in the preseason games and Lewis expected him here for the 11 a.m. meeting. When 11 came and went Saturday, so did Lewis's patience.
"It's a non-factor. We expect him here. If you want to be in charge of him you're welcome," Lewis said. "He's dealing with some things with his family and they'd asked if he was allowed to do this. There's no pressing need for him to be here."
And get used to Brian Simmons in the middle.
"We'll have somebody probably play there for the season," Lewis said. "We're not going to worry about a guy that's not here, or a guy that's not a part of our football team." INJURY UPDATE:
There is some angst over the appearance of defensive tackle Sam Adams on the active/physically unable to perform list, which simply means he can't work individually with his position coach, but can return to practice once deemed healthy enough.
That's opposed to going on PUP the week before the regular season, which means a player didn't take a snap all preseason and misses the first six games of the regular season.
But Adams is going to make an appearance soon. Of the guys who went on active PUP Saturday, Lewis said the players who look like they're going to be on it the longest are running back Chris Perry (ankle) and defensive lineman Jonathan Fanene (hamstring) and it's been said Perry is going to be ready for the regular season.
Fanene, who tweaked his hamstring last month in the spring drills, apparently re-aggravated it running Saturday during an evaluation.
Adams, 33, is in his second tour with Lewis and they know each other well. Lewis wouldn't be specific about Adams's injury, but from his work with assistant strength coach Ray Oliver on the sidelines it appears they are just sharpening his conditioning. This is a very large, explosive man whose signing has changed the balance of power in a division predicated on power in either trench.
"I'll be there," Adams said simply Saturday afternoon, still as fiery as when he signed back in April and got the city single-handedly ready for some football in one of the great Bengals news conferences of all time.
Asked about the move of 300-pound Bryan Robinson from tackle to left end so he can play next to him, Adams observed, "They'll have to run someplace else. ... In this division, you have to be tough and physical in order to survive."
Also on active PUP is wide receiver Kelley Washington (hamstring) and left tackle Adam Kieft (knee). The coaches are being cautious with Kieft, 51 weeks removed from tearing his ACL in the Mock Game. It shows you how different those ACL injuries are and how position and size dictate recovery. The 300-pound Kieft had his surgery five months before Palmer.
Guard Kyle Takavitz is on the non-football injury list after undergoing an unspecified surgery and is expected back next week.
IN CROWD: Saturday night's crowd of 4,200 is believed to be the largest opening day crowd in the Bengals' 10 seasons here with the key word, "night." After surveying Toyota Stadium, Georgetown athletic director Eric Ward predicted the Bengals would break last season's attendance record of about 50,000 even though it's their shortest camp in history.
Six of the events are at night, which means everything.
"If this crowd is any indication, we're going to have huge crowds next weekend," Ward said of the Friday night scrimmage and Saturday afternoon Mock Game. "I expect a similar crowd today (a 3-5 p.m. practice). By getting done at five, that's still early to get people back to Cincinnati, or where ever else they're going.
SLANTS AND SCREENS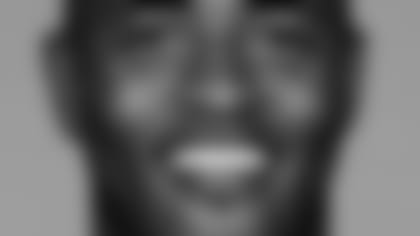 Wide receiver Chris Henry may face an NFL suspension at some point this season, maybe for as long as a year, but maybe for at least four games.
Washington doesn't know how that affects him, and you wonder if he's still on the trading block like he was during the draft. But that was before Henry got arrested twice. Certainly if a team loses a receiver in camp and needs someone quickly, the Bengals would have to be the first team they'd call given the depth.
"All I know is I'm damn good and I want to play," Washington said. "No matter where I am, I don't want to practice all week and then lift weights on Sunday (because he's inactive.) I'm going to do what I do. Do what they tell me, work hard, see what happens."
Washington, who hurt his hamstring the last practice of minicamp back on June 17, says he'll be back early next week. Lewis joked Saturday that linebacker David Pollack called him Friday night wondering how to get around the college. Then Lewis remembered. Pollack was never here last year, ending his 19-day holdout when the Bengals broke camp.
"It's nice," said Pollack after his Georgetown debut Saturday night. "It's two (weeks) of playing football and I couldn't think of anything better."
Pollack says he hasn't spoken to Thurman, his former Georgia teammate, but says there'll be no change with Brian Simmons moving from right outside linebacker to the middle.
"We have to move on. Injuries happen. It's God's will. It doesn't stop," Pollack said.
With Pollack's growth stunted last year by the holdout and then another month shelved because of a sprained knee, the Bengals are really excited about what he can do with a camp under his belt. As it was, he rang up 4.5 sacks in the last eight games in becoming the first Bengals rookie to log a postseason sack.
"In training camp, he'll be able to see things that before, he only saw when it was do or die for us," Lewis said. "Now he has a chance to get put in a particular situation, whether it be rush, coverage or blocking scheme, and critique off of it because it will be practice. The thousand repetitions he'll get here in our practices, prior to playing in our preseason games, will be big."