Adam Jones met the media after he met a $35,000 fine.
Cornerback Adam Jones began his group interview before Wednesday's practice with, "C'mon, let's get this over with," and he ended it 14 minutes later raving about how good of an interview it was and "I'm not going to change the way I play."
In between, Jones flashed the passion, anger, and unparalleled competitiveness that has marked his nine star-crossed seasons in the NFL.
Jones allowed that he'd been fined $35,000 for hitting a defenseless player when he ripped the helmet off Raiders rookie wide receiver Amari Cooper and threw his head on the helmet during Sunday's 33-13 Opening Day victory in Oakland.
He also said he was going to appeal it.
He was contrite ("I'll do my best to keep my composure and not hurt my team"), but he was also the same fierce competitor that head coach Marvin Lewis calls "a Doberman," on Sundays, a guy that has been a staple of four straight play-off teams.
Jones didn't delve into what ignited the play, although it appeared Cooper illegally blocked him by shoving his hands illegally under Jones' face mask.
"Hopefully it won't happen again," Jones said. "I can't tell you that in the heat of the moment that it won't happen again. I'll do my best to keep my composure and not hurt my team."
Jones is coming off what defensive coordinator Paul Guenther is calling his best game in six seasons as a Bengal. A game-high 10 tackles. Cooper, the ballyhooed fourth pick in the draft, held to five catches and 47 yards. The Raiders averaging 4.7 yards per pass. Indeed, Jones is  coming off his two best seasons as a corner and 2014 was better than 2013.
But as if to sum up his NFL career, the headlines weren't about his big-time play. And Jones, who turns 32 in two weeks, is old enough to understand.
"Everything that you guys write is all connected to my past, which I am OK with that because I'm a man of truth and honesty," Jones said. "My past is my past. I can't predict what you guys write. . . ."Everybody is talking about No. 89 (Cooper). He had (five catches for 47 yards). If you want to talk about something, let's talk about the game instead of everything else.
 "I'm just trying to help my team win. That's all I'm trying to do. And take care of my family," Jones said. "If it's anything else outside of those lines, that's not what I'm with. But inside of those lines, that's what I'm with. I come here every day. I work hard. Everybody's trying to find something. I guess I gave them something. That's my fault. I should say that, 'That's my fault.'
No question. Jones' crawl from the abyss of 2009 when he was out of the game for the second time in three seasons and buried by countless off-field problems has been riveting and admirable with obvious changes. But at times it has also been on the edge and his critics give up ground just as grudgingly.
"First thing I do is call my wife and see how the kids are reacting to things and how she's reacting to how I was portrayed. I'm cool. I know me as a person," Jones said. "I hope everybody over here in this building knows me as a person. If you're going to say 'He's never changed. Look at him.' That was the headline of the paper. Oh they say he's changed. He never changed. Really? On Sunday, when I get to be an animal, now I haven't changed? Did you look at the whole play? It is what it is. I guess I'm an animal on Sunday. I guess all the hard work I've done just went out the window."
Not for guys like Chargers quarterback Philip Rivers, the Bengals' foe in Sunday's Paul Brown Stadium opener (1 p.m.-Cincinnati's Channel 12).
"He's a football player. He just plays football,"  Rivers told Wednesday's conference call of Cincinnati media. "He doesn't see himself as just a corner or just a cover guy. He just goes out and competes and plays his game with his style and gets after it. That's why he's had the success he's had."
Jones admitted he can't do it again. He also admitted he plays in such a fever it could happen again. But he also feels like he's playing by a different media playbook.
 "Anything I do you guys are going to magnify it to sell papers or blow something up. I've been through a lot of stuff in my life, and the last thing I'm worried about is what you guys are going to say about a play," Jones said. "You guys are going to take and twist everything you can to make a story. I just try to play within the rules and have fun.
"My life is content. I don't worry about you guys. When I go home, I sleep good. I'm not out running folks over with cars or anything. This is my me time. This is the time where I can come over and enjoy myself. And then when I leave here I have to put the daddy hat back on. No yelling in the house. Taking the kids out. Daddy day Tuesday. As far as anything else goes, I can't worry about that."
There is enough to worry about with Keenan Allen, the NFL's leading receiver, coming to PBS.
"You have to be patient on the press and make sure you are close by," Jones said. "He's not a guy you want to play too much off on. You get up there and press him and try to disrupt the timing."
Patience and disruption. Such is the dichotomy of the game and its players and Adam Jones is the guy feeling the heat this week.
 "I'm prepared for it. I've got thick skin. I'll be through this," he said.
TOUGH LOVE:  Bengals offensive coordinator Hue Jackson made sure running back Jeremy Hill saw the play from last Sunday. When Hill was on the sidelines in the two-minute drill at the end of the half, running back Giovani Bernard gave the drive a huge boost when he wriggled away from a tackle by Pro Bowl safety Charles Woodson at the line of scrimmage on a draw that went for  an 18-yard gain.
"There are guys we turned loose one-on-one in the hole and he beat them. That's what running backs do. That's what I expect our backs to do. Jeremy needs to do that more. I told him that. That's no secret,"  Jackson said after Wednesday's practice. "That's what great backs do. They make plays out of nothing. Sometimes the back has to block the eighth guy. He did. That's why he had 7.9 yards per carry. C'mon now."
And he let Hill know about it.
"I'm going to ride Jeremy.  He better respond well. I'm going to ride Jeremy. Jeremy has ability," Jackson said. "He scores two touchdowns and everybody thinks that's  great, but he left some plays out there. He'll be the first to tell you that. I'm not saying anything he doesn't know."
Get ready for a season of this. And it just won't be Hill.
"I'm  never going to be nice to our  good guys," Jackson said. "Our good guys have to play great. The A.J. Greens, the Jeremy Hills, the Andrew Whitworths, the Andre Smiths, the Andy Daltons. Those guys have to play consistently and great every week for us to be what we can be. I'm never going to shy away from that when it comes to our good players."
I'm just trying to help my team win. That's all I'm trying to do. And take care of my family. If it's anything else outside of those lines, that's not what I'm with. But inside of those lines, that's what I'm with. I come here every day. I work hard. Everybody's trying to find something. I guess I gave them something. That's my fault. I should say that, 'That's my fault.'
INJURY UPDATE:  Starting safeties Reggie Nelson (groin) and  George Iloka (ankle) didn't practice Wednesday but they did take robust turns in the stretching line. Nelson played 85 percent of the snaps on Sunday and appeared to be fine after missing Thursday's practice last week. Iloka played  19 snaps on Sunday before he got hurt, but he was doing some running  on the sidelines in the second half.
Rookie backups (cornerback ) Josh Shaw (groin) and (defensive  lineman) Marcus Hardison (knee) didn't work after being inactive Sunday. Left tackle Andrew Whitworth and cornerback Leon Hall went limited, but it wasn't related to injury, so it's more like head coach Marvin Lewis is just trying to keep some of his veterans fresh after the first practice following a West Coast trip.
RIVERS ROLLING: The always delightful Philip Rivers, the Chargers long-time quarteback, ended another informative 12-minute conference call with the Cincinnati media Wednesday with a great line. it might have been a jab or he may have really wanted to know Sunday's weather report.
Rivers, of course, remembers how much the weather was a hot topic before the 2013 Wild Card Game and it ended up being a beautiful 40ish day with the Chargers rolling to a surprise win. With a sunny, cool day expected, Rivers was told, "Expect San Diego weather," and he appreciated the update.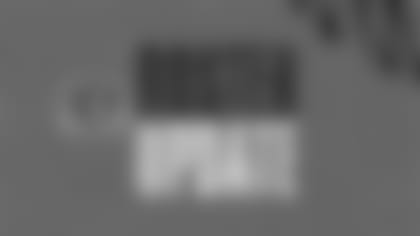 news
Bengals Player Moves - July 25, 2022