Hue Jackson likes the way Andy Dalton has taken the ball and run with it.
This is one of the reasons why Hue Jackson thinks this is a different team as they get ready for Sunday's AFC showdown (8:30 p.m.-Cincinnati's Channel 5) in New England.
"The quarterback," Jackson said after Thursday afternoon's practice when he was asked how he knows it is different.
As he burned the midnight oil in his office all day Sunday into Sunday night, the last day of the players' bye week, Jackson texted some back and forth with said quarterback Andy Dalton. Dalton was doing some homework with his offensive coordinator so that Monday wouldn't be such a whirlwind.
"This offseason. He taken a hold of that group. It's his group," Jackson said. "I think him, (Andrew) Whitworth, Andre Smith, Gio (Bernard) and A.J. (Green) and Mo Sanu and the rest of these guys understand.
"We've been doing everything right so far. We have to continue to get better. Now we're the hunted. It's not like people say, 'Oh, here come the Bengals.' No. We're the hunted. When you get hunted, you have to understand you get everybody's best shot."
The Bengals are going to take some blows Sunday against a wounded, proud, and challenged dynasty in the 2-2 Patriots. Dalton and his 2-4 record in prime-time games (five TDs, five picks), are going to be tested. But Jackson sees the 3-0 Dalton of 2014 leading the league in yards per pass with a career-best passer rating.
"It's a new year. Different team, different mindset," Jackson said. "It up to our players to change it. I'm not going to change it. They have to, they know that. It's about the men in that locker room. No more. Prime time football is who we are. So let's go play.
"He's been a breath of fresh air. He works his tail off," Jackson said of Dalton. "He understands the role he plays in this organization and this team and he's stepped up."
Jackson is in the third year of his second term with the Bengals and the first run didn't have a lot of prime-time success, either. If he noticed any traits or parallels, he's not saying. But he thinks this team, indeed, this quarterback, is different as they begin to get stalked during the NFL schedule  
"We understand that. We have to relish in that. That's no pressure," Jackson said. "That's just having more attention to detail and doing your job better than what you've done and everything else takes care of itself."
Jackson has been in enough prime-time games with enough contenders to get the feel and he thinks his team has it.
"You get people's best shot all the time. The people aren't going to feel you out, they're coming to the stadium ready to punch and you have to understand that," he said. "You have to take those punches, absorb them, and dish out your own. That's the way it has to be. We're going to get every team's best shot from here on in. It won't be any more of us flying under the radar or anything like that. We have to play and we have to play well and I think we understand that."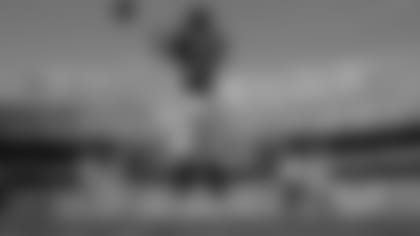 Giovani Bernard (above) and Jeremy Hill is the best backfield combo Paul Alexander says he's seen here in 20 years.
TWO FOR THE RUN: A running back is an offensive lineman's best friend and offensive line coach Paul Alexander confirms what we already knew. Giovani Bernard and Jeremy Hill is the best tandem he's had in his 20 years here.
"Corey Dillon and Brandon Bennett were pretty good," Alexander said. "And Dillon and Dillon was a really good combination."
But Bennett never carried more than 90 times in a season because from his rookie year of 1997 to 2001, there was nobody better than Dillon.
He remains the Bengals' all-time rusher who would have been a certain Hall-of-Famer if he had played two more seasons beyond the 10 that gave him 11,241 career yards. From his rookie year of 1997 to 2001, there was nobody better.
"You look at our futility running the ball and then the day Corey Dillon showed up we were suddenly one of the best running teams in football with the same blockers," Alexander said.
From 1993-96 the Bengals finished 24th, 18th, 24th and 13th in NFL rushing. Then from '97-'00 they went ninth, 19th, tied for sixth, and second. A lot of that had to do with the drafting of right tackle Willie Anderson and the acquisition of guard Rich Braham, but a lot of it was Dillon, too.
Alexander's first draft as line coach saw the Bengals trade up to take Penn State running back Ki-Jana Carter No. 1 overall and when he returned  to his desk for the third round he had a message from long-time offensive line guru Hudson Houck:
"Congratulations. You just got the best offensive lineman in the draft."
Carter's slew of injuries negated it all, but Houck's pronouncement came to life in '97 when Dillon flat out beat out Carter. The streak of 67 straight games without a 100-yard rusher was over.
The Bengals are currently working on a streak of 21 straight, the longest under head coach Marvin Lewis and Alexander says, "It may take a while to get there because we've got two backs."
He's seen a lot of NFL backs, often a volatile bunch with some quirks. Not here with the 22-year-old Bernard and 21-year-old Hill, soon to turn 22 on Oct. 20.
"They're good young runners," Alexander said. "They certainly have skill. They're fun to block for. It's almost unheard of that they're good backs and good guys, but they are."
The burst of Bernard and the power of Hill open it up for this line.
"They're two different runners and that allows you to do a lot of things," Alexander says.
WILL linebacker Vontaze Burfict and wide receiver Marvin Jones went from questionable to highly questionable for Sunday's game in New England (8:30 p.m.-Cincinnati's Channel 5) when they didn't practice with the Bengals during Thursday's late afternoon workout on the Paul Brown Stadium field.
Burfict worked rigorously on the side for the first time since he suffered his second concussion in as many weeks Sept. 14 against Atlanta. His last chance to practice before the game is Friday, when the official designations ranging from probable to out are released. But it's hard to see him advancing quickly enough in the NFL's concussion protocol to be ready.
Jones apparently hurt his ankle in Monday's practice and although he wasn't limping Wednesday he was nowhere to be found on the field Thursday. Also not found was defensive tackle Brandon Thompson (knee).
Defensive end Margus Hunt (shoulder) returned to practice for the first time this week limited on Thursday. Also limited was defensive lineman Robert Geathers (toe). Safety George Iloka (abdomen) went full. Right guard Kevin Zeitler (calf) joined Burfict working on the side. That's a good sign for next week, but not this week.
So here's how Sunday night's inactive list could possibly be shaping up: Burfict, Marvin Jones, Zeitler, Thompson, guard T.J. Johnson, linebacker Sean Porter, and cornerback Chris Lewis-Harris.