George Iloka is waiting on the officials when it comes to making his next tackle

Bengals safety George Iloka is waiting for the movie.
Iloka and the rest of his teammates are still waiting to get clarification from the NFL on the new tackling rule that reads, "Lowering the head to initiate contact with the helmet is a foul."
"Is it training camp when they bring in the referees to talk about the rule changes?" Iloka asked rhetorically Monday as the Bengals started their second week of off-season voluntary workouts. "But as of now … Coach hasn't said anything to me, so I'm going to wait. You can't practice what you don't know. Why start doing weird things in practice technique-wise if you don't know what the rules are?
"Just have to wait. Show me an example."
Iloka is a reasonable guy all the way around. Especially when it comes to the rules. But it sounds like this one has him buffaloed.
"They've put in some good rules," Iloka said. "Don't lead with the crown (of the helmet.). That was a very good rule. Don't launch. That was a very good rule. When a guy is technically defenseless, don't hit him, that was a very good rule.
"Now your saying, he's looking at me and I'm looking at him and now take your head out of it? All right."
He's not convinced. Somebody has to show him. He knows how he'll be running. Not with his head completely straight up, but with his head slightly bent forward.
"Your head is in front of your body. It really is always in front of your body," Iloka said. "If you're running like this, you're running like this so your head is still in front … we'll see."
Iloka had the third most tackles on the Bengals last season with 79 of the 340 he's been in on during his six seasons in the NFL and he's not sure how he'll make the next one. Sophomore running back Joe Mixon has touched the ball just 208 times in his career, but he says he's not changing his style because he has so many of them. Iloka knows running backs are taught to run forward, "with their pads behind them."
"Football is football to me. Whatever I've got to do. I'm going to do whatever I can to be successful on the field," Mixon said. "If I've got to put my head down to get the first down, I'm going to do that."
He envisioned Bengals linebacker and former Oklahoma teammate Jordan Evans lowering his body to tackle him.
"At the same time he can't expect me to not go ahead and lower the shoulder to get the first down," he said. "I don't know."
Mixon prides himself on having more than one move. You need all of them, he says, to fit every situation.
"You have to have it in your arsenal. You just never know what's going to come," Mixon said. "If he's coming straight at me I have to do what I have to do. I can go over him, I can run through him, or I can shake him. If I break him down, I just might go around him. Make it look pretty."
When tight end C.J. Uzomah jokingly scolded him for giving away secrets Mixon said, "It's not really a secret. You pick whatever way you want to get done up."
The players are waiting to see how the league wants them to put on the wrapping.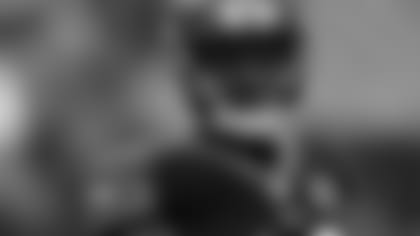 Joe Mixon has high praise for his old QB.
MIXON ON MAYFIELD: Mixon had high praise for another Oklahoma teammate as quarterback Baker Mayfield looks headed for a top five pick in Thursday night's first round of the draft. Count him as hoping he doesn't go to AFC North rival Cleveland.
"If it was up to me, I'd take him at one. Hell, no I wouldn't want to play Baker twice," Mixon said. "I want him on my team. I know it's not going to work like that. At the end of the day, wherever he goes I just hope we're not playing him. Just from what I've seen in pads. I know it's a different level. I'm sure where ever he ends up he'll make an impact right away. I'm sure he'll be the 'It,' factor that team is looking for."

GLENN SCOUTING REPORT:  Some of the new Bengals did some bonding watching the fight Saturday night at the downtown apartment of new middle linebacker Preston Brown. Left tackle Cordy Glenn, Brown's teammate in Buffalo, isn't surprised Brown opened his doors for himself, defensive tackle Chris Baker, right tackle Bobby Hart, as well as long-time Bengal Dre Kirkpatrick.
"Cincinnati guy. He's home home," Glenn said. "Solid. Productive. Efficient. A tacking machine. Smart. Instinctive. Great teammate. I could go on and on about Preston Brown. He's the quarterback of the defense."
GEORGE THE FIFTH: Has it really been six years ago when the Bengals took Iloka with the last pick in the fifth round, the draft pick they got for trading former No. 1 pick Keith Rivers to the Giants? Rivers retired after six seasons and 50 starts. Iloka starts his seventh season with 76 starts, but he's not surprised there is talk of the Bengals drafting a safety high or that this offseason they have talked with veteran free-agent safeties like Kurt Coleman and Eric Reid.
"This is the NFL. I'm a fifth-round pick. I think they've drafted a safety every year since I've been here," Iloka said. "They're always trying to find a way to improve as an organization, as they should. If you're blessed to be in the front office, that's what your job is. To find ways to improve. You have to focus on yourself in the now. That's what life is about, that's what football is about in terms of free agency and the draft. Just focus on yourself and the rest takes care of itself."
Almost every year. Not 2014. They took his fellow starter Shawn Williams in the third round out of Georgia in 2013, Fresno State's Derron Smith in the sixth round in 2015, Clayton Fejedelem in the 2016 seventh round and Houston safety Brandon Wilson in the sixth round last year. Smith is the only one no longer with the club.


Take a look at the 2018 Bengals regular season schedule in pictures.