Jeremy Hill ditched his regimen after two struggling seasons.
The Bengals arrived for their first day of work in the 2017 season Monday and it was a first day for a lot of guys.
-Take running back Jeremy Hill, fresh from his new training gig at One-on-One in Los Angeles. After two sub-par seasons following a Rookie of the Year season in 2014, Hill transformed his regimen and says it's the best offseason he's ever had.
"It wasn't working. What I was doing wasn't working," Hill said.  "Try something new."
Hill has become a bit beleaguered after averaging 3.7 yards per carry combined in 2015 and 1016. Last year he fought through shoulder and knee injuries before missing the first game of his career in the season finale with an MCL sprain. On Monday, he he reiterated, "No excuse. Everybody has injuries."
"I don't know. I've been searching for that answer myself," Hill said of the last two years. "For me, it's just getting that trust with the offensive line and really understanding what's going on and just breaking more tackles and having more yards after contact. That's something I can control. That's something I want to really work on, something I have been working on, something I can't show right now but it'll happen on Sundays." ….
_Hill played at LSU with Kevin Minter, the free-agent linebacker the Bengals picked up from Arizona and offered, "He's a great player. He's a competitor. He's a tackling machine, great blitzer. He's going to add a lot to our defense. He's going to be excited to play and I'm going to be excited to watch him." …
-It was defensive end Chris Smith's first day at Paul Brown Stadium after last week's trade with Jacksonville. The 6-1, 266-pound Smith, exchanged for conditional draft pick, had a big smile and said, "It's like being drafted again." Word out of Jacksonville is the personnel department liked Smith, a fifth-round pick out of Arkansas in 2014, but couldn't sell the coaches and he ended up getting on the field for only 19 games for total of 16 snaps per game for 4.5 career sacks.
"I just felt like I didn't have a chance to really showcase what I could do," Smith said. "When I did play I produced, but I really didn't get the chance."
Smith said he's encouraged  by the first meetings with defensive coordinator Paul Guenther and defensive line coach Jacob Burney because the focus is getting off the ball and getting after the quarterback.
"It's all about the pass rush," Smith said.
In breaking the news to him, Smith said Jags general manager Dave Caldwell told him, "I care about you as a person. I think this will be a good move for you.'  Smith, a North Carolina native, said he first thought about the cold when he heard Cincinnati. Then he thought about the towering starting defensive ends, Michael Johnson and Carlos Dunlap. If it's a nickel edge rusher they want, Smith thinks that's what they've got.
"I'm one of the shorter guys. They're (tall like) basketball players," Smith said. "I met (Johnson) when I was a in college. Some great guys …. All I can do is put my head down and work and worry about what I can control. I feel like that's what I do best. I'm a pass rusher."
The only injury that sidelined him in the pros, Smith says, is last year's eye injury. He lost about a month after he got scraped with a finger.
"That's it," said Smith, knocking the wood of his locker. "I'm as fresh as can be. That's what they said when I took my physical." …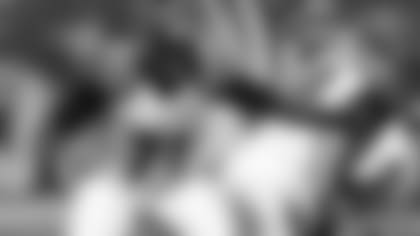 Andre Smith: like he never left.
-It's the first year Andre Smith lines up at guard in the NFL, but it's like he never left. Equipment gurus Adam Knollman, Sam Staley, and Tyler Runk made sure of that after Smith's one-year hiatus in Minnesota. They gave him the same corner locker and same No. 71.
"I thought I would be a few lockers down. I'm happy they put me back in the same spot," Smith said. "I can see everybody as they walk out, give them a high-five and get them pumped."
Smith's first year with the Bengals in 2009 was Andrew Whitworth's first at left tackle, so Monday was Smith's first day in Cincy without Whitworth's 168 games on the other side. Which makes Smith the senior starter with 86 NFL games, all but four with the Bengals.
"Most definitely I want to be the leader of the room. That's my goal, Smith said. "I want to have the 'C' on my chest if possible. I'm really looking forward to the opportunity to prove to these guys that I'm here to work." …
-Bengals cornerback Adam Jones made his first media appearance after his Jan. 3 arrest following an incident at a downtown hotel. Three misdemeanors are still pending but the felony has been dropped. Jones said he wouldn't talk about his case and about five minutes into the session he objected to a question he felt wasn't about football. The confrontation overshadowed what were a couple of Jones' vintage candid observations, one of which was how the Bengals have stood by him in the offseason.
"Words can't express, can't express my gratitude or my feelings for the organization,' he said. "Mr. (Mike) Brown, Coach (Marvin) Lewis, the teammates, the City of Cincinnati. This is home for me. I'm very eager to be here. I don't take it for granted. I love playing football, and I love helping the guys out and working together for one common goal, which is winning. I'm more than happy to be here."
The other was while the Bengals have gotten younger with the departures of staples like Whitworth, nose tackle Domata Peko, and right guard Kevin Zeitler, they've younged it up with players already in place.
"It is a big difference with Whit and Zeitler not here and a couple other guys, but I think the people upstairs have done a great job with getting the younger guys in here," Jones said. "We don't have too many new guys, but a lot of the young guys are ready to play to significant snaps, snaps that matter in the long run. It's an eager group with a lot of younger guys and older guys who aren't too old, not too young. I feel good about the group."
Jones said there was even discussion with the two holdovers from the 2006 draft gone in Whitworth and Peko, about who is now the oldest guy in the locker room. That would be Jones, the sixth pick in the 2005 draft who turns 34 on Sept. 30. He raved about how head strength and conditioning coach Chip Morton has kept his body in the game.
"Recovery is a big difference," Jones said. "I try to eat a little bit better. Knowing that my body fat is really low, you still have to watch what you put in.  You lose muscle tone at a little quicker pace than when you were 21 or 22 years old. I think Chip does a great job of having people here with nutrition, getting their yoga and breathing techniques that help you with your body in the long run."
Throwback gallery of the Bengals Draft Class of 2002 & 2003