 Chad Johnson has a chance to play Sunday in Baltimore after he showed up at work Monday without a neck brace. Johnson saw the media gather at his locker, had no comment, winced as he stood up and went into the training room.
"He's all right. It was just a scare," said wide receiver T.J. Houshmandzadeh, who accompanied him in the ambulance to the Buffalo hospital. "I knew he was going to be all right by the way he was talking. Nothing particular. Just dumb, funny jokes."
It turns out that some of the people that viewed the tape of the play with 1:53 left in Sunday's 33-21 loss say that Bills safety Donte Whitner never hit Johnson but that Johnson's head bounced badly off the turf after stretching for an incomplete pass over the middle at the Bills 35. After Johnson lay face down while moving his legs, he complained of neck pain and was strapped on a board and taken for X-rays and a CT scan as precautionary measures that checked out.
"I think it was a good play by them," Houshmandzadeh said. "Y'all give guys too much credit to guys that hit people. If I'm coming down the middle of the field and I don't see you coming, you should hit (me). It's not hard to do. ... If I'm defenseless and I have my arms up in the air and I don't see you, you should hit me."
Houshmandzadeh and Johnson had time to chat about the third-down pass that Johnson dropped on a quick slant over the middle early in the fourth quarter that would have been a 78-yard touchdown and given the Bengals a 28-19 lead.
"He knows he would have scored," Houshmandzadeh said. "Game over. Right there. They have to throw and we know they have to throw."
Houshmandzadeh has noticed that when Johnson goes over the middle and is anticipating contact, he tries to catch the ball with his body instead of his hands.
"I tell him," Houshmandzadeh said, ' "just reach out and catch it with your hands and go.' "
After Houshmandzadeh tied his season-low for catches with four, he went into the second half of the season still leading the NFL in catches with 62, one more than New England's Wes Welker. His 10 touchdowns trail only Walker's teammate, Randy Moss, with 12. And Houshmandzadeh is two games away from tying the NFL record for most consecutive games to score a touchdown at the start of the season and the Bengals overall club record at 10.
"It's kind of all for nothing when you're 2-6," Houshmandzadeh said. "When you're 2-6, nobody cares. You're losing. Nobody cares. They watch a winning team. ... When you do well individually it really doesn't matter because it's a team game and we're not winning. If we were 6-2, it'd be great." HENRY BACK:
Wide receiver Chris Henry's eight-game suspension officially came to an end Monday when he was added to the roster and wide receiver Skyler Green was released.
It was a move noticed by NFL Players Association chief Gene Upshaw, at Paul Brown Stadium with union officials and former Bengals Tom Carter and Scotty Graham, as they conducted their annual meeting with the Bengals.
Upshaw said the Bengals spent a lot of time asking him about the power commissioner Roger Goodell used to suspend Henry and two other teammates. Besides cracking down for a second time on Henry and his four arrests, Goodell suspended middle linebacker Odell Thurman for a second time for a year for violating the NFL's substance abuse policy and cornerback Johnathan Joseph was suspended a game for an arrest stemming from an arrest for possession of marijuana.
"They were really concerned about the authority the commissioner has," Upshaw said. "Even though they were saying we thought he needed to do something. And I understand. Whenever I go to a team where you lose a player, they defend their teammates."
Upshaw said the Bengals were asking how the commissioner had such vast power and he told them it has nothing to do with the personal conduct policy.
"Where he's getting the authority in many ways is through 'the integrity of the game,' '' Upshaw said of the clause in the collective bargaining agreement governing Goodell's powers. "That's where he gets the authority to act in these incidents."
Upshaw said each commissioner has used the clause differently down through the years. While Pete Rozelle used it to crack down on gambling, Paul Tagliabue hardly ever used it in connection with off-field incidents.
"Paul thought it punished teams when you suspended a player and not just the player," Upshaw said.
The commissioner's powers are clearly going to be an issue at the next negotiation, particularly his role as the person that rules on the appeals of his own decisions.
Asked if he could shed any light on why Thurman got hit with another year, Upshaw said, "I don't know the facts of the case, but obviously you have to do something to stay out. I don't know what that means (in this case). You have to follow the testing program, you have to go to rehab, you have to see the counselors. There's a lot of stuff you have to do and if you don't do all of those then you don't get a recommendation from the medical people.
"I don't have anything to do with it. What Roger would be looking at is what are the medical people saying. Yes, normally that's what it is (a medical decision)."
The Bengals opted to keep the little-used Marcus Maxwell over Green. Green, a fourth-round pick of the Cowboys in '06, arrived late last season off the Dallas practice squad and had three catches this season. He won the punt return job in preseason, but the Bengals were last in the league when they chose to deactivate him Sunday in Buffalo and give the job to Antonio Chatman.
Henry, suspended by Gooodell back in April for several brushes with the law, has been practicing the last two weeks and he participated in the spring camps and the preseason before starting to serve his suspension Sept. 3.
The 6-4 Henry, who has scored 15 touchdowns on his 67 catches during his two-year NFL career, is seen as the X-factor in a Bengals passing game that struggles at times with deep zones that swallow up Johnson and Houshmandzadeh.
"Fired up, excited that he's out there and excited about what he can add to this team," said quarterback Carson Palmer, who expects Henry to be ready right away. "When you're a football player, you're a football player. He'll be ready to roll." OZ SIGHTING:
If Bengals head coach Marvin Lewis is getting asked "Do you want a general manager?" question, then that must mean the Ravens are the next men up.
It's no secret that Lewis greatly admires the work of one of the best personnel men of his era, Baltimore general manager Ozzie Newsome, talks to him often, and styles his philosophy after his.
Lewis doesn't have a general manager in Cincinnati, but consults daily with a front office consisting of the man who held the title for so long, president Mike Brown, the salary cap coordinator, executive vice president Katie Blackburn, and director of business development Troy Blackburn.
During his Monday news conference, Lewis declined to answer the question.
"That's not my thing to worry about," he said. "That doesn't have anything to do with this week to worry about."
Lewis also said he didn't blame the administration for the 2-6 start when asked if he felt the people teaming with him to choose the players are also to blame.
"No, not at all," Lewis said. "That would be a copout, an excuse. We've got enough ability, enough talent here to be better than we are. But we're not. So it's my fault."
Over the weekend, Brown told Bengals.com and The Cincinnati Enquirer that Lewis is safe in his job.
"I know that, day-in and day-out. I'm happy for it because I guess if he did it, it makes you guys all relaxed, gives you something else to do," Lewis said. "But it doesn't change the situation we're in. (Brown) nor I are happy where we are. There's nobody who wants to win more than Mike, who wants to figure out how and why and how we can fix it more than he does. He doesn't sleep much. He spends every waking moment he has trying to figure out how we make this thing right."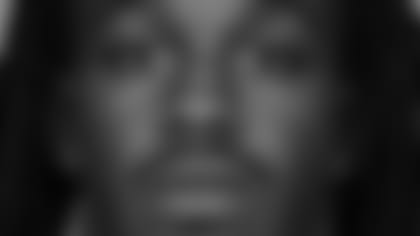 GUARDING GLENN:
Wide receiver Glenn Holt is finally breaking down and getting a mouthpiece from Bengals equipment men Rex Recker and Jeff Brickner.
He had to wear one in college at Kentucky, but when he got to the pros he went au natural. Until, of all things, linebacker Dhani Jones knocked out Holt's two front teeth when their facemasks collided celebrating Holt's 100-yard kick return in Buffalo.
"It just wasn't me. It was just too much in there. I needed to breathe," Holt said. "I'll get a special one made. I need everything."
Holt sported some new teeth Monday and he said the dentists are still working on them.
"It's a shame a 23-year-old man needs new teeth," Holt said. "It will be a good granddad story." NO DAYLIGHT:
After the Bengals rushed for a Lewis-low 28 yards in 73 games Sunday in Buffalo (and the lowest since 36 in the 2002 opener), Lewis pretty much absolved the play of the running backs. He said Rudi Johnson (11 yards on nine carries) and Kenny Watson (11 yards on four carries) were on the right track, but he pointed to the need for better coordination and tempo in the blocking aspect.
"I don't think we did things as well fundamentally. We fell off some things, and that hurt us," Lewis said. "We have to make sure we continue to stay on it fundamentally and not allow things to erode. Whether it be footwork, vision, or coming off at the same tempo. All of those things have to happen, and we need to be efficient with it."
Lewis also took a less than veiled shot at those who are wondering if Johnson has slowed down some.
"Generally the other 10 guys have a lot more to do with it. When a running back loses a step, that's easy to see, and we're going to see it before you ever would," he said. "The running backs were on their tracks yesterday, both in the running game and on protection.
STOPPING THE RUN: One way to get Lewis a little hot is to continually talk abut how bad his team has been against the run. He pointed to linebacker Rashad Jeanty's whiff on Marshawn Lynch's 56-yard touchdown with 2:22 left in the game.
"Before that play, take away the quarterback and it was like 91 yards on 30 carries, and that's a pretty good day the amount they were running it," he said.
What irked him was the play before, a third-and-seven from the Bills 31 and the Bengals, down, 26-21, desperately needing the ball back with 3:20 left. But wide receiver Lee Evans again got loose in the secondary for a 13-yard gain.
"Stop them on third down, get the ball back, move on," Lewis said.
SLANTS AND SCREENS Lewis said Chad Johnson joins the group of safety Herana Daze-Jones (knee), tight end Reggie Kelly (knee), and linebacker Anthony Schlegel (back) as guys that will be re-evaluated Wednesday. Also in that group is right tackle Willie Anderson and middle linebackers Ahmad Brooks and Caleb Miller. Lewis also said running back Chris Perry (ankle) returns to practice for the first time this season Wednesday, but only in limited fashion.