All signs are the Bengals were simply resting A.J. Green's knee on Wednesday.
Bengals Pro Bowl wide receiver A.J. Green sat out Wednesday's practice and early indications were it won't keep him out of Sunday's game. He had a sleeve on his knee, but didn't work on the rehab field and stayed with the wide receivers during the early part of practice, another clue it's not major. He had three catches for 45 yards last Sunday and appeared to have no issues duing or after the game.
Green's injury was classified as a knee and the sleeve indicates minimal swelling. Starting left tackle Andrew Whitworth (back) also didn't work, but he looks fine and ready to go. Backup defensive tackle Pat Sims (hip) didn't work. Backup defensive lineman Marcus Hardison (knee) hasn't worked since hurting his knee in the pre-season finale.
Slot cornerback Leon Hall, listed with a not related to injury, sounded like he was getting a veteran's limited day. Starting safety Reggie Nelson, who has played both games after injuring his groin the opening week of practice, went limited. So did backup defensive lineman Wallace Gilberry (thigh).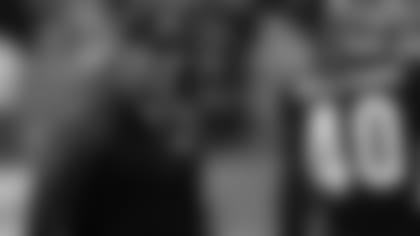 Bengals special teams coordinator Darrin Simmons coached Steve Smith as a rookie.
SMITH HAS RESPECT: Steve Smith Sr. is always the first guy special teams coordinator Darrin Simmons finds after the game to shake his hand when the Bengals play his team and he'll do it again this Sunday (1 p.m.-Cincinnati's Channel 12) in Baltimore. It shows you the respect both players and coaches have for Smith, 36, the Ravens' 15-year receiver who stands just 5-9 on the field but a lot taller in both locker rooms.
And there was Smith last year shaking Simmons' hand both times with a smile on his face.
"He knew," Simmons said. "I told him, 'You almost got us.' Then the next time, 'You almost got us again.' He knew."
Smith, in his first game with the Ravens last year, appeared to put a dagger in the Bengals' Opening Day bid when he raced past cornerback Adam Jones for an 80-yard touchdown catch from quarterback Joe Flacco with 5:46 left in the game to give the Ravens a 16-15 lead after they climbed back from a 15-0 deficit.
Less than a minute later Andy Dalton and A.J. Green saved the day with a 77-yard TD play to win it. But seven weeks later, after the Bengals took a 27-24 lead with a minute left at Paul Brown Stadium, Smith snuck away again for another 80-yard stunner with 32 seconds left. But the winning TD was negated on his pass interference penalty against safety George Iloka.
"I already talked about that play last year," Iloka said. "That's last year. This is a new year, new game, new refs, new everything."
But Iloka has high regard for a guy whose rookie year played out when Iloka was in grade school.
"Somebody asked me the other day what do I think about Steve Smith?" Iloka said. "I'm like, 'I like him personally. They said, 'Don't you think he talks a lot of trash?' I'm like, 'No.' Most receivers talk trash and they're not physical. He talks trash and he's physical. I like that. I respect that. As a DB and football player, you don't do anything but respect that, tip your hat to him."
The feeling seems mutual. In his conference call with the Cincinnati media Wednesday, Smith gave props to Adam Jones.
"He's a good player. I think as he's gotten older, he's actually gotten better," Smith said. "I think he has matured, despite what other people may think. I think he's getting better. He's a more sound tackler. He's more savvy. I think he's watching a lot of film so you can see his development. He's gotten better each year I've seen him and obviously I'm seeing him more and more now playing here."
Smith is up to his old tricks off last Sunday's 150-yard game in Oakland, chattering and grinding all the way to Pro Football Focus.com's No. 4 rated wide receiver after two games.
Smith is about all Flacco has to throw to and it's been a struggle. Flacco is rated 28th in the league in passer rating and PFF has him rated 25th in accuracy. His forte is the deep ball, where PFF has him rated eighth on targets at least 20 yards down field. But Flacco has hit only four of nine of them with no touchdowns and an interception.
But Smith is his guy with a 13.6 yards per catch average.
"It's so rare, what he does," Ravens head coach John Harbaugh said in his conference call with Cincinnati media. "I just talked to him just yesterday and complimented him how well he played. He played really well. He works hard in practice. He works hard in the weight room. He works hard on his conditioning; he works hard in the classroom. I think he's just one of those guys that proves that adage, that if you're a competitor and you work hard at your job, you can be good at it for a long time."
 Simmons and Smith go way back to Smith's rookie year at Carolina, when Smith was a Pro Bowl returner and Simmons was the assistant special teams coach.
"He broke his neck his senior year (at Utah), returns three kicks for touchdowns in preseason and the first time he touches the ball in the NFL Opening Day goes all the way," Simmons said. "Like all great players he's got an immense amount of competitiveness. I've got a great deal of respect for him.
Asked if Simmons had an example of that competitiveness, he said, "None that you can write. . . He doesn't want to lose at anything. H-O-R-S-E. Nothing. He hates to lose."
Here's the kicker. Smith is still returning punts. He's got a 22-yarder and a 10-yarder on his only two returns. Here's a guy eighth on the active list in punt return yards with four touchdowns.
"What people don't know about Steve is he's got great lower body strength," Simmons said. "That's what makes him so good as a runner. He's so strong from the waist down. He's got calves as big around as most people's quads. Very strong."
Indeed. Even at his age he's got 55 yards after catch, good for 18th in the league, according to PFF.
Bengals cornerback Dre Kirkpatrick says he and Adam Jones have to maintain their composure on the road when Smith starts talking.
"I really haven't paid attention to that, to be honest, too much," Smith said. "When I watch film, I watch film with depth. How a guy interacts on a guy on the rout, all that other stuff that we're talking about, I'm not really engaging and even giving it a second thought. What a guy's emotions are is on him. That's on him to focus on. I have a lot of other things on my plate that I have to focus on, so I don't get on the game plan really saying, 'Oh, I need to push this guy's buttons or that guy's buttons.'
The buttons have already pushed. A game of respect is on.
RAVENS B-DAY: It's fitting that Bengals head coach Marvin Lewis celebrated his 57th birthday Wednesday preparing for the Ravens in Sunday's game (1 p.m.-Cincinnati's Channel 12) in Baltimore.
"They're still my second favorite team," said Lewis at his pre-practice news conference.
And why not?  Lewis coached the greatest season of NFL defense when the 2000 Ravens won the Super Bowl with him as their defensive coordinator, a job he held for six seasons.
But it was on his 43rd birthday, his last with the Ravens in 2001, when the Bengals dealt the defending Super Bowl champions a 21-10 upset at Paul Brown Stadium. You couldn't blame his defense, though. Ravens quarterback Elvis Grbac couldn't punch it in from inside the 5 and Bengals linebacker Takeo Spikes executed a pick-six on him.
The year before on the day after his birthday, Lewis engineered a 37-0 destruction of the Bengals in Baltimore which the Bengals rushed for four yards and ended up being Bruce Coslet's last game as coach. From '99-01, Lewis' unit logged a home shutout of the Bengals.
Left end Carlos Dunlap got Lewis good during stretching exercises, sneaking a barrell of ice on to the field and then dousing him.
HIGH PRAISE: No one wants to talk about left tackle Andrew Whitworth's streak of 24 straight games without allowing a sack. Lewis ripped a reporter for asking about it and offensive line coach Paul Alexander also refused to acknowledge it.
Hey, somebody tell these guys the Middle Ages are over. But superstition is a cottage industry in the NFL.
But Alexander proclaimed Whitworth the best left tackle in football: "He's a technical marvel."