A.J. Green turned Revis Island into a three-hour tour on Sunday, and not even the professor or Mary Ann offered any help in Green wading ashore with 12 catches for 180 yards.
He scored on a 54-yard bomb, where Jets Pro Bowl cornerback Darrelle Revis was expecting safety help and didn't get it, and made an eye-popping diving 32-yard catch that Revis covered well enough to defend 99.9 percent of the human race. But it was the 12th catch, that 11-yarder to set up Mike Nugent's 47-yard field goal with 54 seconds left that won the game.
It conjured up Green's 10th catch in the 2012 play-in game for the playoffs in Pittsburgh when he somehow got separation for a 21-yard completion with eight seconds left to set up Josh Brown's 43-yard field goal to win it.
Rich Cimini of ESPN New York.com offers a great look at each Green catch on Sunday and notes that Revis lined up over Green on 52 of 54 snaps. On the last play, a third-and-13 from the Bengals 40 that almost had Cincinnati in four-down territory, Cimini has Green slanting, then veering outside to create separation for the catch, and then Revis missing the tackle.
Heading into Sunday's game in Pittsburgh (1 p.m.-Cincinnati's Channel 12), Green leads all NFL receivers. But not by much. The Saints' Willie Snead, an undrafted free agent out of Ball State a few  years back, put up 172 yards on Sunday.
GUENTHER TAKE: Bengals defensive coordinator Paul Guenther isn't acustomed to his guys giving up 152 yards rushing, which the Jets did on 30 carries. He believes a lot of that can be chalked up to the uncertainty of Opening Day and the fact that Jets offensive coordinator Chan Gailey is one of the best in the game.
"The first game is difficult because you are kind of guessing going off the year before. (Running back Matt) Forte didn't play much in the preseason so it was hard to see how they were going to utilize him," Guenther said. "Chan does as good of a job as anybody in the league. Every time we have played him it's been nail-biters going back to when we played Buffalo. Lot of matchups for us to have to handle. We had to get them to understand the plan the best we could. We handled it. We did some things at halftime we changed up so, once we settled in I thought we did pretty well."
If you had middle linebacker Rey Maualuga for eight snaps and defensive lineman Margus Hunt for 30 in the opener, you win the pool.
The Jets attacked the Bengals defense by spreading them out and Guenther's nickel package got a workout against the New York running game.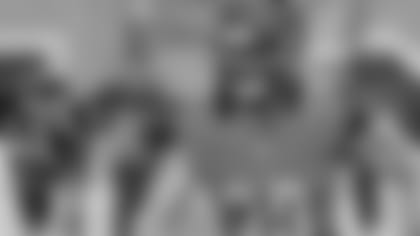 Margus Hunt got his most work ever as a pro on Sunday.
But here's how the Bengals see some of that. They took away the Jets' two biggest weapons, holding wide receivers Brandon Marshall and Eric Decker to a combined five catches for 69 yards. And they'll tell you that two of Marshall's catches came off run-pass options. They'll also point out that the Steelers rolled up 167 yards rushing on 29 carries in the Wild Card and didn't score a legitimate touchdown because wide receiver Martavis Bryant and Markus Wheaton barely combined for 50 yards.
Pick one thing to stop because you can't stop everything.
"You pick and choose how you want to manage a game," Guenther said, "and that's my job to manage a game and understand the strengths and weaknesses of each team. This week may be different, next week may be different. "
Plus, it was an opener and the Bengals were surprised the Jets spread them out as much they did because there just isn't much tape for an opener.
But Guenther did say things need to be cleaned up and that he had a group of players out there (Hunt, starting backer Karlos Dansby, starting safety Shawn Williams, slot corners Josh Shaw and Chris Lewis-Harris) who played at least 20 snaps that either weren't here last year or barely played from scrimmage.
And, yes, he says he probably should have played Maualuga more and the 34-year-old Dansby (all 71 snaps) less
"The personnel groupings that we had in there; we probably could have gotten Rey in there some more because I don't want Dansby taking as many snaps," Guenther said. " At his age he's not going to last that much. We've got enough good guys on this team that we could utilize going forward."
But he won't have WILL backer Vontaze Burfict for two more games and he's apparently not ready to force-feed third-rounder Nick Vigil after he played one snap Sunday.
"Nick's a rookie player. He'll develop. When we need him we'll put him out there," Guenther said. " Just like any other guys that come through here. You've got to build it up and when you're ready you'll be out there."
That's what Guenther hopes he's doing with Hunt, the 2013 second-round pick who played the most he ever has in his career Sunday. Because the Bengals wanted to make sure they had all six cornerbacks dressed against the Jets' multiple receivers, they sat tackle DeShawn Williams. With Hunt and Will Clarke able to move from end to tackle in nickel, they combined for 42 snaps off the bench.
Hunt not only blocked a field goal, but he got his hands on two balls and his one tackle was for a loss. Lewis was careful to anoint Hunt, but both he and Guenther are encouraged.
"Margus has been here. We're trying to develop him for a reason. It's his time to start playing," Guenther said. "He got in there and did a good job. Hopefully he can continue ascending.
"I always say at some point, the light comes on for the player. I can tell you just thinking back through some of our guys. I can think of Adam Jones when the light came on for him. Vinny Rey, we were playing up in Baltimore, the light came on for him. Vontaze was very early on. Carlos Dunlap … And hopefully the light will start to come on for him and he can understand he can be a really good player."
But Guenther had a Monday meeting at 2:15 with his players and there would be sloppy things discussed.
"They know and it wasn't just one guy, it could've been a D-lineman getting out of his gap or a guy not…everybody knows," he said. "That's the great part about the way we teach it. Guys all understand it. To me that's when your guys get it. It's nothing that we're going to sit there and say 'oh, we got overpowered here.' It's a quick fix, that's what it's going to be, and I'll get it fixed at 2:15 … Just little minor things. Honestly it's a typical first game type deal."
ILOKA CHECKS IN: Safety George Iloka is one of the brightest and most candid guys in the locker room and just like he patrols the middle of the field, he doesn't back away from controversial issues. He handled two tough ones on Monday with the ease of a two-term senator.
That penalty he got in the second quarter for hitting a defenseless receiver high? Iloka said it was just like the one earlier in the end zone when he gave Jets wide receiver Brandon Marshall a shot in the shoulder and not the head. And that flag hurt. It came on a third-down incompletion and would have forced a punt. The Jets turned the penalty into their last TD.
Iloka just earned a five-year extension for the aggressive way he plays, so he's not changing.
"Both of them were clean hits. They were clean hits on film," Iloka said. "I can't do anything about it. It happened in the game and we'll see. This is my fifth year. If you're a safety, you get some calls. Sometimes you get those calls just off the strength of the crowd's reaction or how the receiver's body goes flying or things like that. They'll just call it. It is what it is. I'm just glad neither one of those guys got hurt and I'll just keep playing my game.
"I'm just happy we were able to win and it wasn't in a situation in the game where they got that first down they needed to close out the game or give them a chance for a touchdown."
Iloka was also asked about the National Anthem controversy sparked by 49ers quarterback Colin Kaepernick and while that has been a quiet issue in Bengaldom, Iloka said it's disappointing how it has become perceived.
"In this locker room there haven't been any broad discussions in terms of a team-wide talk about it. But my take on it is people express themselves as they see fit. It just comes down to what the flag means to you," Iloka said. "If you think the flag stands for the military and those types of things, then obviously you should stand and show respect for those guys.
"Obviously this country's not perfect, but it's still one of the best countries in the world. I think that's what the issue is. That's bad because that wasn't why he took a knee. I think why he took a knee was to try to bring awareness to social injustices. And so it's kind of messed up that discussion now is about standing, kneeling and sitting and things like that when the main issue, and why I think he was sitting, was to try to draw awareness to social injustices."
Cincinnati Bengals take on the New York Jets in week 1 of the regular season 9/11/2016