 Lewis: Addition by subtraction
Head coach Marvin Lewis seemed invigorated by the Bengals rookie camp and he used his young players to remind his veterans that he's trying to get away from the selfishness he felt has hurt his team.
At Sunday's camp wrapup Lewis said he wants to get "back to where we started four years ago when the most important thing we had was to win the game."
"We're having to bring young people in here and have that kind of thing," Lewis said. "They may pass some guys up who are too worried about themselves and how much they make, how much they don't do this or 'how much I get to do that.' There'll be a little bit of a change. A little addition by subtraction."
Lewis came away impressed with the attitude and play of his drafted defensive backs as well as second-rounder Kenny Irons, the Auburn running back who cheerfully found his way here from Dayton on his own after he missed his flight.
"That's what we're looking for, guys who have some substance," Lewis said. "Kenny Irons has been a delight. ... I think he's going to be a breath of fresh air. That's a position that has a lot of personality to (it). You want a guy that's even-keeled."
Lewis praised first-round pick Leon Hall, a Michigan cornerback ( "His knowledge of the game, his ability to learn has been excellent," he said.), as well as both safeties in fourth-rounder Marvin White of TCU, and seventh-rounder Chinedum Ndukwe of Notre Dame.
White, who picked off a ball Saturday centerfielder-like, has shown a bit more movement than the coaches thought he had. Lewis has already renamed Ndukwe "Chinny," after a weekend he impressed defensive coordinator Chuck Bresnahan with his acumen. Ndukwe capped it off by hauling his 6-2, 205-pound body into the air to grab an end-zone interception during the red-zone period.
"Both young safeties, I'm real impressed with them," Lewis said. "Both their ball skills, they are guys that have size to them, they have good angles. I've been impressed with them. The three secondary guys we picked I think are really three great prospects. As well when we get to the special teams area, those guys are going to be good for us in that."
Lewis said fifth-rounder Jeff Rowe, the Reno quarterback, is working to get rid of the ball quicker.
"That's the big thing playing at this level - making the transition from college to how quickly things happen," he said.
Lewis also pointed out impressive tryout players (cornerback Blue Adams) as well as impressive free agents such as Ohio State fullback Stan White, Ohio University linebacker Matt Muncy, BYU tight end Dan Coats, and injured Florida linebacker Earl Everett. Lewis reiterated Everett may be able to play as soon as next week on his surgically cleaned out ankle.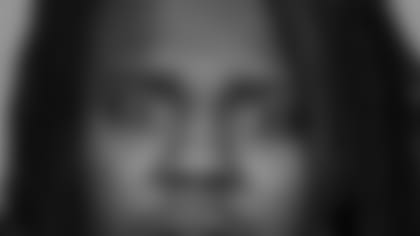 MOVING DAY:
For the third time in three Mays, the Bengals spent rookie camp watching how a defensive end fares moving to strong-side linebacker.
In 2005 it was first-round pick David Pollack, who was slowed by a holdout and injury. Last year it was CFL refugee Rashad Jeanty, who didn't have those obstacles and it showed. Neither does this year's project, first-year player Eric Henderson.
Henderson actually has an edge on both with a year of NFL ball under his belt, albeit 16 games on the practice squad, and the Bengals are encouraged after his first five practices at the position. In Henderson they've got one of the superb character guys from last year's class and it's showed up in his offseason work.
"It's actually easier than I thought it was going to be," Henderson said after the fourth workout Saturday. "I have to sharpen my technique, that's the main thing."
Here is why Henderson has to work on his technique:
During drills in individual pass coverage drops Sunday, Henderson had trouble staying with running back Kenny Irons and fullback Stan White. He had a lot of company not sticking with Irons, but experienced rookie backers like Matt Muncy and Cameron Siskowic stayed a lot closer. Linebackers coach Ricky Hunley noted Siskowic was plastered so close on back-to-back wheel routes that he looked like the intended receiver.
"It's just not because they've played linebacker before, but they're quicker," Hunley said. "Eric Henderson just isn't as fast as those guys, or Landon Johnson, or Caleb Miller, and that's why his technique has to be so solid. He's got a lot of work to do, but so does everybody else."
Hunley raves about Henderson's discipline in the running game and how good and smart his run fits are, and everyone knows that the strength of Georgia Tech's all-time leader in tackles for loss is rushing the passer.
"The transition is going to take some time, but as soon as you put in some other thing where he is moving up the field, now these become plusses," Lewis said. "That's what he's used to doing.
"It's not the drops per se, but the movement that occurs in the coverage and 'What I'm looking at when this happens,' '' Lewis said. "Dropping to a spot is pretty easy, but the reactions that come from there are what is really difficult. (Recognizing) naked, play-action, its flow, its flood, different things that happen in the passing game."
Or as Henderson says, "Reacting to what the offense is doing within our defense instead of reacting the way I want to react." P>But you can't teach athleticism. Henderson dove and plucked a ball out of the air just before it touched the turf and when he held it aloft while on the ground, Bresnahan reminded him to run by screaming, "You ain't no centerfielder."
But it looks like he can be a pretty good SAM backer.
GOODBYE AND HELLO: Per NFL rules, the rookies had to flee off campus Sunday but all but two will be able to join the first of the voluntary workouts May 15. Only Ohio University's Muncy and cornerback T.J. Wright can't participate because OU doesn't graduate until early June.
White is going to commute between Columbus and Paul Brown Stadium because he's taking the final quarter of graduate studies. Lewis loves that concept.
"If you look at teams that win championships, and I'm sure if you look at the New England Patriots," Lewis said, "and look at those players that were part of those three Super Bowl teams, they will be very successful in life afterwards. If you look at the teams that have consistently won, and look at their guys after football, they're all successful people off the field and I think some of these guys will be that way."