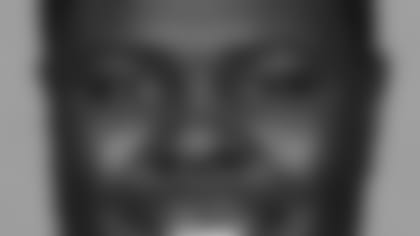 It's at the point now where Frostee Rucker is thankful for every snap.
"I was telling the guys the other day that every time I come off the field I say a prayer and thank God for letting me compete with a clear mind," Rucker said this week after surfacing against the Saints.
A quick review may be in order.
Rucker is the Bengals third-round pick out off USC in 2006 that promptly blew out his shoulder in the first game of his rookie preseason and lost the year.
Then in the first hours of this training camp he pulled his hamstring and couldn't play in this preseason opener.
"It's time for me to show guys and myself that I can play at this level," Rucker said. "They only know me as a guy that's just been here. It's a good feeling to be out there battling with guys instead of standing around."
Rucker played from the middle of the second quarter on and wasn't credited with a tackle but did have a quarterback hurry. Rushing the passer is supposed to be his strength, and his upside is that he can do it from both tackle and end. He's anxious to put together back-to-back games for the first time in his pro career because of the obligatory timing and rhythm issues.
"I felt pretty good, but it did kind of feel awkward at times to be standing out there on my legs," he said.
But when he gets his legs back, he'll already have his hands and he's supposed to have one of the more effective pairs on the line, a skill that has been pounded into him by defensive line coach Jay Hayes.
"We worked a lot on it in college and then when I got here Jay Hayes is always getting on us to use them," Rucker said. "It makes it easier than just using your shoulders." MARV-LOUS SURGERY:
Marvin Lewis underwent surgery Wednesday morning to repair torn tendons in his left ankle and was discharged in the afternoon from Good Samaritan Hospital after Dr. Jim Amis performed the procedure.
"The surgery went without complications," Amis said in a news release. "Coach Lewis will initially be in a cast, and then we will work with him on his rehab. He will be inconvenienced for some time due to lack of mobility, but he'll soon be able to resume his essential activities."

Lewis moved a news conference back from Thursday to Friday, but the Bengals are conducting their regular schedule with assistant head coach and offensive line coach Paul Alexander handling the duties as needed in the initial recovery period.
NO TROTTER: Indications from sources around the NFL are that the Bengals aren't pursuing former Eagles linebacker Jeremiah Trotter and he's already headed to Tampa Bay for a visit.
One of the major reasons the Bengals pursued him in 2004 is because then-defensive coordinator Leslie Frazier worked with him in Philly, but that connection is no longer here with Frazier now in Minnesota.
If the Bengals are looking for a linebacker to replace Eric Henderson, another former NFC linebacker who just happens to a product of Cincinnati's St. Xavier High School does have a connection still with the Bengals.
In a surprising move Monday, the Redskins released Lemar Marshall, a player whose career Lewis revived in 2002 as Washington's defensive coordinator.
Drew Rosenhaus, Marshall's agent, declined comment Wednesday when asked if the Bengals have been in touch.
The 6-2, 225-pound Marshall, 30, can play all three backer spots, but he started the last two seasons in the middle for the Redskins and piled up 198 solo tackles, 3.5 sacks and four interceptions.
In '02, Marshall was an undrafted free agent out of Michigan State who had bounced around the NFL the three previous seasons with three different teams.
But under Lewis he made his NFL debut and played all 16 games as a reserve outside backer and core special teams player.