Jake Fisher is changing sides again.
With training camp set to break after Tuesday morning's light, 50-minute workout, the Bengals got within a half-hour of completing Monday's practice when head coach Marvin Lewis sent his players off the field after lightening flashed above the Ohio River.
As a group of season-ticket holders looked on at the practice fields adjacent to Paul Brown Stadium, the Bengals went back to work for the first time since Friday night's pre-season opener in full pads. It was the second time this camp a practice had been curtailed because of the weather.
The practice may have been more significant for who wasn't on the field. With right tackle Cedric Ogbuehi not out there, Jake Fisher, who started at left tackle in place of Andrew Whitworth Friday, lined up at right tackle while Whitworth returned to the left side.
That could be a familiar sight for a while. It's believed that Ogbuehi, in his first year starting, has a toe issue and may be out for a at least couple of weeks after he and Fisher led the offense with 39 snaps each against the Vikings. It's unclear if he'll be ready for the Sept. 11 regular season opener, so keeping a fourth tackle on the final 53-man roster is obviously still in the mix.
Last Friday night is the first time the Bengals had deployed their top two picks from the 2015 draft at the tackle spots and now it's unclear when they'll be able to do it again.
 "They did what you would expect for their first time out," Whitworth said before practice. "Ced played well. Jake played well. It's a learning process as they play and get more experience they'll play better. There are little things they're going to have to get out there and experience."
Now there seems to be a bit of an unknown how much more work Ogbuehi is going to get in the preseason.
Rookie wide receiver Cody Core went leaping for an Andy Dalton pass over the middle and apparently dislocated a finger as he was exhaling in pain while running back up field and checking with the trainers. He didn't return but he should be able to play Thursday night (7:30-Cincinnati's Channel 12) in Detroit.
It looks like wide receiver Mario Alford (ankle) is out for a at least a couple of weeks and won't play Thursday.
Bengals defensive line coach Jacob Burney went into the practice excited about the play of sophomore Marcus Hardison, the fourth-round pick in 2015 out of Arizona State that didn't get into a game last season after playing both end and tackle in his rookie preseason.
Against the Vikings he played only tackle and led the defense with 41 snaps (or 72 percent) and had an active night. That's where Burney wants to keep him.
"He busted his tail at the end just like at the beginning and that's what you're looking for," Burney said. "The technique, that's on me. As long as he's putting his best foot forward and giving you effort like that right there, what more can you ask for as a coach?
"It's good that we have a guy that is that athletic and could play (end)," Burney said. "In my mind we're getting this kid ready to play tackle."
Fourth-year end Margus Hunt is playing both. On Friday he took snaps inside on passing downs with the two top defenses and played left end in the base defense.
"That's what left ends do in this league in a 4-3 defense," Burney said. "They go inside. I know he's been in there before. When I say learning, its different moves going on in there. Different timing.  And he'll be fine in there because he's such a good athlete."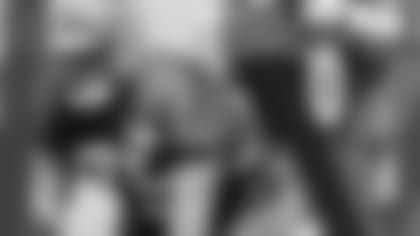 Andrew Billings is on the shelf, but they don't know for how long yet.
BILLINGS EVOLVING STATUS: The Bengals won't make a decision on the status of rookie defensive tackle Andrew Billings for at least a few more weeks and maybe longer after he underwent surgery Monday for what Bengals head coach Marvin Lewis called a torn meniscus in his knee.
His case is still evolving when it comes to determining if he'll be able to return this year. The Bengals plan to meet with their medical staff Monday afternoon to talk about Billings' surgery and are miles from a decision.
Given that his return from a multi-month rehab hinges on his progress in rehab and the new rule regarding designating one player on injured reserve to return for the second half of the season, they may not do anything with him until the final cut down to the 53 on Sept. 3.
At that point they can leave the fourth-rounder on the 53-man roster if they think he'll return in a month or so, or they can put him on injured reserve with the hopes of designating him later in the year to return after Week Eight.
The downside there is that first-round pick William Jackson is in the same predicament with a torn pectoral muscle. According to the old rule, the Bengals had to designate their IR-return player on the day of final cuts. This year's new rule says the Bengals can wait until later in the season to pick who that player is. The problem is if both rookies go on IR Sept. 3, one of them is going to stay on for the rest of the year.
*ANDERSON STILL WAITS: *The last two Senior Finalists for the Pro Football Hall of Fame have been Kennys. Bengals all-time leading passer Ken Anderson can only hope he'll be the third in the class of 2018 because on Monday the Hall of Fame's Seniors Committee tapped former Seattle Seahawks safety Kenny Easley to be on the 2017 Hall of Fame ballot.
The Seniors Committee is comprised of nine members from the overall selection committee of 44.  The senior nominees were reduced to a final list and five of the nine members met at the Hall in Canton, Ohio to discuss each candidate. A senior nominee's career must have ended at least 25 years ago.
Easley must receive the same 80 percent of the vote required of all finalists when the Hall's selection committee meets in Houston the day before the Super Bowl to vote for the 2017 class.  The rest of the field is to be set next month. Two contributors are to be named to the final ballot Tuesday and 15 finalists who have been retired for at least five years but not 25 is announced in mid-September.
The Easley move isn't a surprise. For one thing, he's worthy. For another it's a defensive player coming a year after the Seniors Committee nominated quarterback Ken Stabler and he secured election in the 2016 class.
What has to be heartening for Anderson, who came into the league in 1971, is that the Seniors Committee is zeroing in on his era. Easley was selected out of UCLA by Seattle with the fourth pick in the 1981 NFL Draft, the year Anderson was named the NFL's MVP. Easley, named the Defensive Player of the Year in 1984, was voted to five Pro Bowls and is a member of the NFL's All-Decade Team of the 1980s.
Cincinnati Ben-Gal Cheerleaders perform during the Minnesota Vikings vs Cincinnati Bengals game 8/12/2016