In his 109th road game, Marvin Lewis deals with his most miles and logistics.
This is Domata Peko's second trip to London after this past spring's junket with fellow defensive lineman Carlos Dunlap when they introduced the British Empire to the Bengals. With Washington waiting Sunday at Wembley Stadium (9:30 a.m.-Cincinnati's Fox Channel 19), this one is more than a tad different.
"Coach is telling us we've got to get our rest," Peko said before Wednesday's practice. "But at the end of the day, we're going down there not to eat fish and chips, not to see the queen, but we're going down there to handle some business. That's why we're going. That's what we've got to keep in mind, that at the end of the day it's a business trip."
Bill Connelly knows all about those. Connelly, the Bengals' business manager, is on his fourth trip to Wembley after three planning trips in the last 18 months. The most valuable was probably a year ago when he watched what the Bills and Jaguars went through leading up to the game.
"You saw it in action,' said Connelly amid Wednesday's final flurry of details for Thursday's flight. "You see Wembley Stadium turned into an NFL configuration. You see locker rooms turned from soccer locker rooms into football locker rooms. The hotel is geared up in football mode.  Buses, practice site. Valuable trip."
Earlier this week Connelly also sent an advance group of five anchored by director of security Rusty Guy and director of business development Bob Bedinghaus, and included Tyler Runk from the equipment room, Kent Stearman from video, and director of partnership activation Jamie Berkley in preparation for the club's 8:30 a.m. hotel arrival Friday.
"We've educated (the players) in the spring, in training camp, the Monday after the Thursday night game," said head coach Marvin Lewis. "We educated them so this is just a normal trip for us. The thing we have is a few more media obligations, but other than that it's like another trip."
Except for the five-hour time difference. But they are leaving only one day earlier than they would on a West Coast trip and the flight is about three hours longer than last year's trips to San Francisco and Oakland.
It's not the biggest trip Connelly has pulled together in the parts of his four decades on the job, either. That would be Super Bowl XXIII. Not even close, he says, because only a smattering of families are on this trip. But the traveling party of 168 is one of the biggest in a job Connelly and assistant Jeff Brickner have been working on for a year and a half. The day begins with meetings, so Lewis is emphasizing to his players to sleep on the eight-hour flight that takes off after practice Thursday. So naturally a big topic of discussion this week has involved sleeping and who gets the 40 lie-down beds available in business class.
"I would hope so. Me and Whit should be in the front row," said 6-8 defensive lineman Margus Hunt, when asked if they're assigned by height.
Hunt, who seems to the team's most experienced international traveler, should be OK. So should left tackle Andrew Whitworth. Lewis is doling out the assignments and he'll probably use a combination of playing time and NFL seniority. And those players that don't get into the Fortunate 40 are assigned to seats where they can lie down in a row.
"The inside of my eyelids is my playlist," said second-year tight end C.J. Uzomah of his plane habits, a guy that could give Hunt a run for his money when it comes to travel. "The few times I've been over there, I was able to sleep the entire time, so hopefully I will be able to do that again so I don't need a playlist."
Linebacker Karlos Dansby, a 13-year vet (he'll definitely be lying down), has done everything in the NFL but win a Super Bowl (barely when his Cardinals lost in the last minute to Those Who Should Not Be Named) and play in London. He's meticulous when it comes to nutrition and his body, so he knows the challenges.
"Both the time change and the flight, it'll just be brutal on your body," Dansby said. "All that compression, some people's feet swell, some people's ankles swell. It's all kind of things. You try to get rest, dehydrated, there are too many factors that go into flying and flying for eight hours or longer if you're on the West Coast."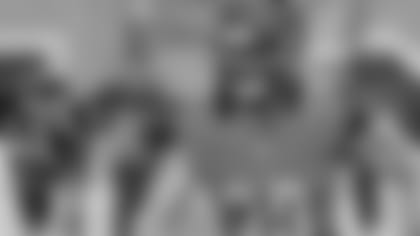 The well-traveled Margus Hunt,
Hunt can offer his mates the best advice A world class track athlete from Estonia, he was on track to compete in the 2012 London Olympics and the one this year in Rio until football caught him. About ten years ago he was selected along with several other teen Olympic hopefuls from across the world to visit London for a week.
"I loved it. It's a very unique, beautiful town. It's old," Hunt said. "They have a lot of beautiful architecture and everything from the old Europe. All those old towns are thousands of years old."
Hunt traveled all over Europe throwing the discus and shot put and has a pretty good idea of what this weekend involves compared to a trip to say, Dallas or New England, the last two visits.
"You have to ignore the noise. Because it will be an exciting time," Hunt said. "It will be a long journey and long flight and whatnot, but it's something you have to kind of work with. When we did trips like that for track and field, it was the same. We left a couple days early, competed, go home. The way this thing's set up, it's very -- I think in my mind -- very detailed and works to the plan. You have to focus on what we're going there for …  We travel around everywhere and go to the away games, but it's nothing compared to that."
Hunt is changing his routine on the plane from watching movies and dozing to get what he calls "solid, solid sleep." He advises teammates to be careful if they're going to take something to help them sleep.
"You don't want to be too tired on Friday," Hunt said. "The good thing is we'll have a lot of stuff to do on Friday. That'll help with the sleep on Friday night.
Uzomah, who has visited London as well as Brussels, Paris, Barcelona and Turkey, recalled one of the Bengals' strength and conditioning coaches advising them to stay away from a nap when they arrive.
"I know for a fact if you take a nap it will take another day for your body to adjust," Uzomah said. "Saturday you'll be a little tired, and you'll try to take another nap in the six hours we have. The key is just staying up the first day. Your body will adjust and you'll get a good night's sleep for sure."
And some of the players like the idea when the United States wakes up Sunday morning, they'll be on display.
"When everybody wakes up, they turn the TV on, and this game will be on," Dansby said. "We've got an opportunity to show what you've got against some great talent and see where we stand as a team."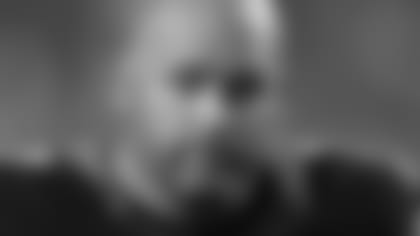 Left tackle Andrew Whitworth is in concussion protocol.
WHIT WAITS: London Week, which changes venues after Thursday's practice, started out with a big question mark as Pro Bowl left tackle Andrew Whitworth (concussion) stood on the sidelines Wednesday. Whitworth, who has missed just two games in the last eight seasons, hopes to be cleared in time for Thursday's flight to Sunday's game at Wembley Stadium (9:30 a.m.-Cincinnati's Channel 19) against Washington.
The other three players who also sat out played Sunday and are expected to go. Nose tackle Domata Peko and linebacker Karlos Dansby appeared to take veteran days off and left guard Clint Boling, nursing a shoulder injury for the last month, stood next to Whitworth. Starting cornerback Dre Kirkpatrick (groin) and backup linebacker Marquis Flowers (groin) were limited.
After practice Bengals offensive line coach Paul Alexander said he has not been told Whitworth isn't making the trip. But with him on the sidelines, they went with Plan B, which not only entails a new player, but a different scheme, play calls, and game plan.
And while we can guess on the replacement (Jake Fisher? Eric Winston?) Alexander won't say. Remember this, since the start of the 2009 season only Whitworth and Anthony Collins have started at left tackle.
"I'd prefer not to give the opponent any tip," Alexander said. "I would be terrible in the Pentagon, because I do not believe going in front of CNN and saying, 'OK, we're going to bomb tomorrow and 12 o'clock.' It's just not my theory."
For Washington, two starters who were in the protocol look to be cleared. Cornerback Josh Norman and tight end Jordan Reed went limited Wednesday WINSTON ON LONDON:Eric Winston, the Bengals right tackle, is looking forward to the London trip.
Eric Winston, the NFL Players Association president, doesn't think London has a good chance at landing an NFL franchise.
He sees three problems right off the bat and he doesn't know if two of them can be solved. And if they do get solved, it doesn't sound like the NFLPA would give its stamp of approval any time soon, a stamp, he says, the league needs if it wants to expand overseas.
"That's a pretty substantial change in work rules,' Winston said.
The problem he thinks can be solved is logistics. The other two, health and safety issues and competitiveness, are even dicier, he says.
"I'd like to hear from some doctors on the increased flight travel. Always in the air after games, how does that affect guys"" Winston asked. "I don't know if there's a solve there. … Then there's a competitive problem and I don't know how you're going to solve that.
"How do you force guys to stay in a spot where they were drafted or how do you get guys to take 10 million and go play in London instead of saying take 8 and play in Dallas?" Winston asked. "You'd have a 33rd franchise that has no prayer in winning games or ever being successful over a period of time. I haven't seen, either, how that is beneficial for the NFL.
He does wonder about competitive advantage. The Bengals lose a home game this weekend and "For some reason, too there are certain franchises that agree to it and certain franchises that don't. They need to figure that out, too."
But Winston is ready to enjoy the trip as long as it's just one game.
"I'm excited about it. I know a lot of guys aren't, but I like to travel," he said. "It's different, but I feel like we're adults. Let's figure it out."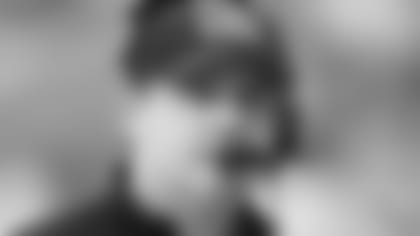 Jay Gruden: back in the day.
DEJA JAY: For the second straight week Lewis takes on a team coached by one of his former coordinators. But in Wednesday's conference call with the Cincinnati media, Washington head coach Jay Gruden remembered a couple of defensive assistants just as fondly when he recalled how defensive coordinator Mike Zimmer and  successor Paul Guenther were key people in his rise to coach of the NFC East defending champs.
"I credit a lot my success to Paul and Zimmer," Gruden said. "They forced you to learn football fast with the defenses that they played, the double As, the blitzes, the coverages, the demand that they put on you as an offensive coordinator in practice to get you offense ready. Otherwise you're going to get embarrassed every day. I think that's a credit to those guys -- a lot -- to me being a head coach actually."