Is it me or does it seem like the Bengals haven't played in a month?
Although we haven't had a game to broadcast since the London trip, Dave Lapham and I have been doing our weekly Bengals shows over the past two weeks and here are a few of the interesting things we've learned.
In his second game after returning from ankle and back injuries, Tyler Eifert had one of the best performances of his career against Washington finishing with 9 catches for 102 yards.
The highlight was a leaping 15-yard touchdown catch for his first red zone TD of the year.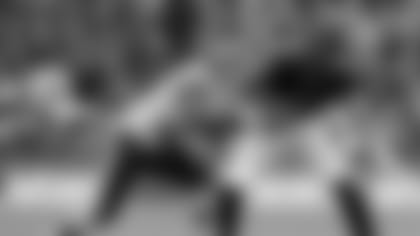 The Pro Bowl tight end caught 11 red zone touchdown passes last season and credits some of his prowess in that part of the field to his success as a high school basketball player.
"When I think back to basketball, I had a lot of rebounds," said Eifert. "I wasn't always the tallest guy or could jump out of the gym, but it's all about timing your jump so that you get it at the highest point that you can get the ball. If you time it right, it looks like you're up much higher than you are. It's just a timing thing and having a knack for that. People always talk about high-pointing the ball, but it's not really something that you practice. I've always had that knack and have been able to do that."
It brings to mind something that Notre Dame Coach Brian Kelly told me the day after the Bengals drafted Eifert in 2013.
"He turns field goals into touchdowns in the red zone," Kelly said.
Have you noticed that gnarly beard with streaks of gray that Andrew Whitworth is growing this year?
The 11-year veteran joined us for this week's "Bengals Weekly" show and inquiring minds want to know: What's the deal with the beard?
"I don't know my future and I don't know what's going to happen after this season," said Whitworth. "I knew that I wanted to come into it and just play football and play as well as possible and see what's next. So I was like, 'I'm going to grow the beard out and just be a grizzled vet. I'm going to have a great season, have fun, and just get after it.' Football is the only thing I'm thinking about and we'll see where the chips fall. So far it's been a great year. I've probably played some of my best football. With the current situation, every week I'm going to have the opportunity to be one-on-one as we give help the other way a little bit and that's fine. I love it. So growing the beard out and being that old vet is fun."
The website profootballfocus.com ranks the 34-year-old as the second-best tackle in the NFL this year behind Washington's Trent Williams. Whit is in the final year of his contract and certainly appears capable of continuing to play at a high level if he chooses to.
The heavily-hyped Wembley Stadium battle between A.J. Green and Washington cornerback Josh Norman turned out to be decidedly one-sided as Green finished with 9 catches for 121 yards and also drew five penalties.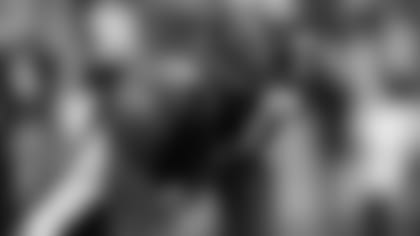 Norman flapped his gums throughout the game and then ripped official Brad Freeman after it. Meanwhile, Green didn't say a word while dominating.
Clearly, trash talk doesn't get under Green's skin. I asked receivers coach James Urban if anything bothers the 5-time Pro Bowler.  
"Yeah, losing gets to him badly," said Urban. "A dropped ball ruins him. A poorly-run route bothers him a lot. He holds himself to a very high standard so that's part of the reason why he does succeed. That whole talking thing, I saw it and heard it and said, 'Hey, don't take the bait.' And he said, 'Coach, it's no problem. I'm just going to go play.' And that the way he handled it. I'm very proud of the way he did that. I don't ever remember forcing five penalties from one defensive player in one game. Coach Lewis always says, 'Don't complain about it. Run through the grabs and make them throw the flag.' The tendency is to say, 'He's holding me!' No. Just run through it and that's what he did. Five times is pretty impressive."