In contrast to the national narrative stemming from the Jan. 9 Wild Card Game, Pro Bowl left tackle Andrew Whitworth believes the Bengals' five-year road record of 25-14 that is third best in the NFL points to the team being "calm, cool, and collected."
Could there actually be peace in our time in the AFC North?
The Bengals and Steelers have been pretty spare with their words when it comes to Sunday's re-match of The Brawl in The Paul against the Steelers Sunday (1 p.m.-Cincinnati's Channel 12) at Heinz Field. Following the lead of head coach Marvin "New team, new season, new year") Lewis, they've reflected on the Wild Card loss with a measured eye when asked about a chippy game that was decided by two 15-yard flags on the last snap after they lost the ball and a one-point lead 1:23 away from Nirvana.
"I feel like we did a lot of good things in the offseason, especially trying to get us prepared mentally and the focus of this game, just going out there and playing within the whistles," said cornerback Dre Kirkpatrick before practice.  "Celebrating with your teammates, not taunting the other guys and just being professional. I feel like we let a lot of things get away from us last year that we could control and it brought a lot of heat up on us. We know we have a target on our back. We know the refs are going to be watching everything we do, so we just have to be a smart team, and I feel we prepared ourselves to be a smart team this year.
"It's still going to be a hard-fought game, but I think we're just going to try and stay away from all the extra things that were going on last year. I watched that film, and every play it was something. Every play. It was to the point where I was like, 'We really was doing that?' But hey, we know what kind of game it is, so we know what we have to go out there and do."
Meanwhile, Steelers Pro Bowl wide receiver Antonio Brown has toned down his off-season remarks. Talking to the Cincinnati media after the Steelers practiced Wednesday, he denied he said anything derogatory about Bengals linebacker Vontaze Burfict, the guy flagged on the last play when Brown suffered a concussion and missed the Steelers' loss the next week in the divisional round.
"I don't think I had words with him in public. "I've never said anything about him or said anything to him," said Brown, who says he hasn't been looking forward to this one because of what happened back on Jan. 9.
"I look forward to every game this year. I treat them all the same and I approach them the same way," said Brown and when asked about getting knocked out of the next round he said, "It's out of my control. Some things you control . . . Last year is done. All we have is what's in front of us."
If that didn't sound like Lewis, then Brown did talking about cornerback Adam Jones. It will be recalled that in the aftermath of the game Jones said Brown was faking the concussion and would play the next week. He didn't and Brown kept the feud going with an anti-Jones rant on Radio Row at the Super Bowie. But it seems they've patched it up because Brown is saying nice things about Jones.
"He's a great player, man, I really respect him," Brown said. "He's going to be right in your face, jam you ... The thing he said last year is last year. I think we hashed out that one.  I look forward to competing against him. It's always an exciting time to go against him."
A fellow punt returner, Brown also offered, "It speaks volumes when a nine, 10-year vet gets back there and makes big plays from a return aspect. You have to respect a guy like Adam Jones."
And Brown couldn't even say enough about fellow Pro Bowl wide receiver A.J. Green and revealed his nickname for him. "Inspector Gadget," the cartoon character who snatches bad guys with his robotic arms. This from a man who has wrecked the league with record-breaking performances the past two seasons, the first man to have back-to-back 125-catch seasons while surpassing 1,800 yards.
"I love it when he knocks around that walk after making the big play," Brown said of Green. "He's got those long arms almost to his knees. There's no catch he can't make. He determines the outcome of the game with his play-making ability. He's got those long arms. He's a top 5 NFL receiver."
Peace in our time? Even prickly Steelers head coach Mike Tomlin sounds like the forward thinking Lewis.
"I haven't and don't plan on it," said Tomlin, when the Cincy media asked if he addressed this game differently after the last one got so ugly.  "If you're chasing what we're chasing you're going to be in these type games. If you have that meeting every time you're going to be having it a lot."
Leave it to Bengals Pro Bowl tackle Andrew Whitworth to sum up how the Bengals are thinking about it. They are particularly rankled by the narrative that they were an undisciplined team that lost it in the last 1:23. As Whitworth was explaining why the Bengals have the third best road record (better than even the Steelers) since the 2011 draft  brought Green and Andy Dalton to Cincinnati, he said it was because Dalton was "calm, cool, collected and that's kind of our team personality. Our team in general. I think we don't overreact to people and things."
Asked about the Wild Card criticism, he said, "In some ways I disagree. In that game, there were plenty of shots on both sides. Whoever lost that game was going to get criticized and who ever won it was going to get glorified. It was no different than a prize fight. If you won, you did everything the right way. If you lost it, your career is over. People treated it like a UFC match instead of a football game. One team made more plays than the other to win the game. You move on to the next time you play and see what happens."
Maybe not, but there was at least Détente for a day.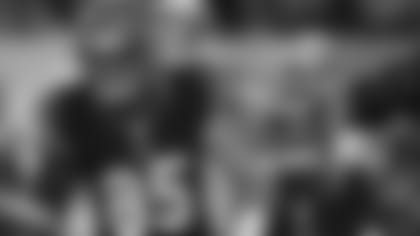 No setbacks, no timetable for Tyler Eifert.
INJURY UPDATE:  The Bengals are about as healthy as they've been all spring and summer. On Wednesday there was one guy not expected to play, Pro Bowl tight end Tyler Eifert (ankle) in the last throes of rehab. Slot cornerback Darqueze Dennard (ankle) went full after last week's limited work led him to being inactive against the Jets.
Like he did last week before he played, defensive tackle Pat Sims (ankle) didn't practice Wednesday while Whitworth took a veteran day off. Two defensive starters went limited in left end Carlos Dunlap (shoulder/toe) and cornerback Adam Jones (back).
With Bengals public relations director Jack Brennan standing sentry on the injury questions, Eifert sounded as good as his rehab has looked. It's unclear if he'll be back for Denver on Sept. 25, Miami Sept. 29, or Dallas Oct. 9.
"I feel good. I'm progressing well, not setbacks or anything that's made the process slow down," Eifert said. "I've been moving forward and each and every week it seems to be feeling better and better and getting stronger … Cutting and planting all feels good, but I'm doing it about half speed right now. So it's just building up each week and getting better and better and pretty soon I'll be playing."
As good as Eifert was last year, he didn't have a catch longer than 31 yards and C.J. Uzomah beat him in his first NFL start with Sunday's 54-yarder down the middle.
"He did great. He played awesome. Like I said, I've seen that caliber play from him from Day 1," Eifert said. "He's a good player. I expect him to step up and play well and keep playing well." 
Eifert, who has a NYFD ball cap on the top shelf in his locker, is a big fan of the military, but the club's visit to the 9/11 Memorial last weekend also touched a chord.
"I had never seen that before. It's kind of like you have mixed emotions when you go to see that because such a terrible tragedy happened there," Eifert said. "But it puts everything in perspective. You can't believe how big it actually is. That was kind of neat to see. Yeah, it was cool to be there for the start of the game. Being in New York, everyone's waving the flag. It was pretty neat to be able to be a part of that."
He's also got some pretty strong opinions about the National Anthem.
"I don't know why that is a discussion honestly. It's the national anthem. You stand and you respect the flag and you respect the country," Eifert said. "I don't understand why it's a conversation. I read a headline that said 'Shaq said he wouldn't sit for the national anthem.' I mean no (bleep). You stand for the national anthem. That's what you do. It's crazy how that's even become this much of a conversation."