A.J. Green was a no-brainer at No. 4 in 2011, a draft rarity for Bengals at WR.
The Bengals don't usually draft wide receivers with their first draft pick. It's happened twice since A.J. Green was born in 1988. Green went No. 4 in 2011, the first time it happened since Peter Warrick went No. 4 in 2000.
That wasn't always the case. One year they picked two with their first two picks and the guy that became their first 1,000-yard receiver ever that rookie season was the guy they picked second.
Cris Collinsworth, who went in the second round in that 1981 draft, predicts the Bengals are going to do the rarity and take a wide receiver at No. 24. In his mock draft Collinsworth, the Emmy Award winning analyst for NBC's Sunday Night Football, opts for a familiar face in Notre Dame's Will Fuller, a teammate of son Austin.
"With 4.27 speeds in the 40-yard dash, Fuller is one of the fastest players I've seen lately in college football," Collinsworth says. "He consistently runs by people who have been coached all week to give him whatever he wants underneath, but not let him get behind the defense. Even against the best competition, Fuller seems to catch a deep ball every game. He's also broken big plays on quick screens, mostly running against the grain across the field. He is not very big and has more than his share of drops, but when teams try to double AJ Green, they will have major problems covering Fuller one-on-one."
Collinsworth went on to make three Pro Bowls in his first three seasons and is the fourth leading receiver in franchise history with 417 catches. David Verser, taken with the first pick at No. 10 overall, had 23 catches in four seasons.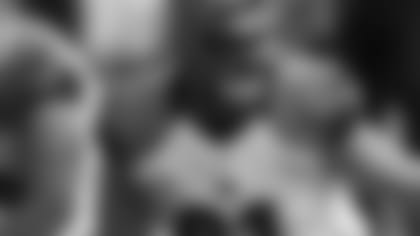 Russell Bodine made a little extra in 2015 with a durable 1,082 snaps.
BODINE LEADS: The Bengals were one of five teams that had two players on the list of top 25 players for performance-based play in 2015. Center Russell Bodine, a fourth-round pick in 2014 who led the offense with 1,082 snaps, led the Bengals in the program that compensates players for playing time based upon their salary levels with $352,271, third most in the NFL.
The league leader was another center drafted in 2014, sixth-rounder Matt Paradis of the Super Bowl champion Broncos with $391,648. Paradis also led his offense with 1,125 snaps. Former Bengals wide receiver Marvin Jones, who signed with Detroit last week, finished with 20th most in the league at $261,458. He won't have to worry about such things since that figure represents .013 percent of his $20 million guarantee.  
According to the NFL, performance-based pay is computed by using a "player index."  To produce the index, a player's regular-season playtime (total plays on offense, defense and special teams) is divided by his adjusted regular-season compensation (full season salary, prorated portion of signing bonus, earned incentives).  Each player's index is then compared to those of the other players on his team to determine the amount of his pay.
WALLACE  RETURNS: Former Steelers wide receiver Mike Wallace returned to the AFC North Tuesday when he signed with the Ravens. The Bengals are also looking at free-agent receivers but didn't appear to have interest in Wallace and don't seem to be pursuing the Jets' Jeremy Kerley, either. Here's maybe why, although maybe the biggest reason is they weren't going to do what Baltimore did and give a 30ish receiver $11.5 million for two years.
According to profootballfocus.com, Wallace rated 129th of NFL wide receivers last season when it came to catching the deep ball and Kerley was tied for last. Wallace, who turns 30 Aug. 1, had just six catches of least 20 yards while two of the 27-year-old Kerley's 26 catches went for 20.
Wallace has speed and he can argue he was hampered by the arm of Minnesota quarterback Teddy Bridgewater. But in his last season in Miami in 2014 with Ryan Tannehill, PFF rated Wallace 62nd with the deep ball. The Bengals respect his take-the-top-off speed and have kept a pretty good eye on him. In nine games they've held him to fewer than five catches and 61 yards per game while allowing three touchdowns. And nearly $6 million per year isn't their price tag.
HALL LOOKING: One of those guys who guarded Wallace well, cornerback Leon Hall, is on the free-agent trail. Reports have him visiting Arizona and Dallas. With the Bengals re-signing Adam Jones opposite Dre Kirkpatrick, slot corner Darqueze Dennard coming back from shoulder surgery, and fourth-rounder Josh Shaw coming back for his second season, the 31-year-old Hall could be an option later in free agency.
Also making the rounds is right tackle Andre Smith, reportedly looking to make a call between the Vikings and Cardinals. That would give the NFC West champion Cards two former Bengals blocking on the right side in Smith and tight end Jermaine Gresham. The Bengals are ready to put last year's No. 1 pick, Cedric Ogbuehi, at right tackle.
SIMS EXPECTED: Veteran defensive tackle Pat Sims is expected to re-up with the Bengals in the next day or so for his seventh season with the club.