[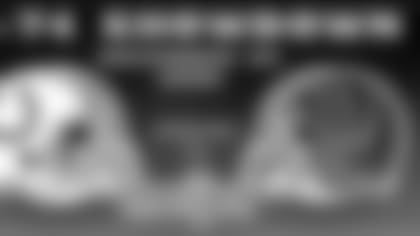 ](http://www.meijer.com/)
Updated: 6:40 p.m.
There are no guarantees as the Bengals head into Sunday's showdown with the unbeaten Colts. Well, only one.
But wide receiver Chad Johnson didn't guarantee a win like he did two years ago the Wednesday before the Bengals knocked off the 9-0 Chiefs. On this Wednesday, the AFC's leading receiver simply guaranteed "that I will not be stopped Sunday. I won't be covered. I'll do everything I can to make sure we win this game.
"There's no need to guarantee a victory. No point," Johnson said in what has evolved into his weekly news conference. "We're 7-2. We're one of the best teams in the NFL right now, so there's no need for me to go out on a limb like that. Two of the best teams are getting ready to match up."
While everyone is dancing around the term "Big Game," Johnson went beyond that for Sunday's 4:15 p.m. game at Paul Brown Stadium that will be beamed to most of the nation on CBS: "It's more than a game. It's a historical event," he joked.
It's also a significant game in the evolution of Johnson as a two-time Pro Bowler. He said the turning point of his career came the last time the Bengals played the Colts, an Oct. 6, 2002 game at the RCA Dome. Jon Kitna's fourth-down pass at the Indy 25 went off Johnson's hands for an interception that secured the 28-21 loss, a moment when Johnson resolved he would work harder in a bid to realize his enormous potential.
The RCA Dome is also where Johnson took an important drive with quarterback Carson Palmer last year to watch the Colts in a Monday night game. Using tickets given to them by Colts running back Edgerrin James, Johnson and Palmer watched the chemistry between Colts quarterback Peyton Manning and wide receiver Marvin Harrison. Manning and Harrison hold the record for most touchdown passes by a duo with 90, one of the records Palmer and Johnson want to break.
Johnson said he and Palmer will stay together longer than Manning-Harrison, a combo heading into its eighth season.
Johnson also has a solid relationship with Colts head coach Tony Dungy, his coach at his first Pro Bowl after the 2003 season. It was a week after Janet Jackson's "wardrobe malfunction" at the Super Bowl, and Dungy talked Johnson out of a touchdown celebration in which he planned to show a drawing of a breast.
"Yeah, he was right," Johnson said. "No reason to tease the league."
Sunday may be a historical event , but it's not big enough for Johnson to break out "The Ickey Shuffle" for an end-zone celebration. He says he's saving one of the signatures of the 1988 Super Bowl run for the playoffs.
INJURY UPDATES: Bengals head coach Marvin Lewis had only three probables on his injury list; Rookie linebacker David Pollack (knee), running back Rudi Johnson (knee) and left guard Eric Steinbach (abdominal strain) ... Amid an occasional snow flurry on the PBS field, Steinbach and Johnson sat out while Pollack practiced.
PLAYOFF TIX: The NFL has instructed the Bengals to begin preparing for playoff games at PBS and the club has sent playoff invoices and an additional playoff ticket request form to season ticket holders. Payment in full for invoiced playoff tickets and additional ticket requests must be received by Dec. 2. The NFL determines ticket prices and handling fees, and seats are sold as a two-game package only. All information is located in the "Tickets" menu on Bengals.com.
PRO BOWL VOTING: More proof that Sunday's game is one of the AFC's marquee matchups this season. Nine players leading their positions in fan balloting and four of the NFL's top 10 Pro Bowl vote-getters will be on display Sunday at PBS. Leading the way are two of the league's most celebrated passing duos with Bengals wide receiver Chad Johnson and quarterback Carson Palmer, running fourth and sixth respectively, facing Colts quarterback Peyton Manning, second in the balloting, and wide receiver Marvin Harrison, running ninth.
In voting presented by Sprint, 33.1 million votes have been cast on NFL.com and via the Sprint wireless service, which is a 71 percent increase over the 19.4 million cast last year at this time. Voting continues on NFL.com, in stadiums, and via the Sprint wireless service through Dec. 13.
The starters are announced Dec. 21 on the 2006 Pro Bowl Selection Show on ESPN at 7 p.m. The Pro Bowl is played Feb. 12 and televised by ESPN from Hawaii. The fan voting for the 43-player AFC and NFC squads makes up on one third of the selection process, with the coaches and players making up the remaining votes.
Johnson, stalking his third straight Pro Bowl selection with 456,188 votes, and Harrison, 349,222, lead all receivers. Palmer, seeking his first berth with 431,213, trails Manning by 64,718 votes. Three players make it each at quarterback and receiver.
Leading their positions in the AFC voting are Bengals kicker Shayne Graham and Bengals cornerback Deltha O'Neal, the league leader with six interceptions seeking his second Pro Bowl and first since his second year with the Broncos in 2001.
Along with Manning, other Colts leading their positions are center Jeff Saturday and linebacker Cato June, as well as three/fourths of their defensive line in ends Dwight Freeney and Robert Mathis, and tackle Montae Reagor.
Bengals right tackle Willie Anderson is also looking for his third straight Pro Bowl, and cornerback Tory James is trying to return after last year's first-time selection.
BRIGHT LIGHTS: A total of 64 percent of the nation will get Sunday's game on CBS, believed to be the first time since the NFL returned to the network in 1998 that the No. 1 announcing crew calls a Bengals game.
According to LeslieAnne Wade and Vanessa Hambidge of CBS, Jim Nantz and Phil Simms will be beamed to Texas, Phoenix and Tucson, as well as Southeastern Conference territory, through the Midwest and up to Michigan, Wisconsin, and across the Northeast seaboard down to Pennsylvania.
Lance Barrow, a CBS executive producer for football and golf, has been with the network since 1976 and is on site Sunday. So he thinks there is a generation of fans out there that may need a bit of a history lesson.
"I've told our people that there are probably a lot of people out there who don't know that the Bengals have been to the Super Bowl twice and almost won it once," Barrow said. "We're putting together a little bit of a history of the Bengals, and we'll have vignettes on Carson Palmer and Rudi and Chad (Johnson)."
BEEFED-UP SECURITY: In the Bengals' first appearance at PBS since the Oct. 30 on-field incident, the stadium is vowing to put extra security on the field for Sunday's game. Eric Brown, managing director of the stadium, said there will be more than the 22 people that were on the field when a Cincinnati man rushed the field with 26 seconds left and swiped the ball from Packers quarterback Brett Favre.
Brown wouldn't specify numbers, but the usual complement of three Hamilton County Sheriff Deputies and three City of Cincinnati police officers will be elevated, as will the group of 16 security guards. Brown said that the golf cart-like vehicles that are on the field to attend to the medical needs of players will be moved to the middle of the stands and won't be parked near the aisles, and there will be security at the carts. The man jumped from the seven-foot barrier ringing the seats onto one of the carts.
"We've also reminded our people to look from side to side occasionally instead of just straight into the stands," Brown said. "We've just decided that we're going to be one of the heavier teams in the league when it comes to a presence on the field."
DUNGY WATCHING: Colts head coach Tony Dungy is a man after Bengals president Mike Brown's heart. He'd love to be in the same division with the Bengals.
"It would be a great natural rivalry. It would be unique," Dungy said in his Wednesday conference call with the Cincinnati media. "We've got a great rivalry with Tennessee. Our fans can travel down there and their fans can come up here. But in a way, I'm glad. The way they're rolling and how they've got their program going, I'm kind of glad we're not in the same division with them."
Dungy and Lewis have never been on the same coaching staff, but they are close enough that they have compared notes on getting their teams better. While Dungy doesn't talk to Lewis as much as he does with coaches he's worked with before, he feels close enough that he can pick up the phone any time and call. Dungy can see the similarities in programs that are a year apart (Dungy arrived in Indy the year before Lewis came to the Bengals in 2003), but as Lewis said in his Wednesday news conference, Cincinnati is trying to get where the Colts are and this game "is a big step." Both are defensive guys who covet speed more than size.
"It's similar to the blueprint. We had a lot of things going when I got here," Dungy said. "We probably had some advantages Marvin didn't. I think they've done a tremendous job of just redefining who they are and they're playing outstanding football. You've got to credit Marvin and you've got to credit Mike Brown. They've put a very, very sound team together that believes in themselves and an exciting team and it's great for the city of Cincinnati, I'm sure.
"We try to do the same thing. We talk about being fundamentally sound, about not making mistakes, about being explosive on offense, and really sound on defense. It probably is the same blueprint that most people have, it's just not that easy to do."