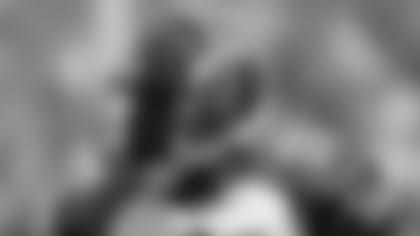 Deltha O'Neal takes off after securing one his three picks Sunday against Minnesota. (Bengals photo)3:30 p.m.
This week's locker-room theme is that 2001 might as well be 1901 when looking at the last time the Bengals went 2-0. There are nine players left from that team that went 4-10 the rest of the way and one of those guys, linebacker Brian Simmons, learned one thing from it.
"They don't write books about teams that go 2-0," Simmons said. "It's different around here now. Back then, we had trouble handling success. We'd play worse after a win than a loss."
Wide receiver Chad Johnson, one of four rookies in '01 still with the club, admits was feeling his way around.
"Different atmosphere. Different bunch of players. The staff is different," Johnson said. "Something like that in that nature is not likely to happen under Marvin Lewis."
O'NEAL NAMED:** It couldn't have been a close race. Bengals cornerback Deltha O'Neal walked away with the AFC Defensive Player of the Week after becoming the first Bengal in 16 years to tie a team record with three interceptions. He also had a game-high nine tackles, five passes defensed, and the admiration of Bengals head coach Marvin Lewis.
"He's got unbelievable athleticism," Lewis said. "As good as any corner in the NFL. He just needs to be attentive to detail and he can be as good as there is."
Lewis thinks both his cornerbacks turned the corner against their original team, the Broncos, in the Bengals' Oct. 25 Monday Night win over Denver last year. James got semi-benched during the loss to Baltimore at home Sept. 26, and O'Neal gave up a 99-yard touchdown in the Oct. 17 loss in Cleveland, but they each had a pick against Denver as James went on to the Pro Bowl and O'Neal went on to justify the Bengals' trade for him before the 2004 draft in which the Broncos moved up seven spots in the first round and gave the Bengals a fourth-rounder.
"That's something (Broncos head coach) Mike Shanahan told me is he (had) just lost confidence in himself. I think Mike was exactly right," Lewis said. " I think (he has it back). If he's right and prepares, you can be confident."
O'Neal doled out a few game balls himself: " Everybody played their part, it should be the whole defense. I give all my credit to my D-line. They made it easy for me to make those plays."
The last Bengal to win an AFC Defensive Player of the Week award was Simmons in Week 8 of 2003 for his performance in Cincinnati's 27-24 win against Seattle.
The only Bengal to receive a Player of the Week award in 2004 was quarterback Carson Palmer in Week 13 for engineering 24 fourth-quarter points in the team's 27-26 win at Baltimore.
KRENZEL NO LOV-IE:** Bears head coach Lovie Smith, a former assistant coach at Ohio State, admitted it was tough cutting quarterback Craig Krenzel back in late June "from one Buckeye to another," but the Bears were headed in a different direction and it can be seen with rookie quarterback Kyle Orton comfortably at the helm in the Rex Grossman vacuum.
Now Krenzel goes back to the town where he won his first three starts last year as the Bengals' No. 3 quarterback. He isn't one to play the what-if game. What if Grossman had got hurt and the Bears hadn't drafted Orton and. . .
"But that obviously was the direction they were going so there's no use wondering about it," Krenzel said. "I'm here and I'm learning a lot."
There has been some debate that one of the reasons the Bears cut Krenzel is because he didn't play in NFL Europe. But Krenzel has maintained he wasn't ready as he came back from a season-ending ankle sprain. In a conference call with the Cincinnati media Wednesday, Smith said that Krenzel didn't play because he was injured.
NO WORK: Rookie WR Chris Henry (foot) and SS Anthony Mitchell (hamstring) appeared to be the only two Bengals not to practice Wednesday and are questionable.