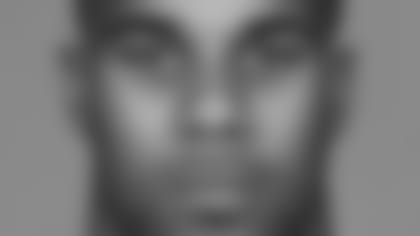 Nicholson A few hours after A.J. Nicholson pleaded not guilty to a domestic violence charge Monday, the Bengals released the second-year linebacker.
Although the mother of his two-year-old child recanted her statement from Friday that Nicholson hit her, Kenton District Court Judge Douglas Grothaus chose not to drop the case and set a pretrial hearing for May 31, according to The Cincinnati Enquirer.
Also Monday the Bengals said that Chris Henry is in compliance with his legal matters and that Monday's reports about the embattled wide receiver failing a court drug test "may not be based on complete information," while Kenton County prosecutors backtracked from their initial statements.
Nicholson, 23, was arrested Friday for the second time since the Bengals drafted him in the fifth round 13 months ago when Victoria Johnson said Nicholson hit her in the face.
The Associated Press reported after a police officer saw that the woman had an injury around her eye, Nicholson later showed up at the police station and was arrested.
Two months ago Nicholson pleaded no contest to burglary and grand theft after being charged with stealing electronic equipment and other items from the apartment of a former Florida State teammate last May.
Under the NFL's collective bargaining agreement with the NFL Players Association, teams can only release players for lack of talent.
Even before Friday it's believed Nicholson would have had a difficult time making the roster.
With the Bengals expected to keep seven linebackers, he was believed to be behind the group of starters, Ahmad Brooks, Ed Hartwell and Rashad Jeanty, as well as Landon Johnson, Caleb Miller, Andre Frazier and Eric Henderson. The Bengals may also need to make room for Odell Thurman because he's expected to be reinstated from a year-suspension in time for training camp.
Also, undrafted rookie Earl Everett out of Florida is expected to compete for a roster spot. He could be back for this week's voluntary workouts as he recovers from arthroscopic ankle surgery.
And, Nicholson played in only two games last year. Henry The Bengals reacted to Kenton County Attorney Garry Edmondson's contention that Henry failed the court's drug test that is part of his probation agreements stemming from his four arrests by saying they are waiting for more information.
And, while Edmonson backtracked later Monday, Marvin Frazier, one of Henry's agents, said the original story was wrong.
Frazier said Monday afternoon that he was drained from talking to everyone from media to Bengals officials, and said he's satisfied his client is in the clear and that the final drug tests are negative.
"It's terrible. We're talking about someone trying to get his life back together," Frazier said. "It's what I've been saying; he's doing whatever he has to do. Somebody jumped the gun."
Edmonson told Cincinnati's Channel 12 late Monday afternoon that there are inconsistencies with two tests, that Henry may not have failed, and that he's waiting for the second test.
A positive test would be devastating for Henry, already suspended for the first eight games by NFL commissioner Roger Goodell as punishment for his four arrests in three states.
"I must emphasize to you that this is your last opportunity to salvage your NFL career," Goodell wrote Henry last month when he suspended him. "I urge you to take full advantage of the resources available to support you in that effort."
But by Monday afternoon, everyone was moving cautiously.
"With respect to the Northern Kentucky proceedings, reports to date may not be based on complete information," the Bengals said. "More information is expected to be made available shortly, once all the procedural tests are complete, and the Club will await any action until that information has been released."
Earlier, Edmonson told Cincinnati TV station Channel 5 that he may have been mistaken and had been given bad information and is tracking down more information.
SLANTS AND SCREENS The club announced Monday that the team is reporting to training camp at Georgetown (Ky.) College July 26 and practices for the first time at 3 p.m. July 27, holds the intrasquad scrimmage Aug. 3, and the Mock Game Aug. 4 before they break camp Aug. 16 as head coach Marvin Lewis opts to keep them about a week longer than last season.
That puts the team in Georgetown for 21 days. Last year they were there 15 days because there were just five days between the first and second preseason games, so Lewis broke camp the day before the opener to prevent a logistical nightmare. This year there are eight days between the Aug. 9 opener in Detroit and the Aug. 18 home opener against the Saints. The Bengals dipped into the Alabama collegiate ranks for another running back Monday when they signed college free agent Dan Burks of Alabama-Birmingham. The 6-1, 218-pound Burks worked out at the Bengals rookie camp two weeks ago, the debut of Auburn running back Kenny Irons, the Bengals second-round pick.
Limited to 17 games the past two seasons because of injuries, Burks still finished as UAB's second all-time rusher with 2,227 yards despite just 486 carries. He left with a career yards per carry average of 4.7 after averaging four yards this past season on 108 carries. Before the injuries hit, he had 880 yards on a career-high 164 carries as a sophomore for 5.4 yards per pop. No word if cornerback Deltha O'Neal is going to show when voluntary workouts resume at Paul Brown Stadium on Tuesday, Wednesday and Thursday. But word is he has a new agent, his third since he joined the club.
An NFL source said O'Neal, the Bengals starting cornerback who missed last week, has hired the California-based Steve Feldman. Feldman, best known in Bengaldom as Corey Dillon's agent when the club traded him to New England before the 2004 draft, couldn't be reached for comment. Neither could one of O'Neal's current agents, Joby Branion.