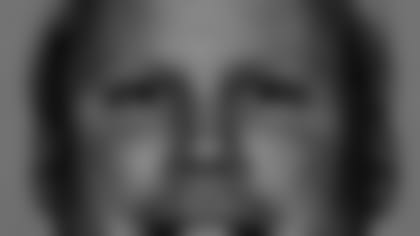 INDIANAPOLIS - If first impressions are the best impressions here at the NFL scouting combine, look for the Bengals to continue tweaking the scheme of their 4-3 defense instead of executing a massive overhaul to a base 3-4 defense.
Defensive coordinator Chuck Bresnahan is looking for the best players this week rather than Xs and Os, primarily because he believes his unit is "three steps behind our offense in my mind at the maturity level and consistency level."
With a plethora of small and fast linebackers, Bresnahan unveiled a lot of 3-4 looks on passing downs in his first season as defensive coordinator, but the Bengals simply don't have the 250- to 270-pound backers needed to play the middle in a 3-4. They do have 290-poundish guys that could be 3-4 ends in tackles John Thornton and Bryan Robinson, but the only guy they have close to being a 3-4 nose tackle is 320-pound backup tackle Shaun Smith.
"Can you combine a 3-4 principal and a 4-3 principal? Yes, it's very easy to do based on your personnel," Bresnahan said. "But right now, for me to say we're going to go out and try to be the New England Patriots, we don't have that type of player. We don't have that linebacker. (If) we ask (middle linebacker) Odell Thurman to go two gap a guard, that's not what he does. We want Odell running. Right now, we've got a depth chart where we have to analyze what our strengths were and what our weaknesses were. Evaluate free agency. Evaluate the draft and then make the right decisions. And so far the on-going process has been pretty good. I think it shows in who we've drafted the last couple of years and the production they've brought to the field."
Since Bresnahan arrived from Oakland in 2004, the Bengals have drafted starters in Thurman, free safety Madieu Williams, strong side linebacker David Pollack and defensive end Robert Geathers, as well as regulars who play a couple of spots in defensive back Keiwan Ratliff and linebacker Landon Johnson. Defensive lineman Jonathan Fanene played sparingly as a rookie in '05, but he's expected to emerge this season.
Like head coach Marvin Lewis looking at the entire team, Bresnahan seeks an attitude adjustment as much as an upgrade in talent. He thinks the return of Williams after he played only four games with a shoulder problem last season is going to bring an energy level the defense needs, and calls him another high draft choice.
Bresnahan says those picks show the Bengals look for the best players rather than fill needs when they go to pick. It's looking more and more like that points to cornerback at No. 24, a spot in the first round where immediate starting ends, tackles, and safeties aren't expected to be.
But the evaluation of the prospects began in earnest this weekend with interviews, and continue Sunday with defensive line workouts. Tackles such as Virginia Tech's Jonathan Lewis and Miami of Florida's Orien Harris said they met with the Bengals for the formal 15-minute interviews Friday night on a list that is also believed to include Michigan's Gabe Watson and Florida State's Brodrick Bunkley.
For the most part, Bresnahan was pleased with what his line did last season, but he is looking to upgrade.
"I think we had solid play," Bresnahan said. "Do we need to play better? Absolutely. The (foot) injury to Bryan Robinson really hurt us. Bryan was playing outstanding football when he got hurt. When he came back, the energy level and the intensity he played with, we needed that. Shaun actually did a pretty good job against the run, but you lose some of that athleticism and explosion that Bryan gives you in the run/play-action pass game and the pass rush from inside. But they all did a solid job."
Since the Bengals are looking for athleticism and explosion, they may not be able to get that from the 335-pound Watson, a guy some wonder about his intensity and ability to move well. If the team is looking for the massive 340-pound run stuffer (and what more does Marvin Lewis have to do to show he's not looking to re-create Sam Adams-Tony Siragusa?), he's not here and if he was, he's probably not available at No. 24.
Bunkley, who played at about 285, showed up here looking a fit 306 pounds. The 6-0, 308-pound Lewis, projected as a second- or third-rounder, is built and looks like Warren Sapp, and says he tries to model his game after him. The 300-pound Harris says he can be a 3-4 end, but the true 4-3 rush ends that can make an impact are not likely to be available at No. 24. North Carolina State's Mario Williams, Virginia Tech's Darryl Tapp, and Penn State's Tamba Hali are going to be long gone.
The Bengals would love to have the 6-1, 270-pound Hall, a guy who spoke so eloquently Saturday about seeing stacks of dead bodies and the shooting of his mother in Liberia's civil war as he prepares to take the test to become an American citizen.
Another guy they would love but won't be there is Oregon tackle Haloti Ngata, a pure 3-4 nose tackle. He even compares himself to one (the Steelers' Casey Hampton) because of his ability to fight through double teams. Ngata is another guy that spent 15 minutes with the Bengals on Friday night in a due diligence meeting.
COWHER KNOWS: More proof that Marvin Lewis and Steelers head coach Bill Cowher are more alike than different. The guys who played against each other in high school in Greater Pittsburgh had words for each other after the Bengals' playoff loss last month, fueled by Lewis's rippage of a month-old remark by Steelers quarterback Ben Roethlisberger.
Lewis has said since he regretted it, and Cowher knows where he's coming from.
"I have no problem with Marv," Cowher said here Saturday. "Hey, he's a competitive guy, an emotional guy from Western Pennsylvania. I think I've said a few things and probably done a few things as well."
Like mocking the Bengals' Who-Dey chant at the Steelers Super Bowl parade a few weeks ago. He almost grimaced at the memory. He knows that was emotional, but said he meant nothing by it.
"I know. I know," Cowher said. "I'm not going to be well-liked in Cincinnati. But I didn't mean any disrespect. I think it's a great rivalry, to be honest with you. I think the fans love it. I think they've got a great chant. They've got a good football team and I respect that."
How good is this rivalry now after the Steelers knocked off the division-winning Bengals at home in the playoffs by knocking out quarterback Carson Palmer? After initial interest in nationally televising the Bengals-Steelers rematch in the Thursday night NFL opener of the regular season, the league reportedly is cooling to the idea because of the uncertainty of Palmer's return off reconstructive knee surgery.
Earlier Saturday before the national media, Cowher talked about how much he respected the job Lewis and Bengals president Mike Brown have done in building the defending AFC North champs and that while Palmer is the key piece, he said they have surrounded him with good players in what he expects "to be a big-time rivalry for a long time."
When asked if he thinks the Bengals have been built like Cowher has shaped the Super Bowl champs, Cowher isn't so sure.
"I just think (Lewis) is a guy who has been on a lot of successful teams," Cowher said. "He certainly had success in Pittsburgh, won a championship in Baltimore, and was highly coveted when he went to Washington. He's earned everywhere he's been. He's had a lot of success and successful people don't like to fail. I think he's taken that and imposed that mindset on his team."
Isn't that what Cowher has done?
By the way, Cowher didn't sound optimistic or desperate in the Steelers' bid to keep their two top free agents: wide receiver Antwaan Randle El and safety Chris Hope.
"It happens every year," he said of replacing players.
DEAL IN?: Cowboys owner Jerry Jones told the Dallas media Saturday that the big-market owners are willing to give small-market teams like Cincinnati the revenue sharing they want and that a collective bargaining agreement could happen immediately.
If no deal is reached by this Friday, club officials see a restricted free agency market because of the tighter accounting rules anticipating an uncapped year in 2007. The biggest changes are pro-rating signing bonuses over four years, annual salaries are unable to increase by more than 30 percent, and pro-rations must accelerate into the 2006 salary cap.
That's why Colts president Bill Polian did the big deal for wide receiver Reggie Wayne now instead of later. Polian said there is enough hurt for both teams and players in the adjusted rules to force a CBA.
"It's very difficult to do long-term deals with the 30 percent rule because signing bonuses don't count," Polian said. "The fact you have to do a huge signing bonus and a huge paragraph five (the base salary) to front load the contract, that's very difficult from cash and cap standards. It's restrictive and really limits creativity quite severely. If we get to Thursday with no agreement, it will be a different market."