Geno Atkins is going to get quite a 30th birthday gift some time this year.
ORLANDO, Fla. - On the 30th birthday of their most decorated front seven player ever, the Bengals made no qualms about extending the contract of six-time Pro Bowl defensive tackle Geno Atkins into the next decade.
"In our football business, you pay for high end talent and Geno has been at the top of our industry for a long time," said Bengals vice president Troy Blackburn Wednesday at the close of the NFL meetings. "And we think he can continue to do that and that's why we're trying to see what the opportunities are going forward."
In the last month Blackburn and his wife, executive vice president Katie Blackburn, have negotiated contracts counting about $25 million against the salary cap, more than $10 million than they originally budgeted in free agency. It's believed they'll pare back some cap counts after the draft and have enough in reserve to not only try and extend Atkins to a third contract, but also fellow sack ace Carlos Dunlap (a young pup at 29) at left end for a third contract, as well as tight ends Tyler Kroft and C.J. Uzomah and other regulars heading into the last year of their rookie deals.
Usually those deals get done in training camp, but the Blackburns won't put a time frame on them.
"We always try to do deals that work for the team and the player. These days guys are playing longer than they used to and they take good care of themselves, so we'll see where things go," Katie Blackburn said. "We have tried not to do a deal in our minds that would put a lot of dead cap money in there. Geno's been a good player. He has some good football ahead of him."
The Bengals aren't scared off by 30 as long as there is production. A few months before he turned 30, left tackle Andrew Whitworth got a four-year extension that averaged $10 million per year. In 2016, 32-year-old cornerback Adam Jones signed what amounted to a two-year deal that paid him more than $15 million. Of course, Atkins is going to make a lot more than Whitworth and Jones, but they set the over 30 precedent.
One deal they can't see getting done this year is an extension for quarterback Andy Dalton. In the four years since Dalton's six-year extension reportedly worth $16 million per year that more than doubled the Bengals' purchase price and made him the highest paid player in Bengals history in average salary, quarterback salaries have ballooned. According to spotrac.com, Dalton is ranked 17th in pay for quarterbacks.
"We didn't sign the Andy Dalton deal because we thought it was a good deal. At the time it was an expensive deal. It was a heavy lift," Troy Blackburn said. "We did it because Andy was a winning starting quarterback in the National Football League, he had demonstrated that. We know statistically your best chance of success is by rewarding your own players and maintaining that quality core. That is what drove that. We are certainly aware quarterback deals have evolved since then. We know that at the right time we will have to evolve as well. We don't think this is the time right now. What we are going to focus on right now is building the best team for 2018 we possibly can."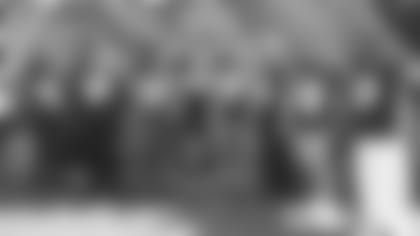 The Bengals loved how their alumni players loved gathering for the weekly reunions during last season's 50th celebration.
BEYOND 50: With the NFL already preparing teams for the league's 100th anniversary season in 2020, look for the Bengals to turn to some of the elements they used to celebrate their 50th season last year. They enshrined 22 players and two coaches as the best of their top 50 players with portraits inside the stadium and the Bengals won't rule out expanding such efforts after what they feel was a successful anniversary season of alumni and fan events.
"You see success so let's keep talking about it and see where it goes," Troy Blackburn said. "The 50th went exceptionally well. Fans enjoyed the public opportunities they had with players. We created a fair number of private opportunities with alumni. It all went very well. The alumni handled it remarkably well. They were positive about it, supportive of it and on a personal note; almost to a man they enjoyed it. I think that was a great success.
"We will probably view that as being an episodic opportunity. It's not something you want to wear the fans out with every week because it will lose some of the specialness to it. There would be opportunities as the NFL starts to look to the 100th season that that would be an opportunity to re-engage alumni and fans and do it in a way both sides would find to be meaningful."
HEADS UP: The Bengals joined all the teams in voting for a resolution that basically makes using the helmet illegal in a tackle. The sentiment is nice, but the fact the league is still deciding how to enforce it (Ejection? Fine? Penalty?) has some owners concerned.
"(The NFL has) allowed that in the to-be-determined circumstance there can be an ejection from the game," Katie Blackburn said. "They felt that was the best way to help make sure they would get out of the game and get back to where they want the game to be."
But what about the border-line plays?
"There is difficulty with a lot of this. I think as long as you are really focusing on what are egregious or intentional or flagrant acts, I think that there is a much broader comfort," Troy Blackburn said. "(But) you have a receiver that is catching a ball over the middle. A defender is going to hit him in the thigh, waist area and a receiver is dropping down to protect himself. That happens very quickly. The players that play this game are among the greatest athletes in the world, these things happen in a nanosecond. How do you judge that? We would hope those are not the plays that are going to get covered.  The focus by the league and competition committee, we are really trying to put a circle around plays that were intentional, flagrant, egregious and have an emphasis on removing those plays … They indicated they want to return the rule as its been written for many,  many years to keep the head out of the tackling."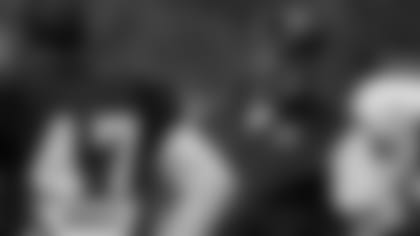 Bengals head coach Marvin Lewis has been teaching heads-up tackling for years.
NO ACTION:  The owners emerged with no policy about national anthem protests. The Bengals are keeping the same "Just-Football" approach that has marked the club's stance since the issue burst back upon the scene early last season. Head coach Marvin Lewis says he has also received input from his players. 
"Our guys have been excellent in this situation because we are about playing football," Lewis said this week. "They have other agendas; this is not the place to be. On Sunday for us and throughout the week in the building, it's about football. That's how I've approached it. Whatever happens from the league standpoint we will go along with, but that is what our guys know. And they handle that for me. I don't have to have a voice. They understand what I am about, anything beyond that gets in the way of us doing what we want to do and that's winning football games."
Troy Blackburn said the league wasn't very defined on the issue. But the Bengals are.
"Let fans come to the game, have a great time and enjoy their afternoon or evening with family and friends and try as best as you can to stay out of politics," Blackburn said. "That's what we have said repeatedly over the years and Mike Brown and Marvin Lewis have done a great job maintaining the mantra. And it's also probably what's best for the football team, because you avoid a lot of internal strife."