Running back Jeremy Hill is looking to keep the handle Saturday night.
Good friends Marvin Lewis and John Fox have met five times during the regular season as NFL head coaches and on Saturday at Paul Brown Stadium (7:30 p.m.-Cincinnati's Channel 12) Fox brings his third team to town when the Jay Cutler Soap Opera accompanies the Bears.
Lewis has a 3-2 edge on Fox with two wins over the Panthers and one over the Broncos last season but this score won't count. Yet the third pre-season game is supposedly the closest thing to a real game, so Fox is saying that Cutler and his regulars plan to play into the third quarter.
Lewis has ruled out going with quarterback Andy Dalton and his first team into the second half. In his four previous preseasons, Dalton has twice played into the third quarter in the third game, but Lewis doesn't want to see his starters again this year until the Sept. 13 regular-season opener in Oakland. But he would like to see more production before they go, particularly on third down after Dalton's unit went 1-for-6 Monday night in Tampa.
They'd like to be able to make hay against a Bears defense that is playing a 3-4 for the first time in the club's 96 seasons. They're looking for a starting cornerback opposite Kyle Fuller, a safety opposite 32-year-old Antrel Rolle, and the big free-agent pickup is former Ravens outside linebacker Pernell McPhee's 4.5 sacks per season.
Cutler, always ripped for his on-field demeanor, may have the body language of a cadaver Saturday. His four top wide receivers, a corps led by Alshon Jeffery and first-round pick Kevin White, aren't expected to play.
Plus left tackle Jermon Bushrod, who missed the Bears' off-season program with a back issue, left practice earlier this week with a back problem. Charles Leno, a seventh-round pick, is the right tackle who has moved to left when Bushrod can't go. Their best lineman, right guard Kyle Long, also saw some time at left tackle in the spring.
Despite the absence of receivers, Fox indicated to the Chicago media that it won't affect the playing time of Cutler and running back Matt Forte. The dangerous Forte is a good test for the first group. In the Bears' 24-21 Opening Day victory over the Bengals in Chicago two years ago, the Bengals did a good job not letting him get loose. He finished with 50 yards on 19 carries with just 41 yards out of the backfield on four catches.
Lewis sounds like he's more concerned about the intangibles than the results after they came out flat in Tampa.
"I was disappointed in No. 1, our energy, our execution,' Lewis said. "Those things were disappointing overall, particularly for the first units. I think as things went on, we did better things. But when you go out there on an NFL field, you've got be ready to go right away."
But it's hard to see them pounding guys like Dalton, Pro Bowl wide receiver A.J. Green and running backs Jeremy Hill and Giovani Bernard with the opener 15 days away. Hill has carried just six times this preseason and he knows Saturday is his last tune-up to refine some things because the starters aren't expected to play next Thursday (7 p.m.-Cincinnati's Channel 12) in Indianapolis during the pre-season finale. He's also looking for a certain feel from himself and his mates.
"I just have to take advantage of the looks I get and make the most them. I didn't do that," said Hill, who lost a fumble in Tampa. "I messed my tracks up. I left my linemen out to dry. I have to go out there and do the right things and do what the coaches ask me to do. I think this team; we really need to start grinding. Do what got us here and we'll be fine."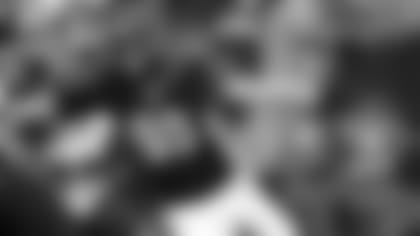 Add Margus Hunt to the hottest roster spot battle of the preseason.
D-LINE HUNT: Two pre-season games left and it is anybody's guess who makes it on the Bengals' ultra-competitive defensive front. Remember Margus Hunt, the 2013 second-round pick? Hunt threw his hat into the ring Monday night at right end when he had a sack-fumble and added three tackles in his 2015 debut.
Hunt missed the spring workouts with a back problem and they brought him along slowly in training camp before unveiling him in the practices against the Giants, but he didn't get the call in the game.
"Truth be told, I was not ready for that game," Hunt said this week. "I was off on my pad level, I was off on my get-off, just a lot of stuff that didn't work out in the practice as well as I had hoped. We got a couple extra days to rehab and couple days to work out. When the game was going on, right before the game I went in and lifted. Tampa Bay was more of a 80-20 shot of me playing. It worked out good."
Injuries curtailed Hunt's development last season, when he missed four games and played just 187 snaps.  Hunt says he's recovering his strength, which is his biggest strength, and, as it always has been with a relative football neophyte that stands 6-8, it's about the fundamentals.
"I still played with a little precaution, but I felt a lot stronger than I did against the Giants," Hunt said of Monday.  "Obviously the pad level was a lot better and my hand placement and stuff like that. It's just getting all those reps, jumping from practice reps all the way to game reps and stuff stacking up. It was a good test for me to see how I would deal with that kind of technique and start settling in.
"My strength level is good. My pad level, I still have to work on that,' he said. "I felt strong enough during the game and definitely held my ground on a lot more plays than I didn't."
The Bengals traditionally keep nine defensive linemen, but who are they? They have four ends in Michael Johnson, Carlos Dunlap, Wallace Gilberry, and Will Clarke. They have three tackles in Geno Atkins, Domata Peko, and Brandon Thompson. Fourth-rounder Marcus Hardison, as well as Gilberry, play both. That's eight and there are still guys at tackle like veteran run stuffer Pat Sims and 2012 second-rounder Devon Still, as well as Hunt. Flashing undrafted rookie DeShawn Williams is also showing he can play both.
Hunt has not spent a lot of time thinking about the numbers game. He's just trying to make sure he doesn't miss any more time.
"Because I have a relatively long core, unlike Carlos (Dunlap)," Hunt said with a laugh, "it's important for me to keep it strong. I've been working on core strength and core flexibility a lot. I was able to start doing that again. It's a long haul to get back to where it's comfortable enough to play against all those big guys on a regular basis, every down. It felt good."