Defensive coordinator Paul Guenther says he doesn't care if Sunday night's game is at midnight at Fenway Park.
In an effort to take off the prime-time albatross that has been heaped on the Bengals, head coach Marvin Lewis has moved back his practice schedule this week so that players are coming to the facility a few hours later in the day and leaving a few hours later at night.
Lewis has been trying to get his arms around it for a while. Since he arrived the Bengals are 6-13 at night.
"I don't care if we're playing at 8:30 or at midnight at Fenway," said defensive coordinator Paul Guenther after Wednesday's practice ended at 6. "I don't care. We're going to play football and this is the team we have to beat. That's the attitude I've taken with the players all the time."
If they played at Fenway, Guenther would have a shot to even the Bengals record at 1-1 in baseball's most storied yard and avenge Cincinnati's 33-14 loss to the Boston Patriots on Dec. 1, 1968. In the next to last game of their inaugural season, the baby Bengals saw the Pats' Gino Cappelletti kick a field goal and catch an 18-yard TD pass  in the shadow of the Green Monster.
But midnight is a bad time at Fenway for Cincinnati fans. Carlton Fisk's 12th inning homer that beat the Reds in Game Six of the1975 World Series came at 12:34 a.m.
BB ON PB: Patriots head coach Bill Belichick is a big fan of Bengals founder Paul Brown, the man that coached that game at Fenway. He learned about Paul Brown as soon as he can remember.
Belichick's godfather, Bill Edwards, was a high school teammate of Brown's in Massillon, Ohio and he later coached with him in Cleveland for two years. While with Western Reserve and the Lions, Edwards coached Belichick's father, Steve, and Steve coached under Edwards at Vanderbilt.
Belichick is a football historian when he's not cataloging Xs and Os, so during his Wednesday conference call with the Cincinnati media when he pondered the question of what is Brown's greatest innovation, he allowed, "That's a tough one."
Belichick didn't sound comfortable with it, but he opted for generalities because of the time crunch and recalled his talks with Browns Hall of Fame running back Jim Brown when he was the head man in Cleveland in the mid-1990s:
 "Jim and I would talk at length about his days with the Browns and coach Brown. We would talk about how similar their preparations were to ours. In terms of breaking things down, drills, situations, dividing up meetings for different groups to focus on different things and then bringing it all together from a team standpoint, the types of drills they did in practice.
"I would say he was probably 30, 40, 50 years ahead of his time in terms of doing things that really pretty much every team in the league does today in terms of developing a preparation and practice routine for the games and the detail that he broke it down to. I know that's a pretty general answer but that's what sticks in my mind."
MORE GUENTHER: The Bengals are 18th in sacks per pass and Guenther is proving to be a more avid blitzer than predecessor Mike Zimmer. And look at profootballfocus.com. Carlos Dunlap is rated 41st rushing the passer among ends, swing man Wallace Gilberry is 28th, and tackle Geno Atkins is 23rd.
But Dunlap has been all over the field with a sack in each game, Gilberry had been huge with 1.5 sacks and a bunch of pressures, and Atkins played effectively the last time out. So Guenther, thank you very much, is quite pleased with the pressure the front four is generating:
 "You have to look at sacks and passer rating in my opinion. If a guy gets the ball out of his hand and it's inaccurate, it's all the same to me. You might not lose five yards, but if the ball is on the ground it's very similar to that."
The Bengals lead the NFL in passer rating defense (56.9), but they also rate highly in other categories that suggest their front is getting after the passer. They lead the NFL allowing just 5.4 yards per pass, are second in third down efficiency and are fourth in percentage of passes intercepted.
WALLY'S WORLD: Gilberry is a highly regarded guy in the locker room, a tough-no-nonsense-no-BS kind of guy that, oh, by the way, has 15.5 sacks in 33 games with the Bengals.
At 29, he's a true savvy veteran. But don't call him that:
"Don't put that label on me. I'm not a savvy vet. I'm just a vet. I don't even want that. Just call me an advanced rookie. You go calling me a vet and everybody thinks I'm getting old and the next thing you know I'm out of here."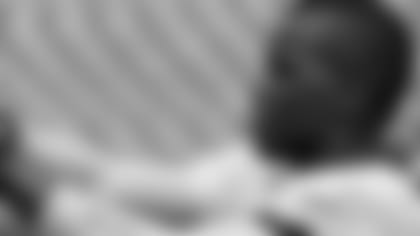 Bill Belichick says wide receiver Mohamed Sanu throws the ball like a quarterback.
MO (RE) FANS: Belichick is also a fan of Bengals wide receiver Mohamed Sanu and has his defense on alert for offensive coordinator Hue Jackson's already notorious bag of tricks:
"He throws the ball as well as a lot of quarterbacks do. He's very accurate and he's got a great touch and arm, but his accuracy is very good. So, they run those plays and it looks like, you see it's (number) 12 but you kind of think, 'Is that a quarterback?' 'No, it's the receiver throwing the ball.' So, they execute them well and they have a good design to them."