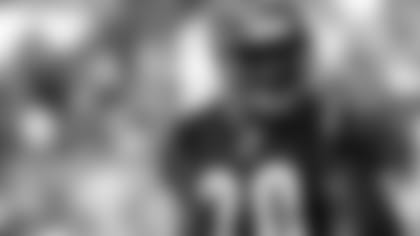 Tory James is having another Pro Bowl-caliber season. (Bengals photo)
As Packers quarterback Brett Favre straps it up to play in his 40th different NFL venue Sunday, Tory James plays his 40th game at cornerback for the Bengals in a matchup of wine and roses. Two guys that get better with age.
At 36, Favre comes into Paul Brown Stadium with an NFL-leading 14 touchdown passes. At 32 and with arms longer than Favre's consecutive starts streak, James is two off the NFL interception lead with three this season and 15 in 39 games as a Bengal following his first Pro Bowl berth last season.
That's more in Bengaldom than first-round defensive backs Darryl Williams (11) and Rickey Dixon (six). More than Super Bowl corners Ray Horton (14) and Lewis Billups (nine). More than five-year starter Artrell Hawkins (nine) and as many as Pro Bowl cornerback Eric Thomas (15).
"He's just coming off one of his best all-around games and an interception that was one of the best since he's been here," said secondary coach Kevin Coyle. "Because he still wants to get better."
TOP TEN BENGALS INTERCEPTORS:
CB Ken Riley (65), 1969-83 CB Louis Breeden (33), 1978-87 SS David Fulcher (31), 1986-92 CB Lemar Parrish (25), 1970-77 FS Tommy Casanova (17), 1972-77 LB Reggie Williams (16), 1976-89 CB Tory James (15), 2003-present
CB Eric Thomas (15), 1987-92 FS Robert Jackson (15), 1981-87, 1989
LB Al Beauchamp (15), 1968-75
James, one the Big Three free agents that Marvin Lewis began the groundwork to build his roster in March 2003, jump-started his career as well as helped Lewis ignite his rehab project. He brought 21 NFL starts and 18 interceptions with him from seven seasons with Denver and Oakland and, yeah, he wonders how many picks he would have if he started all those years.
"I'd have about 60 right now," he said, and he wasn't laughing.
"He's just so long, and he knows what he's doing, it's hard to get it by him," said Bengals quarterback Carson Palmer.
Ah, those arms. At 6-2, 185 pounds, James plucks interceptions from the most unlikely of places. Like last week, when James enveloped a pass from Ben Roethlisberger for the Steelers quarterback's first interception of the season.
"Smart," said Bengals wide receiver T.J. Houshmandzadeh. "That's the key word."
James solved one of the Steelers' most effective plays, a skinny post pattern that Pro Bowl wide receiver Hines Ward had converted into an 85-yard play earlier in the season.
"Tory got the jam at the line of scrimmage, which took the timing of the route off," Coyle said. "Then he was running even with the receiver so that the ball was going inside when they were trying to throw it away from the corner, and he was able with his long arms to get underneath."
But everyone knows James can do that. Cover down the field and play the ball. What impresses Coyle so much is that he has worked on the parts of his game that needed work, like run support. On Sunday, Coyle gave James high grades for coming up to make tackles on "The Bus," and if Steelers running back Jerome Bettis has 100 pounds on James, no one would be surprised.
"And he's great in meetings," Coyle said. "He's always working trying to become better at it."
James has another year left on his contract, and he's adamant about staying in the league. He thinks he's got plenty left.
"I don't know. I guess I'm lucky. I think everyone in my family ages well," James said. "I love the game of football. I love everything about it. I like taking care of my family. I like being with the guys."
James didn't see it or understand it when it happened, but he thinks his career took a turn for the better when he missed all of his second season with a torn patella tendon in his right kneecap in the 1997 preseason opener while playing for Denver.
"I just needed the whole season to lift, to get stronger physically and mentally," James said. "I think that helped me out. I know now that's what I needed."
Plus, that's another season he can put on the tread of his career at the back end. On Nov. 20 against Indianapolis, James will officially double the starts he had in his first seven seasons with 42. No problem playing after Year 11 in 2006.
"Easy, man," James said. "Easy."
Like everyone else with a heart, James has enjoyed watching Favre play down through the years. James himself kept the 39-game streak going earlier this season when he played through a painful toe injury. And two months before he signed with Cincinnati, he played on a broken leg in the Super Bowl.
"I've enjoyed watching him ever since he came into the league," James said of Favre. "The thing I like about him is that he plays hurt. He plays through the pain no matter what. You've got to like a guy like that. That's what this game is all about."
There will be no aches and pains for at least one of the old men.
"I can't wait," James said of kickoff. "He's one of the best of all-time."
Bengals-Packers Notes
GAME-TIME CALS: Bengals head coach Marvin Lewis looks to have some game-time decisions on his hands Sunday for the Paul Brown Stadium game against the Packers, but it doesn't look all that promising for rookie middle linebacker David Pollack after he missed an entire week of practice with a sprained knee.
Rookie kickoff returner Tab Perry (back) and backup center Eric Ghiaciuc (ankle) returned to practice Friday after missing Wednesday and Thursday, but all three are listed as questionable.
Head coach Marvin Lewis said rookie wide receiver Chris Henry shouldn't have been on Thursday's injury report and that he's healthy after practicing all three days. Pollack and free safety Madieu Williams, expected to go on season-ending injured reserve at some point, were the only Bengals that didn't practice Friday in PBS.
David Martin, the Packers' best downfield tight end, appeared on the report for the first time Friday with a groin injury and was questionable after not practicing. Safety Earl Little (hamstring) is the only player on the report who missed all three days of practice.
After practice, Lewis didn't sound like he was ready to activate linebacker Caleb Miller off the physically unable to perform list (PUP) in time for Sunday. But the Bengals could make room on the roster by putting Williams on injured reserve and dressing Miller in place of Pollack on Sunday's active 45-man game list.
If Pollack misses his first game, the Bengals have plenty of defensive ends to put in his spot at right end on passing downs, but it may mean that tackle Shaun Smith, inactive last week, might be back in the plans.
Losing Perry, a backup wide receiver, would be a blow because he's a special teams staple and he's returned all 21 kickoffs for a 24-yard average. If he can't play, look for running back Chris Perry, listed second on the depth chart, to make his first NFL return.