Updated: 10-9-07, 12:35 a.m.
It's Kansas City Week, but the only guarantees that came from the Bengals on Monday were Chad Johnson declaring there will be no more lack of communication with his quarterback and T.J. Houshmandzadeh assuring the populace that a couple of 1-3 teams will make the playoffs.
"It's early," said Houshmandzadeh after Monday's light practice at Paul Brown Stadium, where the Bengals waved bye to their three-day weekend.
Asked if one of them is going to be the Bengals, he replied, "We think it's going to be, but ... you can't go in there thinking you're going to get knocked out, because when you get hit you're going to fall."
Players called the 60-minute workout crisp, fast and refreshing as Houshmandzadeh went a step further when he said, "I'll bet you money we finish with a better record than everybody thinks."
Told most probably think 8-8, he said, "It's just my opinion, but we'll finish better than that. It's all about confidence."
Some numbers inspire confidence, and others don't.
The Bengals have an easy remaining schedule in which they face 12 games against teams that are a combined eight games under .500 (25-33) as they try to scramble out of last place in the AFC North.
The bad news is the first-place Steelers (21-31) and the third-place Browns (21-32) have an easier schedule than that as the Bills prepare to host Dallas on Monday night. At 1-3, Buffalo has the three remaining North teams on its schedule after losing to Pittsburgh in Week 2.
The good news is that since 1990 and the expanded playoff format, 20 teams have come back from 1-3 to make the playoffs. But the bad news is that only one, the 2002 Steelers, did it from the Bengals division.
The bad news is the numbers drop enormously with a 1-4 start, when only five teams have made it since '90. The good news is that the Bengals have a player, defensive tackle John Thornton, that was on one of those teams in the 2002 AFC runner-up Titans. The good news is that the Bengals have come back from 1-3 to make it. The bad news is that it was 37 years ago.
And no one can tell if it's good news that the Chiefs are 2-3 after a home loss to the Jaguars and looking to prepare backup Brodie Croyle to play.
And even though three of the Bengals' next four foes have losing records ... "When you're winning, your confidence is sky high; no matter the score, you think you're going to win," Houshmandzadeh said. "When a team is losing, you might start doubting yourself when the going gets tough. A winning team thinks they're going to win because that's what they do. A losing team might second-guess themselves. But guess what? The Chiefs can look at us and say the same thing. Maybe they're looking at us and saying, 'We've got Cincinnati coming in. We can get back to where we need to go.' "
The Bengals did seem a bit recharged. Johnson, the receivers, and quarterback Carson Palmer stayed behind for about 10 minutes, and Johnson and Palmer walked off the field with each other.
"We talked about a key thing today in our meeting and that was trust," said Johnson, the man that guaranteed the '03 win over the 9-0 Chiefs. "Monday night, that incident, Carson has to trust me to be in the right place at the right time. He let that ball go with his eyes closed. He trusted me and I wasn't there. It could have been a game-changing play and I really felt bad."
So bad that Johnson said he didn't go home to Miami for the weekend because he didn't want to have to answer all the questions and he wanted it put behind him. So he hung around for three days trying to figure it out.
The bye week cost Houshmandzadeh the NFL receiving lead with the Ravens' Derrick Mason going into Monday night five catches ahead of him with 44. But he got a lift from watching the Bears and Chargers each go to 2-3 Sunday.
"Everybody said (the Bears) aren't very good and they beat an undefeated team. San Diego is going the way they're going and they blow out Denver," Houshmandzadeh said. "We're different teams than Chicago and San Diego because Chicago went to the Super Bowl and San Diego had the best record in the league. The expectation from the outside might be greater than ours. But just to see them get untracked. It's only one game, but they're untracked. It kind of excites you to get back out there."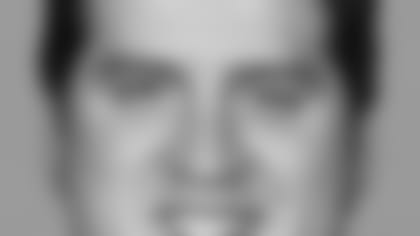 GUY CHECK:
Center Eric Ghiaciuc is certainly pleased to be back out there. A surgically-repaired snapping thumb took him out of the past three games, but he gave two thumbs-up after practice Monday to signify he'll be back.
His backup, Alex Stepanovich, didn't work.
It also means Ghiaciuc won't have to snap lefty, which had loomed as a possibility at one point. He did it once at a practice at Central Michigan, but never in a game.
"It's a mental game. Once you think you can do it, you can always do it whether it looks good or not," said Ghiaciuc, who says the footwork doesn't matter. "If you're going to the right, you're going to take the same steps you always take whether you snap with your left hand or your right hand."
What a difference a year makes. A year ago everyone was looking for the injured Rich Braham to return to the middle of the offense he knew so well. He never did, giving Ghiaciuc plenty of snaps. Now the hope is Ghiaciuc can add some of that stability to a line that has been buffeted by a lack of it..
"That's a good feeling," he said. "There's no mistaking actual game experience. You can't beat actual experience."
Palmer has never had his first offensive line in front of him this season, and he may not in Kansas City if Pro Bowl right tackle Willie Anderson can't go. His pessimism last week met Monday's absence from practice.
"Ghiaciuc is a guy that has experience. He's been there and done it with those guys around him," Palmer said. "It's a spot that has been banged up the last couple of years. Guys are fighting through soreness and pain." SICK CALL:
Marvin Lewis showed up healthy for the late afternoon workout as the head coach walked around on his surgically-repaired ankle. No cane. No crutches. No cart.
He can only hope his battered linebackers can join him soon because only Landon Johnson (eye) suited up for the workout. Rashad Jeanty (leg), Ahmad Brooks (groin) and Caleb Miller (back) took the day off as did running back Rudi Johnson (hamstring).
Other players who were said to have a chance to be ready after the bye, wide receiver Tab Perry (hamstring) annd defensive back Ethan Kilmer (knee), also didn't work. Neither did defensive lineman Jonathan Fanene.
Johnson, who missed his first game in 64 straight last Monday night, had no comment.
But the biggest non-appearance, literally and figuratively was that of Anderson. Anderson (knee, foot) didn't sound optimistic after playing only three snaps against New England. Will he run his streak of consecutive games played to 117 against Kansas City?
Lewis did say last week Anderson wasn't expected to go on season-ending injured reserve. And it's hard seeing Anderson missing a game. He would just miss tying former tight end Tony McGee for the fifth longest consecutive games streak in club history with 117. The last game Anderson missed?
The second day of the new century and last game of the old one in Jacksonville against a Jaguars team that still had Tom Coughlin, Mark Brunell and Tony Boselli.
How long ago? Jeff Blake was the quarterback, Spinney Field was the club's headquarters, and Marvin Lewis was the defensive coordinator of Baltimore's 22nd-ranked defense.
The longest Bengals streak behind Anderson looks to be defensive end Justin Smith with his 100th straight game in K.C. Chad Johnson is believed to be next at 92 on Sunday.
Johnson (ankle) and T.J. Houshmandzadeh (knee) worked Monday.
MORE SKED: The next month is enticing but then starting Nov. 11 at 3-2 Baltimore and ending Dec. 2 in Pittsburgh, the Bengals endure their toughest month with PBS games in the middle against 3-2 Arizona and 3-2 Tennessee.
At 27-26, the Ravens are the only AFC North team that has a remaining schedule of teams with winning records.
Like the Bengals, Steelers and Browns, Baltimore has yet to play the winless Rams and Dolphins. And the Ravens still have to play unbeaten New England, as do the Steelers at Foxboro Dec. 9 and as the Bengals and Browns already have. But because they won the AFC North last year, the Ravens also get the 5-0 Colts.
After going to Pittsburgh, the Bengals host the Rams, then go to 2-3 San Francisco and host the 2-3 Browns before finishing the season in Miami with an 8-17 foe ranking in the five-game month.
After hosting Cincinnati and traveling to the Pats, the Steelers play Jacksonville (3-1) before finishing the season in St. Louis and Baltimore for a 12-11 foe December record. Cleveland plays teams currently 8-15 and the Ravens 17-8. Baltimore's grind job is soothed by the New England (Dec. 3), Indy (Dec. 9) and Steelers (Dec. 31) games all at home.
HUARD UPDATE: After Chiefs quarterback Damon Huard took a bad shot on his shoulder Sunday in the loss to the Jaguars, there is a very real possibility that the Bengals are going to find themselves in the middle of Kansas City history this weekend. The Chiefs are saying little, but Brodie Croyle, a third-round pick in 2006, looks destined to become the first drafted quarterback to start for the Chiefs since Todd Blackledge started the first two games of the 1987 season.
The Bengals are due if Croyle goes.
Here are the six backup QBs that have beaten the Bengals since '03: Baltimore's Anthony Wright (2003), Pittsburgh's Ben Roethlisberger (2004), Tennessee's Billy Volek (2004), Tampa Bay's Bruce Gradkowski (2006), Denver's Jay Cutler (2006), and Cleveland's Derek Anderson (2007).
Can't quite count Buffalo's Kelly Holcomb in 2005. He threw two more passes than J.P. Losman that year.
HENDERSON CHECKS IN: Donnie Henderson, who coached linebackers under Lewis in Baltimore before becoming a defensive coordinator with the Jets and Lions, walked off the practice field Monday and aroused the interest of the media.
Henderson, fired in Detroit after last season, spent the early part of training camp at Georgetown College observing practice. Lewis said Monday that Henderson has been with the club all season but had no further comment on his role.
Given that he wasn't wearing coaching togs and hasn't been seen early in practice on the field during the media period, it appears he's continuing to observe rather than work on-field activities.
Henderson's appearance will no doubt conjure up comparisons to defensive coordinator Chuck Bresnahan's arrival in 2004 as an assistant to Leslie Frazier before Bresnahan took over in '05.
But the difference is that Bresnahan was an on-field coach from the start of the spring camps in '04.
STAT CHECK:** Mason's 44 catches are followed by San Diego tight end Antonio Gates' 40, and Houshmandzadeh is third with 39.
Chad Johnson (495) is still second behind Randy Moss (551) in receiving yards. but it has tightened up behind him. Gates is at 489 and Cleveland's Braylon Edwards is at 485.