As the Bengals' long-time special teams coordinator, Darrin Simmons has a history things of getting squared away and after a rocky start consisting of the terrible trifecta (blocked punt, blocked field goal, punt return for a touchdown) he's got his diaper dandies up and running heading into Sunday's season finale (4:25 p.m.-Cincinnati's Channel 12) in Pittsburgh. All six of his top tacklers are third-year men or younger and two (linebacker Malik Jefferson and running back Mark Walton) are rookies.
The relentless cavalcade of injuries forced Simmons and assistant Brayden Coombs to go young, so the kids couldn't hide. Rookie cornerback Darius Phillips, who had five kick returns and one punt return touchdown at Western Michigan, has got his hands on just three punts but lately has effectively roamed as a hold-up guy on punt return, a safety on kick cover and on Sunday in Cleveland he had to fill in at gunner covering punts.
But there is nothing more hidden in a losing season than those hidden yards in field position, a stat joust the Bengals have not only won in eight games this season but by double-digit yards in three AFC North games in which they were 1-2.
Last week it was plus-10 over the Browns in a 26-18 loss. When they lost to Pittsburgh in the last 10 seconds, they were up 11 in hidden yards. When they knocked off the Ravens in Week Two, it was plus-13. And in the last three games it's been plus-eight, plus-nine, along with that plus-10 in Cleveland and that's the stat Simmons has noticed.
"Field position," says Simmons of the category that stands out in the myriad of numbers. "It's been really big the last three weeks. Sometime it equates into wins, sometimes it doesn't. But that's part of our things to control. I think we've been fairly efficient. There are times we've had penalties and that's a sore subject with me. (But) we go into a week with five things we've got get done this game and we did them (last week) and that doesn't happen very often."
The stats have documented the kicking game's rise. They're top 10 in drive start for kickoffs (3) and kickoff coverage (eight) as well as top ten for kick return (four) and punt return (5), punt coverage (ninth) and gross punt against (fourth) and net punt against (fifth). Footballoutsiders.com ranks them eighth overall with an estimate of how many points, compared to league average, each team receives from the five elements of special teams: field goals/extra points, kickoffs, kick returns, punts, punt returns. The total is then converted into a DVOA percentage so that it can be added in to offense and defense to create total team DVOA.
"A lot of moving parts," says wide receiver Alex Erickson, who has the second most kickoff yards in the NFL and fourth best average. "A lot of guys have never played pro football, never mind special teams. It's not easy because you're learning scheme and playing in space. That's tough. Darrin and Brayden have done a good job keeping us disciplined. If you look at our hidden yards, it shows you that it's about playing with effort."
The centerpiece has been the emerging 1-2 punch of special teams captain Clayton Fejedelem and Brandon Wilson with 12 and nine tackles, respectively. The pair of young safeties make up the first tandem of defenders to lead the kicking game in tackles since linebacker Dan Skuta and Jeromy Miles six years ago. Although he's got fewer tackles than last season's 15, Fejedelem has established himself as one of the league's best with a first alternate Pro Bowl berth and as a team leader in the locker room.
"He doesn't have as many tackles as last year but it shows you what other teams think of him when they're trying to eliminate 42," says Erickson of Fejedelem's number. "He's our motor. Darrin has asked him to do a lot more with leadership and he's embraced it."
Fejedelem showed off his savvy in Cleveland when he turned the game twice on fourth down with a fourth-down conversion on a fake punt run and a blocked punt. He's the quarterback of the punt team calling signals as the up back and he called for the fake punt after a glance to the sidelines and the Browns' ensuing look that confirmed a week of prep. Then he had the green light. On the block late in the game he basically worked a game with defensive lineman Sam Hubbard flashing past the long snapper and held his water long enough to burst through a hole to take it off the punter's foot.
Coombs looks at the GPS grades and notes that Fejedelem is never one of the top five guys in the game when it comes to speed racing down the field on kick cover. But he's on the same line every time, no peaks and valleys.
"That tells me he's all out all the time," Coombs says. "He's the perfect guy you want in that spot. He's smart and reckless."
Wilson, the sophomore speedster, is showing why the Bengals traded up for the fourth time in their history to get him in the 2017 sixth round. His 4.3 speed is a factor in punt coverage and Simmons figures he should be leading the team in tackles with three or four misses.
"He's helped Clayton," Simmons says, "in certain coverages and certain situations. Both these guys are young players that are going to continue to get better."
He could have been talking about everybody else, too. Like Phillips, the rookie, backing up Erickson, a third-year player that has already signed a contract extension an undrafted free agent.
"I'd like to get Darius Phillips more touches," Simmons says. "But we're, what, top five in returns? (Erickson) hasn't had a reason to get moved out of there."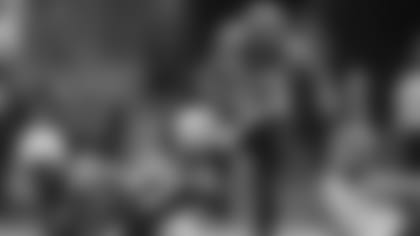 JOE PLANS ALL DAY: Joe Mixon says he's blessed to have a shot at winning the AFC rushing title Sunday, but he may be more excited that he's got a 19-yard lead on fellow Oklahoma legend Adrian Peterson heading into Washington's finale against the Eagles.
"I never would have thought I'd be in same league with him at the same time. Let alone be on top of him," Mixon said after Thursday's practice. "It's crazy. That's how it goes. There are always guys you idolize and then they become your competition. I think he's one of the best backs to ever play."
But he knows if he's going to be able to tell his grandchildren he once out-rushed the man they call "All Day," and the rest of the AFC, he'll have to finish. But then, that's been his goal all year. Finish. There is Cleveland's Nick Chubb 91 yards away, Tennessee's Derrick Henry 98 yards away and the Steelers' James Conner is always a threat to make a closing run now that he's returning to play Sunday after missing the last three games with an ankle.
That would have made for quite a finish if Conner hadn't got hurt. He's got 909 yards, 154 behind Mixon in a race that's also impacted by an injury with Phillip Lindsay's wrist surgery that freezes him 27 yards shy of Mixon.
"It always sucks to see a guy go down at your position. Especially a guy that was balling," Mixon said. "He's a good back with a good story being undrafted and the expectations. I've known about Chubb since high school and he's a good back. They've got good backs down in Georgia, but so do we. Henry had some huge games at the end of the season. It's a race to the finish. You can't stop now. I'm just going to go out there and try to lead the team to a win."
Mixon is overseeing the renaissance of the Bengals running game at the hands of offensive coordinator Bill Lazor and offensive line coach Frank Pollack. After the Bengals had their fewest rushing yards in history, Lazor and Pollack ripped up the running game and now they're off on their biggest yards per carry (4.6) since the 4.7 of Corey Dillon's 2000 season.
"Our schemes, the way Coach Pollack coaches them up and gets on the line and me at the same time," Mixon said of the changes. "I love Coach Pollack. I've got the utmost respect for him as a coach and a man.
"I think we'll only get better," Mixon said. "We've left a lot of yards out there, whether it's finishing runs or me going all the way. I think we'll get those yards next year."