Linebacker Vincent Rey is one of 34 Bengals who lived through the disappointment of the last Wild Card Game.
The Bengals badly want to win a playoff game because, that's what it is. A playoff game. The fact it's been 24 years Jan. 6, 1991 since they last won one doesn't weigh heavily in this locker room.
How can it for a team that has nine players born after that day, including their two running backs, 22-year-old Jeremy Hill and 23-year-old Giovani Bernard?
Plus, seven more were born in the 1990 offseason or during the season the Bengals won the AFC Central and beat the visiting Houston Oilers in a Wild Card Game at Riverfront Stadium probably best known for NBC's O.J. Simpson interviewing Bengals head coach Sam Wyche while wearing a certain pair of gloves.
"Oh yeah, I remember,' said safety George Iloka with a laugh, since he was born on March 31, 1990. "The Oilers were my team."
Raised in Houston, the young Iloka was upset when the Oilers moved to Tennessee in 1997 and he never took to the expansion Texans when they arrived five years later.
"Didn't like the name. Houston Texans," Iloka said. "That's like calling this team the Cincinnati Ohioans."
Cornerback Adam Jones appreciates what the fans have been through. But he also knows this locker room has its own goal of breaking through on its fourth straight post-season trip.
"Yes, I do, but more important to the guys in this locker room who have been working 365 days, working hard to get it together, to do something special," Jones said. "I understand how important it is to the city, but it's more important to the guys in the locker room."
 Don't ask them about 1991. Ask them about Jan. 5, 2014, when the Bengals were heavily favored at home and got stunned by San Diego, 27-10. There are still 34 players on this roster that were on that roster.
"A long time. Up until OTAs, probably," said linebacker Vincent Rey, when asked how long the bitterness hung with him.  "You just want to get out there and prove yourself again. But this game, we don't have any added pressure on us because of that. Every year is a new year. We're just coming out here and we're going to work and carry over practice to the game. Get to the ball and play smart."
But Rey and his mates had been told in clear-cut terms by Marvin Lewis in Wednesday morning's team meeting to forget it all
 "I told them not to answer your questions, and just tell you it's not me. It's got nothing to do with them," Lewis said. "You know what I mean? There you go. That team was last year's team. It's a different team, different people, different circumstances. What we have to do in order to win the games, you have to not turn the ball over, and you have to play good on defense. Pretty simple.
"Well I'm tired of answering the dumb question, all right? Excuse me, not a dumb question. I'm tired of answering the very important question that I knew was going to be asked. It's a very relevant question."
Now, Lewis was saying it all with a smile. But he admitted why he was tired of it all.
"Because we have to wait until Sunday to answer it again. There you go," he said.
It depends on who you ask and when.
"This team is much different than last year's team," said left tackle Andrew Whitworth. "And so I think you really approach it as man, here I am with another opportunity to possibly go to a Super Bowl if we can string together a bunch of wins, what can I do to be able to accomplish that? So that really is what the mentality is all week long."
But the San Diego game does hang with a guy like Whitworth. It was his fourth and best shot in five years to win one and he was seething as the Chargers threw it 16 times and the Bengals' backs ran it only 20 times.
"When you do that in the playoffs, look at San Diego, they had a great game plan," Whitworth said. "They came in here and completely morphed themselves into, hey we're going to run the football, Philip (Rivers) is only going to throw it 17 or 20 times, we're going to stop the run on the other side. You almost force teams on the other side to have to make a big play to beat you. That's kind of what playoff football is like."
Whitworth has seen it all. He saw the Bengals shock the world by plowing into the 2009 playoffs with a top ten rushing attack, only to see the run abandoned in the playoff game, a loss to the Jets. In 2011, Whitworth saw quarterback Andy Dalton become the first rookie to lead a team to the NFL playoffs while throwing 20 TD passes and then become the first QB in 30 years to lead the Bengals to back-to-back playoffs in 2012.
But he also saw the runs blown up when Dalton struggled in both Wild Card Games in Houston in two games the Bengals' backs ran a total of 28 times, certain death in playoff road games.
Then there was the home-field disaster of 2013 even though the Bengals swaggered in with an unbeaten home record and were one of only two NFL teams that finished in the top 10 on both offense and defense.
But after this year's 10-5-1 season in which the Bengals never lost two games in a row despite three losses of at least 21 points to a schedule of eight playoff teams and six of the 11 top quarterbacks, Whitworth senses this team is more prepared for those closely-fought post-season games.    
"It has been a heck of a challenge. That's why I say we're playoff ready. Look at where our season was after a heart-breaking effort and game against Cleveland that we had here on a Thursday night," Whitworth said, "and then go on the road three weeks in a row against three other teams that were kind of in that situation. We all had to put our feet in the ground and kind of figure out a way to win. We were able to buckle our chin straps and go win three tough games.
"That was another opportunity for us to grow. We had to man up. Then we had an opportunity to have a month like this where we knew we were going to play four really tough games and we had to figure out a way to win two of them at least, if not three. To be able to stand up in those situations and do it is huge. It builds character. It builds toughness. Rising to the occasion, I think that's the biggest thing. We've stood there with the bulls-eye on us and we know what that is like."
Truth be told, the last three seasons have not only been the most successful in Bengals history, they are tied for the fifth best record in the NFL since 2012. Which means most of this roster is used to winning.
"We owe it to this city, we owe it to these fans. We owe it to the ownership. We owe it everybody. We owe it ourselves, honestly," Iloka said. "You wouldn't put your body on the line for dollars? That means nothing. At least for me it doesn't. You want to get some hardware. You want something that lasts forever. The dollars don't last forever. Freaking division hats don't last forever. You want some hardware, you want something that the fans remember. You get remembered in the playoffs. We need to do something to get the fans back on our side."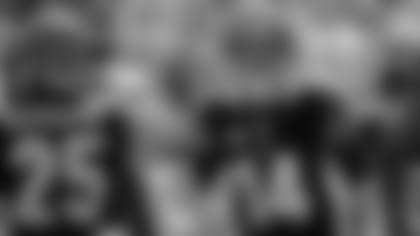 DALTON SUPPORTERS:  Andy Dalton is getting his share of heat outside Paul Brown Stadium. That will happen when you've got one TD and six picks in three post-season games. But he's got supporters inside his locker room.
"If we lose, it's hard for the media to single out everyone on the team, so obviously it falls to the quarterback," Iloka said. "He's a premier guy. You just figure they target him. But when we lose we honestly lose as a team. When we win, we're on the same team, but terms of media purposes you have to find someone to blame.
"So when we win this week it will be because of Andy and it should be. If we lose, it might come back that way. It comes with the territory. He knows it and he's not worked up about it. I have full confidence in him. I have a feeling for some reason he's going to come out this game and kill it."
Dalton's numbers have fallen off the last month as he finished with a career-low 19 touchdown passes after throwing a club record 33 TDs last season. His 3,398 yards tied his rookie year and were nearly 1,000 fewer than last season 4,293-yard effort.
But Whitworth pointed out Dalton didn't have wide receiver Marvin Jones and tight end Tyler Eifert this season, guys that combined for 12  TDs and 1,157 yards in 2013.
"He's lost two of his top three targets from last year in Tyler and Marvin, two guys we really thought were going to be huge parts of this offense," Whitworth said. "And then A.J. for five games, the guy is doing everything he can to win football games using all the weapons that he has. Look at different offenses and take two or three of Peyton's (Manning) weapons away and tell me about their offense in those weeks.
"That's the difference, and he's had to do it all year long without those guys being in the game plan. It's an adaptation. We had to be able to adapt to run the football. Jeremy Hill has come in and provided a great spark for that. This team figure out a way, Ok, we lost these guys in training camp who were going to be a big part of who we were, now we got to figure out a way midseason to morph ourselves into a winner, and we've been able to do that."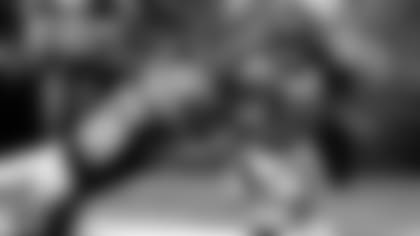 GUTTY EFFORT: Third cornerback Adam Jones may have played the gutsiest game in Bengals' history last Sunday night.
 At noon, he was vomiting, laid low by the flu. During warmups, "I had a few accidents, but nothing during the game." There was never a doubt. He played 64 percent of the snaps on defense and took six more on special teams, securing his kick return title while finishing fourth in punts.
 Jones proved yet again he's one of the toughest and most tenacious of the Bengals. He's one of the great gamers, a guy that Lewis calls "a Doberman on Game Day."
 "It's the sickest I've ever been and played," Jones said Wednesday.  "I knew I was going to play because of the importance of the game. If I'm 60 percent, I'm going and I was 60 percent.  Sick stuff only lasts for so long."
 Jones has a matchup with one of his buddies this week in Colts Pro Bowl punter Pat McAfee. McAfee and Jones routinely tweet and earlier this week they had a good-natured session with McAfee basically pleading with Jones not to pop one against him.
 "Me and Mac. He's my boy. Good dude. We like tweeting each other," Jones said. "He's a very flamboyant kicker, I should say. He's good, he's a Pro Bowler. We're both West Virginia guy. We talks once a month. I'd love to return one on him. If there's a week to do it, this is it."