His head coach is looking for A.J. Green to help get 2017 on track.
Marvin Lewis didn't plan to watch the Steelers advance to the AFC title game on Sunday by winning in Kansas City by the same score  18-16 they beat the Bengals in Cincinnati last year in the wild Wild Card Game.
Plus, he didn't want to watch the Falcons make it to the NFC title game by turning Seattle's Legion of Boom into the Battalion of Silence at the hands of Atlanta quarterback Matt Ryan.
Remember? During a span of 28 days in 2015 he watched his Bengals hold three of the quarterbacks in those two divisional games to a combined two touchdowns while picking them off four times in victories over Kansas City, Seattle, and Pittsburgh. And the year before that, in the 2014 Paul Brown Stadium opener, they held the Falcons to 10 points and Ryan to one TD pass while intercepting him three times in a 24-10 victory.
Indeed, why would he watch?
"It's painful when there are teams playing that replaced us. It hurts. It ought to hurt," Lewis said. "It ought to hurt every coach and player in this building."
Before taking a break from the two-week autopsy examining why the Bengals failed to make the post season for the first time in six years, Lewis made it clear he doesn't want to do much talking this offseason when asked if those rosters have passed the Bengals by.
"No, I don't' believe that,' he said after a season the Bengals lost to five play-off teams and beat one. "They passed us on those days.
"But you can only prove it by playing. Talking about it is wasting time."
In fact, he doesn't want anybody talking.
"It doesn't matter how close we are," Lewis said. "Next year is different than this year. The only way we can take care of it is take care of it on the field. We can't talk about it. Too many people around here talk too much. Everybody talks."
Lewis is eventually going to see those play-off games, but only on the coaching tape so he doesn't have to listen to the announcers. That is part of the self-scouting that has gone on since the season ended two weeks ago and picks up next week when the coaching and personnel staffs gather in Mobile, Ala., to scout the Senior Bowl.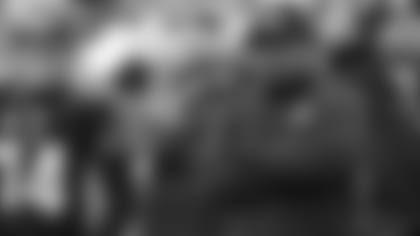 Marvin Lewis (right) knows he can rely on Andy Dalton (14).
"It's important to do while fresh in our minds to go back and look at us," Lewis said. "We'll follow that up after Mobile when we have the opportunity to look at our peers around the league and what they do well. Then we'll be getting into the areas of tweaking installation and how we do it."
Lewis is hesitant to talk about the impact of the 2017 draft until he knows for sure how many compensatory picks they get, a number that is usually revealed around the March 25 league meeting in Phoenix.
It is thought they'll get as many four extra picks (two third-rounders and maybe two fifths) in what gives them a chance to have a semi transformative draft. But Lewis said, "We'll see. Last year we were supposed to get one and we didn't get any. We'll see."
Lewis says no matter how many draft picks the Bengals get, "We'll be vastly different no matter what.
 "We'll have some of the same players, but we know every year there is going to be a change of players."
Lewis wouldn't get specific when asked about changes to scheme, but he said there would be.
"We rip things up scheme wise all the time. That's no change," Lewis said.
The defense got hot in the second half of the season, when a fairly effective passing game was eviscerated by injury. But the running game never found any traction except for two games against 1-15 Cleveland and Lewis acknowledged it's a combination of scheme and personnel.
"We have to run it more effectively more often," Lewis said. "I think execution is the most important thing."
Lewis also acknowledged pass protection needs to get overhauled after a 41-sack season and with Andrew Whitworth scheduled to be a free agent the tackle positon is hazy.
"Right now the two guys that would be the starting tackles haven't played a lot of football," he said. "(But) we've got a long time before the season starts … We need to do a better job in what we do and how we do it."
Lewis wasn't ready to pronounce the pass rush as a top priority even though they had 10 fewer sacks than last season.
"The team that led the league in sacks (Arizona) didn't make the playoffs," Lewis said. "We had fewer wins. We had fewer opportunities. That's the way it goes. When you're winning games you have more opportunities for sacks. When you're behind you don't get the same opportunity."
It sounds like Lewis is paying attention to both, but his biggest off-season priority appears to be coming out of the intangibles category. With the Bengals looking to re-sign long-time locker room leaders Whitworth and nose tackle Domata Peko, he's looking for reserves that can't be reserved to eventually succeed them down the road after the next few seasons.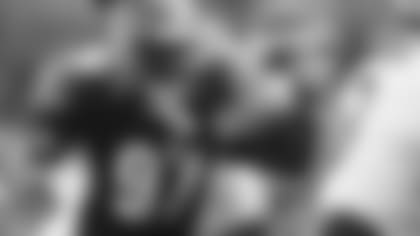 Lewis is looking for more than sacks and drawing holding calls from Geno Atkins.
"Our best players, A.J. Green, Geno Atkins, let's start with them,' Lewis said. "Where they are in their NFL careers, they've got to help pull forward others. They've got to become not only leaders and players by example, but leaders 24/7 throughout the building.
"If that means being more vocal, being more dominant in bringing guys along in practice, whatever it is, being more demanding of how guys prepare and practice so that the standard never wavers. Because they're the best players in the building. They're recognized across the league as very good players, so they've got to help uplift this building."
But Lewis is also looking to a second and third wave of leaders containing such on-field quarterbacks as Andy Dalton and Vontaze Burfict, all the way down to guys like Jake Fisher, the new right tackle heading into his third season.
"There's going to be a changing of the guard. That's a natural progression that has to begin to occur," Lewis said. "You have the Fishers and these young guys who are now going into their third seasons that have to continue to pull forward. All of our guys. Whether it be Burfict or Andy, all these guys that have been recognized (Tyler) Eifert as good players across the league, they've got to pull forward now and step up."
But that's about all he wants to hear.
Scheme? Personnel? Strength of schedule and roster?
"Talking about it is a waste of time," he said.