It's been 40 years since Paul Brown last coached and guys like Kim Wood are still quoting him.
When the Bengals play at Denver this season on Dec. 28, it will mark the 40th anniversary of the last of 284 games Bengals founder Paul Brown ever coached.
WIN Buttons. The evacuation of Saigon. The rescue of the U.S. Mayaguez. The greatest World Series ever played, defined by Red Sox heroics in Game Six but won by the Reds in Game Seven.
A long time ago. And 23 years after his death.
Yet this may be a year where Brown's legacy undergoes The Great Awakening after a deep sleep in the Video Age. Now one of the many portals of the Information Age, NFL Network, is preparing A Football Life: Paul Brown, set to be released when the teams he created, the Bengals and Browns, play at, naturally, Paul Brown Stadium Nov. 5 on Thursday Night Football.
One of the nuggets unearthed by the producers is that 31 of the NFL's active 32 head coaches have a direct link to Brown even though his last game was in the 1975 playoffs, a heartbreaking 31-28 road loss to the Raiders. The lone exception is the Eagles' Chip Kelly, but he shares one trait with Brown. Kelly shook up the pro game coming from the college ranks.
But Brown kept shaking it up long after he left Ohio State for Cleveland in that headline Times Square summer of 1945. In fact, he did it right up to that last season when he hired Kim Wood as the NFL's first full-time strength coach. When the 67-year-old Brown walked off the field in Oakland that day, Wood was right behind him with one eye on the Raiders' crazies. 
"That was the last time he went in," Wood says. "You were always under the gun with P.B. He wasn't an intimidator, or a screamer, or a yeller. But you had to be accountable."
Forty years later and Wood is still calling on Brown. He rolled out the link just this past weekend at his fifth annual Football Strength Clinic held in Cincinnati's Northside at the Pallet23 Event Space. Since Wood's kids ended the clinic Saturday night with a surprise 70th birthday party, it was more like a cross between "This Is Your Life," and a post-graduate history seminar.
"Kim Wood," says Mike Gittleson, Bo Schembechler's only strength coach, "is the most influential man in the history of strength training. I believe that with all my heart."
Wood invoked Brown in his address Saturday, ending a clinic that he likes to characterize as a blunt discussion about the problems facing football strength coaches. They ranged from preparing young players to be safe in an era where concern for concussions has taken center stage, to the dangers of HGH, to re-emphasizing neck training in an effort to protect the head.
"I talked to them about P.B. a little bit," Wood says. "Now that strength training has matured, I would think most strength coaches could not answer why they do what they do. I was trained by Paul Brown. I had to explain why I did what I did and all the people that worked for him did, too. Nothing was taken for granted. That's the question that always has to be asked. What are we doing here? What are we trying to accomplish?"
Wood passed on his passion for the game and knack for communication to his oldest of four children, John Wood, 36, a former University of Michigan defensive lineman, an expert in the use of hands and arms for "football combat," and a contributor to the new literature of the weight room.
The younger Wood is in a unique position to bench some history. He says the jungle gym of his youth was the Spinney Field weight room, where his father helped the Bengals muscle into two Super Bowls in the '80s. While working on resurrecting Michigan legend Fielding Yost's 1905 book on football philosophy, John Wood realizes what goes around comes around.
"If you look at the line of successful coaches going back to as far as Yost, you see what made them successful is they had a plan," John Wood says. "A systematic follow- through. Everything they did was rational. Yost was the first guy to come up with pass protections. Then you fast forward to 50 years ago and Paul Brown was doing new things like using face masks and running the draw play because there was a purpose and a system to everything."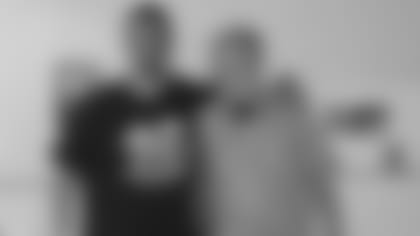 *Kim Wood's buddies showed up Saturday night, including Alex Marvez (left) of Fox Sports and NFL Radio. *
Now team's like Kelly's Eagles and Brown's Bengals are applying wires to their players during practice to monitor the data of their bodies. Brown decreed 60 years ago that quick, up-tempo practices like the ones Kelly is getting canonized for in Philadelphia were the way to go. Kim Wood remembers Brown never hitting his team in practice so they had plenty to dole out on Sunday. It's almost like Paul Brown wrote the 2011 collective bargaining agreement.
"I think,' John Wood said, "the data will simply prove what we've known anecdotally for 50 years. You can't chew your team up like hamburger during the week."
There was no such evidence for Wood and his three sisters to pull off the surprise party and the clinic on the same weekend without letting their dad figure it out. But somehow they did. John Wood figures to get former Bengals head coach Dick LeBeau and Bengals senior vice president of player personnel Pete Brown in the same venue on the same day is his greatest accomplishment.
Brown and LeBeau didn't show up at the same time, but they both surfaced Saturday to wish Wood Happy Birthday, which may mean Halley's Comet is about to change course because both are famous for never being seen.
It shows you the pull Wood has on his vast group of eclectic friends. LeBeau, cut by Paul Brown in Cleveland before going to the Hall of Fame for Detroit, was Wood's last Bengals head coach. Brown, Paul's son believed to be the first high school player to wear a face mask, was Wood's business partner in the fabulously successful Hammer Strength company, the business that still defines the rise of the strength-training industry.
Over there is Jon Bagdon, his college roommate from the University of Wisconsin who calls Wood "an absolute lunatic but incredible genius," who never looked at a note in four years and still got As and Bs in Madison with "a photographic memory."
Over here is a Cincinnati philanthropist whose son Wood helped train on a path that led to a service academy.   Over there is "Stevie,' a young lawyer Wood befriended in Clifton when the kid was a teen-ager reading wrestling magazines  and helped him get into writing about the stars of the mat while helping out at Hammer before he went to New York University and then Northeastern Law. Over here is Alex Marvez, a former Bengals reporter, current Fox Sports NFL columnist and NFL Radio host, and yet another wrestling connection.
(Wood is, after all, the man who let The Most Dangerous Man in The World stay in the pink bedroom of his Clifton home when he was training Ken Shamrock, then in the process of becoming "The Godfather of MMA.")
Over there on the screen is former Bengals great Reggie Williams. Williams, who couldn't make it when weather delayed his flight in Atlanta, is emotional on a video thanking Wood for his friendship and expertise that transcended Williams' 14 NFL seasons.
Over here is Teddy Lambrinides, a former assistant strength coach at Ohio State and Kentucky turned consultant for NFL and college teams, recalling how he first met Wood in 1979. A Cincinnati native, Lambrinides knew all about Wood joining the Bengals and as a student at Ohio State asked if he could come to a minicamp to meet him and talk.
"He was much different than anybody you ever met," Lambrinides says. "Usually when you talked to people about strength conditioning, it was more from the weight- lifting, body-building perspective. His was from an athletic standpoint."
And that's what Kim Wood and Paul Brown have in common. If Brown was the man that legitimized the wild game of frontier pro football with playbooks and assistant coaches, then Wood was a major force in taking strength training from the lunatic fringe of drugs and goofballs to the mainstream of pro sports.
"I was able to sit down with Bo Schembechler, Woody Hayes and Paul Brown," Kim Wood says, "and all of them asked me what the reality was with steroids and what the issues were. At the end, everyone said the same thing. We're not going to do that here. And Paul Brown said, 'I'll back you up."
The party's soundtrack is as eclectic as the people. If Tom T. Hall isn't crooning "Old five and dimers like me," then it sounds like Bill Monroe is trailblazing bluegrass or Muddy Waters is bellying up with some deep-fried blues. Like the music, some things never change.
"The thing about Kim,' Lambrinides says, "is that he's always been principled. He was out in front on steroids and has never backed off."
John Wood says if you heard Kim Wood speak on Saturday, it was probably much the same thing he said in a 1986 clinic and he says that's vital.
"It's something people need to hear today as much as they did 30 years ago," John Wood says. "You look at a guy like Paul Brown and how he was successful. He made it simple, he was very organized, he always had a purpose and those principles are very much applied to strength training and it's something you work at day in and day out."
Chip Morton, the guy now running the PBS weight room, also studied under Wood as a young coach making the pilgrimage from Penn State to the Bengals training camp in Wilmington, Ohio. It was in those training camp sessions were Wood would be mesmerized by Brown's annual address to the team outlining his philosophy on life and football.
"He called them the 'Eternal Verities,"' Wood says. "It was simple stuff, but it was solid stuff. He talked about a square deal and taking care of your family and doing your job and doing it the right way."
It's a different Bengals weight room now than Wood left in 2002. There are more machines, more coaches, more everything. But Morton made sure when they made the move into the new weight room a few months back, Brown's quote about the 'Eternal Verities,' also made the trip.
"(Brown) didn't deceive you," Wood says. "He got your attention. I didn't go into those meetings much after games, but when he had the projector going and he didn't like how you played, he'd call out the number and he'd just say, 'Just look at yourself.' And he'd run it back and run it back. 'Look at yourself.' The room would stink with stale sweat because guys were so nervous."
Wood had to laugh. No one was ever comfortable. He never said a word in the draft room, but he loved to go and watch Paul, Pete, and Mike Brown make the picks. In the '80s, Brown had old players coaching other teams. Don Shula in Miami. Chuck Noll in Pittsburgh. And old coaches. Hank Bullough in Buffalo. Forrest Gregg in Green Bay.
"P.B. would be sitting in there saying, 'Shula is thinking about this and Noll is going to want that,' and he'd be right," Wood says.
Wood also liked the draft day spread and one day he had a brownie on his coffee saucer. Brown stopped the proceedings and asked, 'Kim, is that a brownie?' The always upbeat Wood didn't hesitate to sound grateful for the snack and said, 'Paul, they're outstanding. They're so good. I'm going to have another. I'll get you one if you want one."
To which Brown responded, "I would like one. But I wouldn't want to get fat."
"It wasn't mean,' Wood says laughing. "But you were never truly going to be all the way comfortable around P.B."
On the night of a surprise birthday party, Paul Brown's brownie went very nicely with Kim Wood's cake.