With the expectation of a Carson Palmer return in '08 at a low ebb, Marvin Lewis said Monday that he doesn't anticipate Carson Palmer practicing this week and that Ryan Fitzpatrick is to make his sixth start of the season this Sunday against the Eagles at Paul Brown Stadium.
Palmer, who didn't talk to the media Monday, said last week he was going to meet with more doctors when he went home to Los Angeles for the bye week to have his inflamed throwing elbow examined. "There's been no indcation that he needs surgery other than that would be a drastic measure," Lewis said. "The doctors agreed the best thing is to rest it."
Palmer continues to fight the conventional wisdom that there is no reason for him to play the rest of the year at 1-8.
"The biggest thing is he would like to play, so they're going to go through the timetable they set for him and stick to it," Lewis said.
Palmer's top targets, Chad Ocho Cinco and T.J. Houshmandzadeh, said early on they don't think he should risk coming back. Houshmandzadeh reiterated the point Monday.
"It's never dawned on me that Carson would come back and play," he said. "Just rest and get ready for next year. The way this season has gone, there's no reason to put him out there and jeopardize next year or the rest of his career."
Fitzpatrick says he has no choice but to see himself as the starter the rest of the way.
"I have no idea, but that's how I have to look at it," he said. "You take it on a week-to-week basis, but until somebody tells me something different, that's the way it's going to go in my mind."
[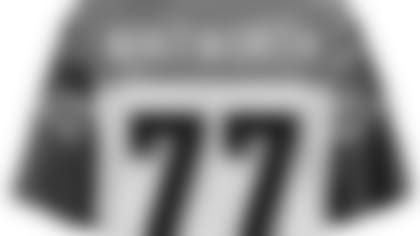 Get your Andrew Whitworth Replica Jersey here!

](http://proshop.bengals.com/istar.asp?a=6&id=7009A-BG39!REEB)
MORE WHIT:
Left guard Andrew Whitworth reiterated his disgust at the NFL for giving him the same $10,000 fine it gave Jaguars defensive tackle John Henderson on Friday for fighting and he had plenty of support in the locker room Monday.
Whitworth had to punch his way out of Henderson's attack, which consisted of Henderson coming up behind the helmet-less Whitworth as he tried to gouge his eyes out.
"I do not agree with fining a guy the same amount than the guy that started the incident," said Houshmandzadeh, whose 23-yard catch on third down was wiped out on the play. "They know that's not fair. And the people that are looking at the stuff, it's like, what are they doing? They get paid to do certain jobs and it's like, what are they looking at? You can't fine two guys the same amount when one guy instigated the whole thing. It's not fair and they know it's not fair.
"If Whit just stands there, Whit's probably not playing the rest of the year, so that's not fair."
Nine other Bengals were reportedly fined a lesser amount for being in the fighting area. But four guys who helped break it up, left tackle Levi Jones, tight end Reggie Kelly, center Eric Ghiaciuc, and right tackle Stacy Andrews said Monday before practice they have heard no such thing yet from the league.
"It could have been guys coming off the sideline. I don't know who got fined or what," Houshmadzadeh said. "I didn't get fined. Unless I got fined and didn't know it."
The mild-mannered Kelly was stunned to hear he was going to get fined for breaking up a fight.
"I think you can get fined for coming on to the field and you can get fined for fighting," Kelly said. "But I don't think you can get fined for breaking one up."
"I saw Bobbie (Williams) and Levi go in there to break it up and a bunch of their guys were in there," he said. "I was just going in there to try to spread everyone out."
On Friday Whitworth's agent told Bengals.com he would appeal the fine and Whitworth said he was "embarrassed for the league." On Monday, Whitworth didn't back off.
"It's not so much gouging, but blatantly attacking me from behind without a helmet, without any restraint. He was definitely going to cause physical harm and he gets $10,000. I don't know what their protection of him is," Whitworth said. "I don't think there is anyone in the NFL office that could call me on the phone and explain one thing to justify that. It doesn't make any sense. Not at all."
After Monday's practice, Lewis said only, "It's unfortunate. I'm sure he'll appeal." MORE T.J:
Also Monday, Houshmandzadeh noted the fine play of former Bengals cornerback Keiwan Ratliff, who had an interception in the Colts' victory in Pittsburgh, when asked what impresed him most about the bye Sunday.
It was a good day for former Bengals DBs drafted in the second round in 2004. Safety Madieu Williams, playing in the slot for the Vikings because of an injury, made a big tackle on Packers wide receiver Donald Driver on Green Bay's last play that forced a missed 52-yard field goal in Minnesota's 28-27 victory.
The Bengals went back to work in a scheduled 90-minute practice Monday with not only Palmer but also rookie wide receivers Jerome Simpson (ankle) and Andre Caldwell (foot). They said before practice that they were going to run and do some agility drills on their own but it looks like they won't be back in time for the Eagles.
BLACKSTOCK ADDED: Also Monday the Bengals added linebacker Darryl Blackstock back to the roster and cut cornerback Geoff Pope. Blackstock missed the last four games after the NFL suspended him for using an over-the-counter nutritional supplement that contained a banned substance. He played in the first five games with one start, and has four tackles on defense plus one on special teams.
Pope, picked up from the Giants back in September, played in three games and had one special teams tackle.
SHIRLEY SENTENCED:* Rookie defensive tackle Jason Shirley was found guilty Monday of drunken driving and hit and run, and was sentenced to 30 days in the adult offender work program in Fresno County Superior Court, according to *The Fresno Bee.
The Bengals picked Shirley in the fifth round back in April, six months after police said Shirley was drunk Oct. 8, 2007 when he backed a car into the bathroom of a Fresno apartment and then drove home. His first trial in June ended in a mistrial when jurors failed to reach a verdict after deliberating for three days.
It's believed that Shirley, who has yet to play in a game, can serve the sentence after the season. Shirley is expected back from Fresno for Wednesday's practice.