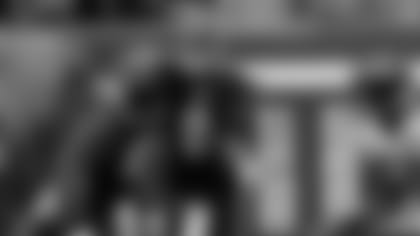 Palmer threw for 302 yards and three TDs. (Bengals photo)
The Bengals No Huddle offense had the Ravens' second-ranked defense muttering "No Mas," after quarterback Carson Palmer's fast-break pace shot the Bengals to a 24-0 lead in the game's first 32 minutes Sunday at Paul Brown Stadium.
"When we go No Huddle," said wide receiver Chad Johnson, "and we want to sling it, it's a wrap." Asked how good Palmer is after he slew the Ravens' big, bad defense for the third straight time, Johnson whispered, "He's the best."
Not only does the Bengals 8-3 record mirror their 1988 run to the AFC title, but so does Palmer's seamless handling of a similar scheme Boomer Esiason steered to the NFL passing title, the NFL MVP, and the Bengals to the top of the offensive charts.
The Bengals have used it in portions of games, particularly in the NFL's most successful two-minute drill, but it has made its presence felt in the last two weeks. Suddenly, the Bengals have rolled up 931 yards and 79 points in eight quarters against the Colts' fourth-ranked defense and the Ravens' second.
According to the play-by-play sheets of the 42-29 victory over the Ravens, Palmer went to the No Huddle on 14 snaps and produced wide receiver T.J. Houshmandzadeh's 28-yard catch that set up the first Bengals touchdown with 7:24 left in the first half, Johnson's 54-yard touchdown catch that made it 17-0 with 3:42 left in the first half, and Houshmandzadeh's 30-yard touchdown catch that made it 24-0 just 1:10 in the third quarter.
"I love it. You have to be in shape, but I love it," said right tackle Willie Anderson. "You have to have a smart guy behind center and you have to have a smart center."
Palmer says he loves it, too, reminding him of the freelance fun "out in the street," and why not? He used Sunday's scheme to again pulverize the decimated but proud Ravens defense. After cutting them up on 22 of 30 passes for 302 yards with three touchdowns that now give him an NFL-leading 23 touchdown passes, here are Palmer's numbers for his last three games against Baltimore:
He's completed 69.3 percent of his 101 passes for 932 yards, eight touchdowns and two interceptions for a staggering 9.2 yards per throw.
Now, compare that to his last three games against Pittsburgh (55 percent of his 98 passes for 556 yards for three touchdowns and five interceptions at 5.7 yards per throw) and now you know why this Sunday's game in Pittsburgh doesn't have just playoff ramifications.
For the 13th time in his last 15 games Sunday, Palmer had a 100 passer rating (124.6) to raise his league-leading mark to 107.1. The only two games he hasn't hit a century in that stretch are against the Steelers, but that was no problem Sunday against a secondary that seemed paralyzed against the No Huddle.
"I love it, and I think we love it as an offense," Palmer said. " Our coaches did a great job designing a really good scheme. That makes it easy for us, and it's been successful so far. Hopefully we're going to keep growing in it. We have a lot of young guys that aren't used to doing it - I'm not used to doing it. The more and more we do it and the more reps we get at it, the more we can expand our offense and start putting in more stuff and having more plays and keep going with it. For right now, it's a really good change of pace. It gets the defense tired, especially when you play against a team like that, with a really good front four. It really wears them out because you get the game tempo going, and they don't know when you're snapping the ball. It's a good weapon for us right now. We just need to keep getting better at it."
Not only does the No Huddle prevent the defense from getting its desired personnel on the field, but it also allows Palmer to freelance at the line when he sees enticing matchups, as well as wear down physical front sevens.
Of course, Palmer had plenty of help from his friends. A week after the Ravens sacked the Steelers six times, the Bengals blanked them and kept Palmer clean with no sacks against arguably the NFL's most confusing defense.
Palmer used the No Huddle to unleash Johnson for the 54-yard bomb. The quick snap seemed to freeze cornerback Dale Carter because it looked he didn't have time to realize that he didn't have inside help and he let Johnson shoot past him.
"You can't stop it," Johnson said. "The defense doesn't get the chance to line up and play the coverage they could in certain down and distances. It sets the tempo."
After watching Houshmandzadeh torture the Ravens for four catches of at least 20 yards during his 147-yard day, Palmer said, "He got all their DBs benched." But the Bengals had a total of six 20-plus passes, remarkable against a defense that came into the game allowing just 20 of those 20-plus passes all season.
The No Huddle also helped spring running back Rudi Johnson for a 21-yard gain early in the game against a defense that had allowed just four runs of 20-plus, and he added another later out of a conventional set. It was just the third time the Ravens had allowed a 100-yard rusher this season with Chicago's Thomas Jones and Jacksonville's Greg Jones doing the honors.
"It gives us an opportunity to make the best play at the line of scrimmage," Rudi Johnson said after rushing for 114 yards. "It takes a lot of confidence (in Palmer). It takes confidence in us. Once the play is called, you have to get up over the ball. He's doing a great job, getting the right calls at the line of scrimmage."
After making it a point of emphasis during the offseason, Houshmandzadeh says he's so comfortable with the No Huddle that it's now becoming second nature.
"We get a lot of first downs when we go No Huddle," Houshmandzadeh said.
The Bengals did get into a huddle for that last touchdown drive, a decisive nine-play journey that sucked nearly six minutes from the Ravens and ended the chaos of Baltimore's 21-0 run. They huddled long enough to have a pretty animated discussion.
"The leaders stepped up," Palmer said.
Usually, that means Anderson. But this time, he had help.
"Honestly, I think we were all talking," Anderson said. "W've got a lot of competitive guys and we were trying to get back to where we were ... getting low, getting leverage, getting underneath their pads."
Palmer made only one mistake Sunday and it wasn't out of the No Huddle. On the first play of the fourth quarter, Palmer overthrew heavily-covered rookie receiver Chris Henry in the middle of the field, and future Hall of Famer Deion Sanders tipped it to himself for his 52nd career interception.
"I should have thrown the ball farther down the field. I had Chris Henry one-on-one with Deion (Sanders) and I just short-armed it.," Palmer said. "Looking back now, I wish I would have just taken a check-down, especially in that situation. You try to get too aggressive and you really want to put your foot on their throat and throw the touchdown. I'm going to look at the film tomorrow and see my check-down was probably wide open, and just be smart in that situation (the next time) and check the ball down."

Sanders did give Palmer an old-fashioned scare when he set sail on a 33-yard return before he fumbled.
"He's still a pretty good player," Palmer said. "He almost ran that thing back, and that had me a little nervous when I saw him starting to high-knee it and holding the ball in one hand, but we did a good job getting him down."
But, at the moment, it seems that no one in the NFL can keep Palmer down. But he does have a score to settle next week.