Cedric Ogbuehi (left) and Eric Winston on a combo block at Tuesday's Hometown Huddle.
Her husband has played 108 straight games, the longest streak on the Bengals roster. But the number that says more about what Anna and Domata Peko have meant to their team and their city is 11
As in 11 straight Hometown Huddles, the annual NFL event the Marvin Lewis Community Fund partners with the United Way to help build a community staple for children and spark volunteerism.
 "When we came here we had an 18-month-old," says Anna Peko Tuesday morning, a daughter of Syrian immigrants now a Cincinnati mother and den mother to Bengaldom, talking above the buzz of helpers in gloves and old hits on the radio blaring from speakers.
 "Now he's getting ready to turn 12 and we have an eight-year-old and a two-year-old. We love Cincinnati and the kids do. It's our home pretty much. The kids were born and grew up here."
Den mother to the defense while her husband serves as captain, Anna, standing in a debris of nuts and bolts and boxes, has, quite naturally, been asked to be in charge of the construction of  the rope portion of the obstacle course.
"An obstacle course is really a great thing. I think of my 12-year-old just getting tired going down a slide or running through the playground," Anna says. "This is almost like a grown-up jungle gym. It's one of the biggest ones we've done. I'm definitely going to bring the boys back here when it's done. We try to get to everyone we've done."
Last year Domata Peko took the boys to the LeBlond Rec Center on Riverside Drive in Cincinnati's East Side, a punt away from the Ohio River and the Montgomery Inn.
"I showed my stone to them,' he says of the walkway of names the Bengals leave at Hometown Huddles like immutable footprints. "I said, 'Look what Daddy did. He had a hand in this.' It shows my kids a lesson. You have to give back."
If you're looking for shelter from the unrelenting 24/7 cycle of insults, cynicism, and lies that the gift of social media just keeps on giving, this shady enclave hard by I-74 in Westwood known as the Ryan Memorial Sports Complex is a good place to start.
You just don't see it very often. A stream of your-next-door-neighbor volunteers mixing with 40 NFL players at a job site. Sly and the Family Stone's "Everyday People," teamed with Joe Walsh "Life's Been Good."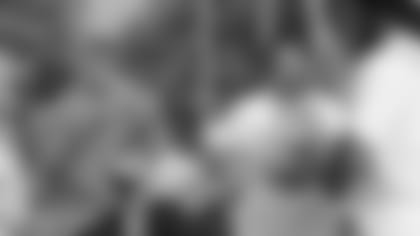 Anna and Domata Peko confer.
Eric Winston, the Bengals backup tackle who has already won his presidential election as head of the NFL Players Association, claws through the muck every day. He sees it and reads it and digests and yet he can drive through the west side of Cincinnati to get here and feel pretty good.
  "I come out to these things and always I think, 'Man, how many guys are going to be there?' Then you see there are so many guys you've got two shifts working over two hours each," Winston says. "It's not like they come out there and watch, too. They get their hands dirty, they've got gloves on, and they're holding something up or hammering something in, or going landscaping, putting up a fence. It's impressive.
"We all remember playing at a park when we were little," Winston says. "Having something we really cared about. We went down the slide a million times and did the monkey bars somewhere. To think kids around this neighborhood or anywhere in Cincinnati could have that feeling that we had when we were kids and we were a part of that, that's pretty cool. I think that's why you have so many guys who are involved more so than other things."
The man from Baker Concrete shows Winston and his protégé, Cedric Ogbuehi, each how to handle a portable front loader and then urges them to take them for a spin. They politely comply after figuring out the dizzying instrument panel and a few minutes later Winston dismounts and pronounces himself "terrified."
"I had a segway once and it took me two days not to have turtle arms," says Winston, shrinking up his neck. "It's a balancing act and I was scared of getting thrown off and trampled by the whole thing. That's kind of my fear."
Ogbuehi soon returns after nearly running over an unplanted tree and can only offer he has no experience with power equipment.
"I'm not a handyman," he says. "But I can put things together with directions."
Anna Peko has seen them all down through the years since their home in Crestview Hills, Ky., has been an off-field haven.
"We've seen guys come as single guys and leave with families," Anna Peko says. "Leon Hall got married and had three boys. Andrew (Whitworth) was single, got married and now he's ahead of us (with four children). Rey (Maualuga) was a young bachelor, a party guy. He's settled down. He's a Dad with a six-year-old girl and I'm so proud. We've seen people grow up here. It's a cool thing. It's awesome to see the love stories develop and have kids and they don't look at us like we're weird anymore because we're in the same situation."
Head coach Marvin Lewis with his players at Tuesday's dedication.
That's how long Anna Peko has been going to Hometown Huddles.
"If everybody in the world did one kind thing, it would be an amazing thing," she says, the wind catching a few white hairs that weren't there when a young Domata Peko with no hair and 80 fewer pounds first asked her out at junior college.
 "You don't have to know that person to love them or show love. This is where our kids are growing up. We want it to be a good place."
The Pekos belong to Seven Hills Church in Florence, Ky., because it gives back to the community every day. Most recently it was thousands of back packs stuffed with school supplies for kids going back to school. Up next are thousands of bags of turkey dinners.
Anna Peko also has another idea as she surveys the scene. One of her son's schools, R.C. Hinsdale Elementary in Edgewood, Ky., has an item missing on its agenda.
"I'm going to put a bug in the ear of some of the people over there," she says, "and see if they'd be willing to help put up a playground. They've been trying for a few years."
Both her parents could barely speak English when they arrived in Pasadena, Calif., at the dawn of the '80s and before she was born. Her father is a jack-of-all-trades who began pumping air into tires at one of the all-service gas stations back in the day and learned to speak English talking to the customers. Now he owns the place. Her mother learned English from watching soap operas and they teamed to send their oldest to private school.
"They provided. We had what we needed," Anna Peko says. "It's always nice to give back. That's why I like this team so much. We've got a lot of people that do that."
Domata Peko is toiling with Maualuga to make sure the settings are right before they secure the ropes. Jamie Berkley, the Bengals' director or partnership activation, is helping fit the ropes in place. She'll probably come back here, too, with the baby she's expecting in a few months.
"We've done so many we don't need instructions anymore," Peko says of another brick in the ground. "We just do it."
Marvin Lewis Community Fund hosts Hometown Huddle event at Ryan Memorial Sports Complex 10/18/2016