Second-rounder Tyler Boyd knows there are eyes on him.
With all due respect, again, to Cincinnati sports talk show master Lance McAlister,  and the maven of Monday Morning Quarterbacks, Peter King, here are a few things I Think I Believe from the Bengals rookie minicamp that ended Sunday:
I Think I Believe second-rounder Tyler Boyd and sixth-rounder Cody Core are always  going to be linked.
 They arrived in the same draft and play the same position and are going to be roommates for a while. It kind of reminds you of third-rounder Mohamed Sanu and fifth-rounder Marvin Jones in 2012. Especially on Sunday after Core made a juggling, diving  catch out of the right side of the end zone as he battled Marshall cornerback Corey Tindal  during Tindal's successful tryout.
Core stayed on the ground for a minute and Boyd ran over to help him up. On Friday, Boyd talked about how glad he was to see Core, a familiar face from the scouting combine in a sea of unknowns.
"We'll become great friends and be tight," Boyd said. "We want to stay here (for workouts) and help each other. If we know what each has got (on a play), we'll tell each other. We just want to help each other out because we want to see each other succeed."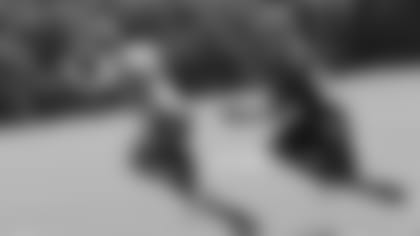 Cody Core showed he could run away with the ball.
And, like Sanu and Jones in 2012, I Think I Believe it looks like it's going to be hard to keep both Boyd and Core off the game day list during their rookie year.
Although Boyd didn't show a penchant for running by people over the weekend as the Bengals try to find a deep threat a la Jones, he looked even quicker than advertised in the middle of the field. Boyd has the moves and is definitely going to be a weapon in the slot, their deadliest quick receiver since Andrew Hawkins. You put Boyd in the slot Opening Day with Pro Bowl tight end Tyler Eifert and that's a problem for teams.  And Boyd's hands looked very good, particularly on a diving catch over the middle in the end zone. He's got all the earmarks of being yards-after-catch-creative-on-the-fly productive.
Core looked terrific. He's as big as Sanu (maybe taller at 6-3) and he might not be as quick as Jones, but he may be as fast. You could at least see him breaking down some deep coverages. He goes and gets the ball. He beat first-round pick William Jackson a few times in the red zone by basically boxing him out. His hands look to be reliable. When you start checking off boxes, big, fast, smart, you start wondering why Core can't be a big factor.
But, look, if they're not A.J. Green, don't expect rookie receivers to be the answer. Neither Jones nor Sanu caught 20 balls or 202 yards in 2012. Only three rookies have had more than 22 catches under Marvin Lewis. Green with 65, Jordan Shipley with 52 and Chris Henry with 31.
"With these two guys it's been made very clear to them and I think they are beginning to understand the opportunities and the expectations," said wide receivers coach James Urban. "We won't shy away from that. As long as the line continues to go uphill. It may be a heart monitor,, but as long as it goes up that way."
In the NFL, the best surprises are no surprises.
"It's what I expected and I mean that in a good way," said Urban after the three days. "I have high expectations and I'm not disappointed."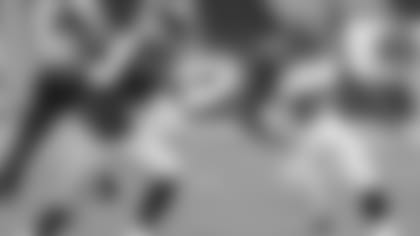 Mario Alford has a shot to run his way to a roster spot.
I Think I Believe these are huge spring practices  and training camps coming up for two receivers going into their second seasons, seventh-rounder Mario Alford and undrafted Jake Kumerow.
 Alford wasn't eligible for this weekend's camp, but Kumerow was and he didn't pass up the opportunity. He played very well and frustrated Jackson a few times by beating his press coverage. Kumerow missed a chunk of time late last season but woke up the echoes this weekend.
"He looks like the guy we really liked in the last training camp," Urban said. "He looks back to running fast and hard and making flash plays like he did. He has to do it  against Adam (Jones) and Dre (Kirkpatrick) and Darqueze (Dennard). The top guys. But he's showing signs he's going to be in the fight."
OK, with Green, Boyd, Brandon LaFell and possibly Core being active, who would be the fifth receiver? We know Alford can take the top off a defense. What he has to do, and he has already said it himself, is that he has to play as fast as he runs. Plus, he's going to have to show he can catch punts when Adam Jones isn't. Veteran Brandon Tate is solid catching them, we know. Boyd might be able to do it, but it's doubtful they'd want to send their slot receiver back there.
I Think I Believe while Boyd and Core had nice camps, if the coaches had a choice their MVP would have been third-round pick Nick Vigil, the linebacker out of Utah State.
They just can't get enough of this guy. Lewis, defensive coordinator Paul Guenther, and linebacker coach Jim Haslett all professed their admiration after the draft. Now add special teams coordinator Darrin Simmons after he worked him this weekend.
"I love Vigil," Simmons said. "l love his movement skills. He's  very smart, very into it. I can't wait to get him going. He's somebody I watched on tape (before the draft). He made the play on a couple of kickoffs that were fantastic. The one thing he really helps us with is improving our speed."
Haslett said he lined him up at two different spots, the middle and WILL, as well as playing him in one of the sub packages, and can't remember him making a mental error.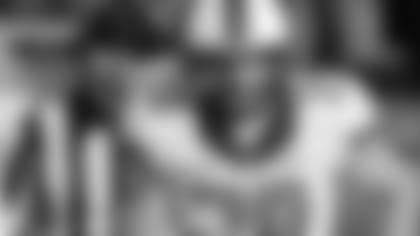 Bengals linebackers coach Jim Haslett saw plenty of Clayton Fejedelem at Illinois.
I Think I Believe seventh-round pick Clayton Fejedelem is going to have an  interesting training camp.
Fejedelem, the Illinois safety, is an avowed special teamer disciple and while Simmons will have to wait and see on that he did say, "He's smart, he seems to be in to it, and he's athletic. If you've got those three things, you've got a chance."
Fejedelem had a surprise ally in the draft room as they mulled the seventh-round pick. Haslett had been a consultant at Penn State last season and, plus, his son Chase had been a quarterback in Champaign, so Haslett saw the Illini plenty.
Even though the Raiders took defensive lineman Jihad Ward in the second round, Haslett thought Fejedelem was Illinois' best defensive player.
"He's a playmaker. He probably averaged 10-12 tackles a game," Haslett said. "He played a lot in the box because of scheme. He's an efficient tackler, good cover guy. I thought he was the best playmaker they had."
I Think I Believe the numbers in the draft mislead more than a headline out of The Onion.
You take a look at Utah linebacker Gionni Paul and you wouldn't think the Bengals would sign him off the weekend tryout. He's 5-10 and reportedly ran the slowest 40-yard dash at the combine. But, then again, so did Vontaze Burfict at the 2012 combine and he led the league in tackles in 2013 and went to the Pro Bowl.
And Haslett has seen guys built like that succeed. As the defensive coordinator for Washington, he coached middle linebacker London Fletcher for the last four seasons of his 16-year career.
"He's one of these guys that in college makes every play," Haslett said. "He doesn't have the ideal measurables that you're looking for, but he's a good football player. He kind of reminds me in body type to London Fletcher. You put on the tape and he makes plays."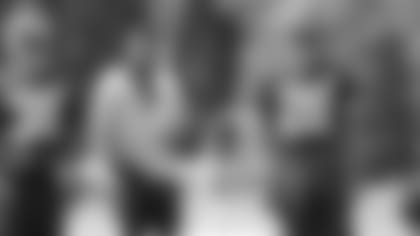 Cornerbacks Darius Hilary (28) and Corey Tindal (38) saw a lot of action against the draft picks.
I Think I Believed I loved watching the cornerbacks work this weekend.
There were some big moments because they were the underdogs. If it wasn't undrafted Darius Hillary out of Wisconsin working against the second-round pick Boyd it was Tindal, a feisty 5-9 looking to win a tryout battling the 6-3 Core.
Secondary coach Kevin Coyle knows Hillary from his school days because his daughter ran track with him at Sycamore High School. So on one play in the red zone when he lined up against Boyd, Coyle hollered to him, "Let's see what you got, Sycamore."
Hillary had enough that when Boyd got by him and got his hand on the ball near the end line, he hung with it long enough and knocked the ball out and got a clap on the helmet from Coyle.
And Tindal was all over the place all weekend, never backing down from anybody. But then, that was the M.O. on him. He's short, but tough, resilient and loves playing press. He looked so  comfortable in man he got the contract.
I Think I Believe rookie defensive tackle Andrew Billings might be on the field on the first series of the season in New York if it's not a three-and-out.
 Because it sounds like new defensive line coach Jacob Burney is going to rotate his guys. Especially the guys in the interior, a spot he holds dear in the war of turf. That was the indication Sunday as he talked about what he needs to see next from Billings.
"He has to go through the process. He has to learn what it's like to be a pro and I do think he has that serious kind of mindset," Burney said. "You need that. That's what it takes down in there. There's responsibility in there. It's hot down in there and you have to bang."
Like Urban, there were no surprises. Burney had done his homework, watched his film, and did his interviews by the  time he finally got to teach Billings as one of his own.
"I knew what we had done," Burney said. "We had drafted a powerful man."
Cincinnati Bengals host rookie minicamp at Paul Brown Stadium practice fields 5/6/2016