Kent Perkins, no longer wearing 78 but 76, impressed enough last year to get another shot up front.
The Bengals' rookie week-end minicamp that begins Friday is headlined by Ohio State alums Billy Price, Sam Hubbard and Chris Worley and spiced by the first public appearance in Cincinnati of defensive coordinator Teryl Austin's multiple looks and offensive line coach Frank Pollack's busy, up-tempo practice sessions.
But don't forget about some guys who are not to be sluffed off as footnotes. They impressed as rookies last year but are eligible for the weekend and the Bengals figure they should be among the guys that stand out during the three-day camp featuring about 50 players culled from the draft, rookie free agency, first-year eligibles, and tryouts.
Among the guys who piqued interest last year in various forms of practice were Texas right tackle Kent Perkins (also listed as a guard), Wisconsin cornerback Sojourn Shelton, Florida State wide receiver Kermit Whitfield, and Louisville kicker Jonathan Brown.
All but Brown were undrafted last season and spent the entire season on the practice squad, although Shelton showed up from the Cardinals' final cuts. Perkins is the only one to play in a game when he worked six snaps of the Bengals' first drive in the finale in Baltimore that ended in a TD.
Perkins and Shelton figure to be in the hunt for a roster spot come August and although Whitfield finds himself trapped on one of the deepest positions on the team, his speed keeps him viable.  It would be interesting to see if Brown finally gets a shot to kick in a pre-season game. It's believed he would be the first player to have the first field goal of his life come in an NFL game.
"With a year of NFL football under their belts and knowing what to expect in a rookie minicamp, they should show pretty well. I expect all of them to do pretty well," said Bengals director of player personnel Duke Tobin. "We're not counting any of them out. That's why they're still here. If they're on the roster at this point that means we still see something in them. Let's see how they do."
Here is Tobin's take on the four:
Perkins: "He's got NFL size (6-5, 314 pounds) and traits to work with and his effort level is good. We took the time to develop his skill set. We'll see how far he's come."
Shelton: "He's got really good feet in coverage. Very good man ability. It will be interesting to see how he matches up with some of the bigger receivers that we've got coming in for rookie minicamp. We liked him in the (2017) draft. We liked his man cover skills."
Whitfield: "He's got quickness and speed. That's what he has to do to make his money. Explosive plays, whether it's run after catch or down-field throws."
Brown: "This is the third time we've brought him back so we've seen something. He's got a strong leg, let's see how he develops. Accuracy is everything with a kicker. Either he makes it or he misses it."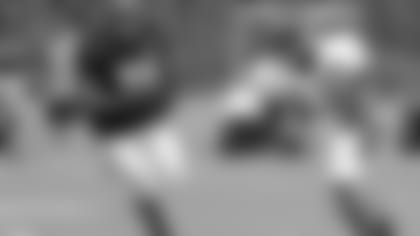 The Bengals love Kermit Whitfield's moves from scrimmage and kickoffs, but he's got to run through a lot of traffic at receiver.
The Bengals had their eye on the 5-9, 168-pound Shelton a year ago with a draftable grades coming out of Wisconsin. He's in a reunion with new Bengals cornerbacks coach Daronte Jones, his coach in Madison as a junior.
"Good footwork. Changes direction. That's how he makes his name. Covering," Jones said. "It's a league where you have to cover. Can't have too many of those."
Shelton, born Christmas Day in '94, has the gift of familiarity with Jones and being in a defense that is being tweaked by Austin but not overhauled.
"It's a comfort. I know what he likes, the things that he preaches and what he expects out of his players," Shelton said. "It's good just to know what to expect (in a rookie camp). You can't look too deep into it. All you can do is take care of yourself. I'm just going to go in having fun and playing. I pride myself (on cover skills). It's nice to be able to go against receivers again for the first time since last season."
The Bengals won't announce their undrafted rookie signings until Friday morning, but one of those big receivers Tobin is talking about is seventh-round pick Auden Tate, a 6-5, 228-pounder out of Florida State. But it's the tiny speedster from Florida State that has Shelton worried.
The 5-8, 184-pound Whitfield became a Seminoles legend as a freshman when he returned a kick for 100 yards in the fourth quarter of the BCS national title game for the touchdown that put them ahead and led to the championship. His 36.4 yards per kick return that year led the country, was the seventh best average ever, and has special teams coordinator Darrin Simmons drawing up some chances for the preseason. He's also a Florida legend as the state's 3A champion in the 100 and 200 meters for Orlando's Jones High School.
But Shelton is worried about him running routes after a year they went against each other every day in practice.
"Kermit is really solid. That's a good player," Shelton said. "I like going against a guy like that because he plays with a fire under him. Everybody knows he's fast. But it's his shiftiness. A lot of guys are fast, not quick, but he's both. He can get in and out of those breaks."
Other players eligible for the camp after being here last season are players that joined the practice squad at the tail end of last season after signing elsewhere as undrafted free agents, such as Pitt tight end Scott Orndoff, South Carolina State tackle Javarius Leamon, and Iowa State guard Oni Omoile.
University of Cincinnati tackle Justin Murray, an undrafted rookie on the Broncos practice squad in 2016, and on the practice squads of Tampa Bay and New Orleans last season, ended up on the Bengals' active roster for the last two games when Cincinnati signed him off the Saints' practice squad in the wake of a bevy of injuries up front.
Also camping out this weekend is Moritz Böhringer, a first-year tight end added to the Bengals' roster with the league's designation of international player, a spot that comes with a roster exemption. Böhringer, from Germany, became the first player drafted by an NFL team directly from Europe, when he was selected by the Vikings in the 2016 sixth round. He spent the entire 2016 season on the Vikings' practice squad, and he was later waived in final cuts prior to last season.