In the last five years the Bengals have put together their best stretch in history while the Ravens have won a Super Bowl. But for the first time what has become their annual regular-season finale Sunday at Paul Brown Stadium (1 p.m.-Cincinnati's Channel 12) is taking on all the whiff of a consolation game in a holiday tournament.
Hence, the Bengals.com Media Roundtable is a bit distracted when asked to make a call between the 5-9-1 Bengals and 8-7 Ravens. Its focus is on the draft that's probably going to yield at least 11 draft picks and free agency destined to end the careers of some decorated veterans.
It is split, anyway, with Bengals radio analyst Dave Lapham and The Cincinnati Enquirer's Paul Dehner, Jr., calling it for the home team while Jeff Zrebiec of The Baltimore Sun and John Clayton of ESPN give it to the Ravens.
Lapham gives a former player's impassioned plea why they'll go all out , but he' also interested in how the young players look, particularly right tackle Jake Fisher against the Ravens' ravenous pass rush that decided last month's game.
Dehner is also looking at the kids and wondering which veterans are having a curtain call Sunday. As fired up as the Ravens are about wide receiver Steve Smith Sr.'s last game, he thinks the Bengals have enough question marks heading into next season that they'll have enough incentive to win.
Zrebiec says the Ravens are looking at the same kind of offseason as the Bengals. They're going to look different than they do now with some veterans expected to be lopped. But they've got a good enough core that some people are wondering why Ravens head coach John Harbaugh is playing guys like Joe Flacco and Marshal Yanda Sunday.
Clayton has high regard for how the Ravens have re-built their front seven , which immediately puts them in next year's mix and which he thinks gives them the edge Sunday. He's surprised the Bengals fell off so much in 2016, but he thinks A.J. Green and Andy Dalton are good enough to get them back into it next year, but only if they get the offensive line figured out.
Let's go around The Table: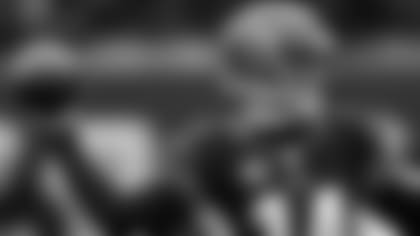 Andy Dalton needs 314 passing yards Sunday to break his Bengals' season record.
As a former player, ten losses stink. Anytime you get in double-digit losses, that stinks. 6-9-1 looks a whole lot better than 5-10-1. It really does. I'd like to do what is ever possible not to be on a 10-loss team.
Plus, you can go 3-3 in the division and that's important, too. All you beat was Cleveland? You couldn't beat Baltimore and Pittsburgh once? That would fire me up to play.
And it's 2017. Jan. 1. 2016 was Murphy's Law to the utmost. Do you have a ceremonial burial and you win on the first day of 2017? Half the teams are going to be undefeated. Half the league is going to be winless. Start the year off right. There are plenty of reasons to play.
Everybody is auditioning. If you're one of the unrestricted free agents you're just not walking around out there.
I'd like to see an advancement of the young tackles. They played OK down in Houston. It was tough. Noisy. Good group. A lot of different looks. See how they handle proven guys like Terrell Suggs and Elvis Dumervil. They're at home. Crowd noise isn't as big an issue. You're ability to communicate is not as big a problem as it was in Houston. They should play better. Should be an advancement. They played just OK last week. Given they gave up three sacks collectively, you just can't do it.
It's too bad Cedric Ogbuehi (shoulder) can't play at left tackle. He would have played right tackle in Baltimore and left tackle in Cincinnati against the Ravens. They could have seen if he improved at left tackle against the exact same team and personnel.
You'd like to see every young guy a little more. Linebacker Nick Vigil handled what he was given pretty well. But finish it strong for everybody. No matter who's playing. Just play a complete game. All three phases feed off each other. Complementary football. When special teams makes a play, offense takes advantage. Defense. Whatever it is. There have been blips of it in some games this year. I'd like to see them play a complete game and see what happens.
THE EDGE: BENGALS. You have to hope the home team comes out with the edge. You have both teams coming off heart-breaking losses on the road. So being at home is an advantage. An extra day's rest. They have to travel.
The focus has been Steve Smith Sr.'s retirement. After practice Friday linebacker C.J. Mosley spoke to the team and reminded them what's at stake in Steve's final game.  It's going to be an emotional day for Smith. He's broke down several times this week already. He means a lot to a lot of people in this building. For a guy who has been here only three years he's made a huge impact. He's taken receivers like Mike Wallace and Breshad Perriman under his wing. Steve is like the pied piper in this building.
It will be emotional because of that and some guys have  some milestones. Wallace is 14 yards shy of 1,000 yards. Elvis Dumervil is two sacks away from 100. This team is going to look dramatically different the next time we see them. They've got a lot of high-priced veterans.  Guys like Dumervil and DB Lardarius Webb. Wallace. Guys that aren't certain they 'll be here next year.
There's going to be an emotional and physical letdown. It's always natural with how devastating that loss was in Pittsburgh. Going from nine seconds away from playing for their division title for nothing, that's a huge letdown  but I can't see them lying down. I think they'll have enough emotion in this game to be able to put out a decent product.
Ravens head coach John Harbaugh has gotten some questions this week about it. Like why is he playing  Terrell Suggs with one arm with a torn bicep. Guard Marshal Yanda is playing with a torn-up shoulder.
We all saw what happened with Joe Flacco last year with the torn ACL and how long it took him to get back. It kind of lingered this year, so why are you going to take a chance with him? They're starting a struggling right side of the line. Starting tackle Rick Wagner is out and James Hurst will likely start and Hurst was the guy that got blocked into Joe's knee last year when he got hurt. And you got a journeyman right guard in Vladimir Ducasse. There are some wondering why not just let Ryan Mallett start at quarterback and let him audition for free agency.
But John Harbaugh has been pretty consistent all week saying he's going to play his guys. The way they're built, going 9-7 after being 5-11 last year means something to them. If the Bengals hit Joe early I could see them pulling the plug, but every indication is they're going to play all their guys this week.
THE EDGE: RAVENS, 20-17. Part of it is the Steve Smith factor. The other part of it is they're a little healthier and a little deeper on the roster at this stage of the season than the Bengals. John Harbaugh's message for years has been playing through the end and it's very rare when the Ravens look flat and aren't ready to play. I'm banking on them to show enough emotion to pull out a close win, but we all know when even healthy the Ravens struggle with the Bengals.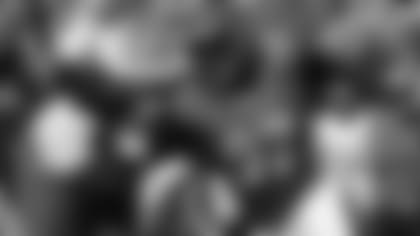 Geno Atkins, who leads NFL defensive tackles with 8.5 sacks, is looking for at least a share of his fourth interior sack title.
Sunday is about the young guys. Who are the young guys who have played well and who are the veterans whose time has passed? Who are those guys? I think they have a   good idea who those guys are at this point.
 It's a good opportunity for young guys. Do you want to try next year and bring back a young Rex Burkhead and give him a bigger role? Is that even possible? You could learn a little bit of that.
We talk about rookie linebacker Nick Vigil, or about being more confident in right tackle Jake Fisher. If you could see more solid play from Jake Fisher, you don't feel like you have to address right tackle in the offseason. He had one bad mistake last Saturday night. Whitney Merciless has done that to a lot guys. But you can't have that. I think as a whole Fisher is better than Cedric Ogbuehi was.
One game at left tackle might have been enough to tell you Ogbuehi might not be the answer at left tackle. You need a big jump or you draft another one.
To me the first draft pick has to an edge rusher. It fits. In the second half of the season the defense got its bearings. They're (second) in points allowed over the second half of the season. The only thing they're really missing is their sack numbers are down. Geno Atkins hasn't been as dominant. Carlos Dunlap hasn't been as dominant.  They didn't get too much from Michael Johnson. A young talented edge rusher that can play opposite Carlos with Michael as a mentor and playing fewer snaps. That fits perfectly. If you have Andrew Billings and Marcus Hardison at tackles, you're counting on them coming back healthy from injury and you see what happens with Domata Peko.
 You'd like to see some of the young guys play close to a full game. Like at linebacker with Vigil. We're sitting here parsing through so little sample size. You'd like to see more if I were these guys. You want to see instincts, in space coverage and prove he can do that. Otherwise you have Vincent Rey and you have Vontaze Burfict, but going forward I don't know what else you have at that position you can count on.
They've got guys who are coming up in free agency, cornerback Dre Kirkpatrick and right guard Kevin Zeitler and we haven't really got a peek what might be next. I thought in Houston when Dennard came out as the starting corner on that outside, OK, I thought, we're finally going to see him play the spot where he was drafted to play rather than in the slot and all that other stuff.
But then it was just five plays. There are so many sides to that story. What are you going to do? Sit Dre? Are you going to sit Adam Jones? Adam Jones isn't coming out. We know that much. No way in America, as he told us.
You don't know. The other side is you go into the offseason and you have to decide on a fifth-year option for Dennard and you don't know if you should sign Dre because you have an idea what you have in Quez, but not a great one because you haven't seen him play the outside.
And you think you've got a great one in William Jackson, but you don't know and he was a guy drafted right where Quez was. If you don't sign Dre you have a big question mark there because those guys haven't got an opportunity to show they can or can't do it. Sunday is too late.
THE EDGE: BENGALS, 17-16. I think they win just because the season is weird.  The biggest factor will be if they can find some motivation The Ravens have it. It's Steve Smith Senior's last game. They'll rally around that. As for the Bengals, it might be the last game for a lot of guys.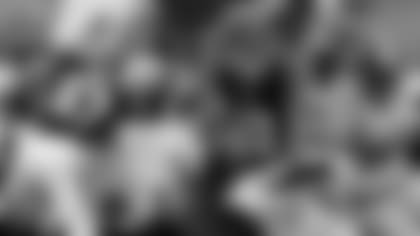 Alex Erickson seeks the AFC kick return title in Sunday's finale.
Sure, it's a surprise this game doesn't mean anything  given the success rate of both teams. Baltimore bounced back from all the injuries of last year and they came close at the end last week in Pittsburgh. I think everybody is surprised by the Bengals because after five years you didn't think there would be this much of a drop-off, particularly with the ability they've acquired through the draft.
The biggest thing the Bengals have to do to get back in the mix is resolve the offensive line. It's probably the area of the biggest drop-off. They have good skill position
 guys. Obviously A.J. Green is one of the best wide receivers in the league. Tight end Tyler Eifert is not going to have a season of injuries like he's had. You get a full season out of him as opposed to a half. That will help. The biggest thing is the offensive line. The right tackle position didn't work out. A decision has to be made if right guard Kevin Zeitler leaves. Making sure the center is a little bit stronger and getting some fresher guys on defense.
What's changed? Dalton is still good. He's still the Red Rifle. Green is one of the best in football. When Eifert returned the red-zone production suddenly got better. That's good. Dalton is good enough to get them back, it's just having enough weapons to do it.
The running back situation is solid. The combination of Jeremy Hill and Giovani Bernard is a good combo, so that's OK.
Now it's just a matter of getting fresh.  Last year they brought in 11 new guys, which is standard for teams that don't have a lot of turnover. Maybe what is necessary is opening it up little bit more and I'm not saying open it up into free agency. That's not the case. Free agency this year is not going to be that good. The 2013 draft class hasn't panned out all that well.
Maybe just opening up more spots for competition. Maybe 15 new guys. They'll get a batch of compensatory picks and that's good.
It seems to be an intriguing draft. They might have to look at a low end player in free agency on the offensive line. It's not considered to be a good offensive tackle draft.
Bengals director of player personnel Duke Tobin does a good job finding good players in the draft. I don't think that's going to be too much of a problem. Maybe just opening up more competition.
THE EDGE: RAVENS. They've been so solid on defense. That's the strength of their team. Particularly the front seven. Dean Pees has done a nice job re-building that front seven. That takes away a lot. The 1-2 punch isn't there without Bernard and Hill. With Hill questionable that's going to be tough. That puts more pressure on Dalton and can the cast of characters at receiver match up? That's where the discrepancy is right now with Green and Eifert out, that puts a lot on Dalton and that's tough against that front seven.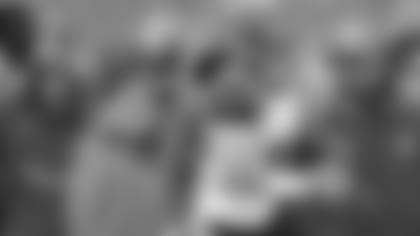 Is Rex Burkead making one last run for Bengals?
If you're writing off Sunday's game, these are always the easiest to craft.
If the Bengals lose, you can say what we've been saying after each of their last five losses by a combined 16 points. Say it was a microcosm and catalogue all the close misses.
If the Bengals win, catalogue all the plays they made and wonder where they've been all year.
But you can't write off this game like it's the last game of '16. It is the 2017 pre-season opener. What you can write about is how they ended up playing a meaningless finale a year after they tied their best franchise record and some of it is pretty simple.
When your best player, wide receiver A.J. Green, misses the last seven games, that's a pretty good clue. They're averaging 70 yards fewer a game than when he was in there.
Throw in Andy Dalton's two top targets from last year, Green and tight end Tyler Eifert, and the fact they played only two full games together. Or third down back Giovani Bernard's ACL injury knocking him out of the last six games. In the five games Green and Bernard have been off the field, they don't average 20 points per game.
Of course, before Green got hurt they weren't exactly a juggernaut, either. The last full game he played they had just 264 yards against the Giants, their second fewest of the season. They're averaging 19.8 points per game since Bernard got hurt. The same in Green's first nine games.      
 So don't look at 2015, look at 2014, when injuries limited Green to five games with no catches and Eifert and starting wide receiver Marvin Jones basically didn't take a snap. That's a pretty good mirror. And they won 10 games. The defense gave up 344 points in 2014 and this season it's on pace to give up just 325 points.
That's an easy call, too. The biggest difference is the numbers for rookie running back Jeremy Hill, as well as  fullback Ryan Hewitt, who had 472 snaps that season largely as a blocking back for Hill, and he's got just 193 this year.
Hill had more than 1,100 yards rushing on a 5.1 average in '14. This year he's at just 838 yards on 3.8 yards per carry and he may not play Sunday with a knee issue.
Which means more Rex Burkhead at running back and why not? Since Bernard went down, Burkhead is averaging 4.5 yards per carry. Hill is at 2.5. With Burkhead a free agent, isn't that interesting? Why would Burkhead return if he's only going to be a backup?
Burkhead isn't the only guy playing what could be his PBS finale. But you probably can't put left tackle Andrew Whitworth in that category. He's scheduled to be a free agent, but no one has emerged at left tackle and with Cedric Ogbuehi out Sunday with his third significant injury of the season, the last thing they'll see heading into the offseason is Whitworth going against Suggs, a nice reminder just how important that left tackle spot is.
The future for another Bengals great, nose tackle Domata Peko, isn't so clear. At 32, Peko is also a free agent but next year the line has two young tackles coming back from injury in Andrew Billings and Marcus Hardison. Is there room?
And cornerback Dre Kirkpatrick and right guard Kevin Zeitler are two first-rounders from 2012 who have been big contributors for four post-season teams who might be stepping on the PBS greensward for the last time. But their heir apparents have yet to surface, although they're trying to get Darqueze Dennard as many snaps as they can  at outside corner.
So the line and secondary will be interesting to watch Sunday. That's where there could be some activity in the offseason even though the Bengals' pledge is to keep their own and no doubt they'll try.
They'll also try Sunday. Bengals head coach Marvin Lewis, the Ozzie Newsome disciple, and Ravens head coach John Harbaugh, the Ozzie Newsome coach, are running teams with pretty much the same aggressive, tenacious mindsets with respected veterans who won't let things get out of hand.
Hard to see anyone flat-out lying down. Expect more of the same. Seven of the last eight Bengals-Ravens games have been one-score jobs decided by eight points or fewer.