Geno Atkins got to know Ravens quarterback Joe Flacco again in the opener.
While Carlos Dunlap does a mean imitation of Geno Atkins saying absolutely nothing, Atkins is doing a pretty fair re-boot of Pro Football Hall-of-Famers John Randle and Warren Sapp that says it all.
The red-hot Atkins is solidifying himself as a Defensive Tackle of the Decade and a first-ballot Hall-of-Famer with three sacks in the season's first two games and 7.5 in his last six. With a half sack in Sunday's game in Green Bay (4:25 p.m.-Cincinnati's Channel 12), he'll break the Bengals' record with at least a half sack in seven straight games.
And when they've needed him most, he's been there. With an offense back to the drawing board, they need him more than ever.
"It shows not only his ability, but him being able to do it week after week after week," said head coach Marvin Lewis Wednesday. "And that's what we need to have. He's one of the best players in the league, and he has to continue to put the team on his back all the time in those situations."
Back on Nov. 13, 2016, Lions defensive tackle Ndamukong Suh led Atkins by half a sack, staking claim as the active sack leader by NFL interior players. But Suh hasn't had any since and Atkins has ripped off those 7.5 to give him a career total of 55 in 107 games and leaving Suh in second place with 47 in 111.
Atkins is now averaging .516 sacks per game and pulled away from another of his 2010 draft mates, Gerald McCoy (42.5) and that percentage is better than anybody but all but one in the top five of all-time leading sackers from the inside position at tackle or nose tackle. The only one better is Randle's .628 that he racked up in 219 games while accumulating 137.5 sacks in a career that ended 15 seasons ago.
Sapp has the second most sacks of anyone that profootballreference.com lists as a pure defensive tackle or nose tackle with 96.5 during his 13-season career that ended 10 years ago.
                                ALL-TIME SACKERS AT TACKLE
*                                              (profootballreference.com)*
137.5 - John Randle in 219 games from 1990-2003 for .628 per game
96.5 - Warren Sapp in 198 games from 1995-2007 for .487 per game
95 - Steve McMichael in 213 games from 1980-1994 for .446 sacks per game
93.5 - Henry Thomas in 213 games from 1987-2000 for .439 per game
83.5 -  La'Roi Glover in 193 games from 1996-2008 for .433 sacks per game.
*                                            ACTIVE LEADERS*
55 - Geno Atkins in 107 games from 2010-2017 for .514 sacks per game
47 - Ndamukong Suh in 111 games from 2010-2017 for .423 per games
42.5 - Gerald McCoy in 95 games from 2010-2017 for .447 per game
"He's been very dominant," said left end Carlos Dunlap, who should know since he's another 2010 draft classmate and has 57 career sacks himself. "Especially for him to be able to do it and get one early in these games that's helping us out a lot."
Just how good has he been? It has inspired several different reactions, ranging from defensive coordinator Paul Guenther's claim that it's the best he's ever looked to a shrug from Dunlap.
"I think this is his normal Geno dominant," Dunlap said. "He's been dominating since he's been in the league I don't want to say its any better. But if you need me to so he gets the double teams and chips that would be cool."
And think about this. The Bengals haven't had anything near the kind of lead that leads to sacks
"He's been unbelievable. It's hard to believe he could get any better, but he has," said Guenther said. "When he gets going and he gets his weight forward, it's hard to stop. I've seen it in practice every day. Hopefully he continues to play like he is because we're going to need him."
It seems to be a matter of only how long will Atkins play. That will answer where he'll finish among the greats. Randle played for 14 seasons and Sapp for 13. Atkins won't turn 30 until next year, just before his contract season begins, so it looks like he'll at least join Randle as the only pure tackle in history with at least 100 sacks.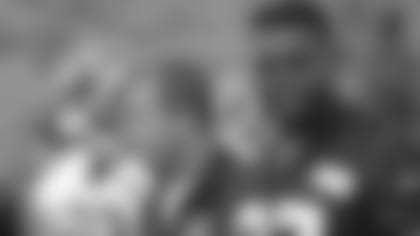 Geno Atkins: numbers do the talking.
Atkins doesn't talk to the media so it's unclear what his plans are, although everyone assumes he'll strike it rich again as he works off his current $60 million deal.  Asked before the season about the possibility of becoming a first-ballot Hall-of-Famer five years after he retires, Atkins said, "I don't know." Asked about his place at the top of the NFL's interior defensive players, Atkins said, "I don't know." Asked about assuming leadership along a defensive line that lost veteran nose tackle Domata Peko, Atkins said, "I don't know."
Lewis did answer the leadership question on Wednesday.
 "Geno has done a great job for us as a leader and as a player within the defense," Lewis said. "As I said early in the season — starting out, we have to lean on those guys. We have to lean on those young guys that came in here in 2010, '11. '12, and they have to be the catalysts for us all the time."
Which just goes to show you how dominant Atkins and social media have been. He's still regarded as an NFL Defensive Player of the Year candidate even though he shuns the media. The candidacies of Hall of Fame worthy Bengals ranging from Ken Anderson to Willie Anderson have been killed by the twin kisses of a good but not dominant team in a small media market.
Atkins hasn't talked to the media since the end of the 2014 season, about the time Guenther publicly challenged him after a three-sack season. It was Atkins' first full year after tearing his ACL on Halloween, 2013, and he's a walking exhibit on how sometimes an ACL takes two years to heal fully. Unless you're Giovani Bernard. Atkins has responded with 23 sacks in his last 34 games. Or .676 sacks per game, better than Randle.
On Thursday night Atkins spoke volumes on prime time with an almost frightening athletic sack of Texans quarterback Deshaun Watson. He rocked the rookie with a hellacious shot as if he were an outside linebacker.
"You see that hit?" Dunlap asked of a sack that dominated social media into the wee hours Friday. "We watched that play a couple times. Then I had to watch it again on Instagram and everything. Deshaun is probably going to see it for the rest of his life. That's Geno Atkins for you."
To be fair to Atkins, he doesn't talk to anybody and that includes teammates and coaches. Asked what Atkins said of the Watson hit, Dunlap channeled him with, "Hmm. Hmm."
But Atkins is active on social media and apparently made sure video of the play got to plenty of eyes. Ah, if only Isaac Curtis had been on twitter with something like @Ike85
 "Yeah, he'll retweet and favorite it, but he's not going to put (any) words in there," Dunlap said.